On Friday, March 08, 2019, judoka from Meheba, in northeastern Zambia, travelled to Lusaka to participate in a Judo League competition organised by the Zambian Judo Federation. This may seem trivial and yet it is not, far from it, since these athletes are refugees who are part of the Judo for Peace program in Zambia and have been living in a refugee camp, some for many years.
Led by Faustin, their coach, a refugee himself, four athletes participated in the competition after spending several hours on the road to connect the capital:
• NISHIMWE Bendrix, 17 yo, -66kg (Burundi)
• KABANGE Roger, 15 yo, -60kg (DRC)
• UWIMBABAZI Carle, 18 yo -55kg(Burundi)
• MWAMBA Fiston, 21 yo -73kg (DRC)
Alfred Foloko, President of the Zambian Judo Association and President of the National Olympic Committee of Zambia said: "The participation of refugees from a number of countries in our League is a demonstration that sport can be used as a tool for the integration of refugees in social and economic activities of Zambia. It further demonstrates the power that it has over other interventions in creating a conducive environment in which refugees can live."
Before adding: "Participation in judo and sport in general, can, undoubtedly, contribute to the prevention of conflict and the promotion of peace in Zambia and countries of origin of the refugees. In this sense, inclusion of refugees in the league and use of sport in general provides an opportunity to transcend cultures, enabling us to share knowledge on different cultures. The league helps to build bridges between Zambians and refugees regardless of cultural differences or nationality."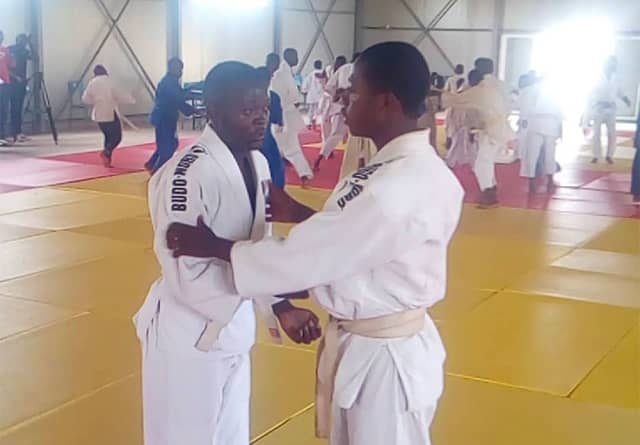 Faustin was really pleased with the participation of his young athletes: "Carle Uwimbabazi was the first competitor from our team to start in the morning and he won his first contest. Then two out of the four athletes that I was coaching went to the final, and at the end of the day we were fifth in the overall rankings, among eleven clubs. Everything went very well indeed. My only concern is that I would love to be able to engage more competitors as I am sure we would get even better results."
Faustin is a demanding coach, who always wants more and who knows that he can always do better, but the least we can say is that he was more than happy at the end of the event: "I want to thank all the judoka and the Zambian Judo Association. They welcomed us as brothers and we felt like we were part of a big family. For me as a coach, it means a lot that my athletes performed well because; it means that what we are doing in Meheba is good. The Meheba judoka were not sanctioned during their matches, and that is very encouraging."
But as a refugee himself, Faustin has no words to really express what he feels: "For me what is happening through the judo for Peace programme in Zambia is a miracle. I don't know exactly how to describe it."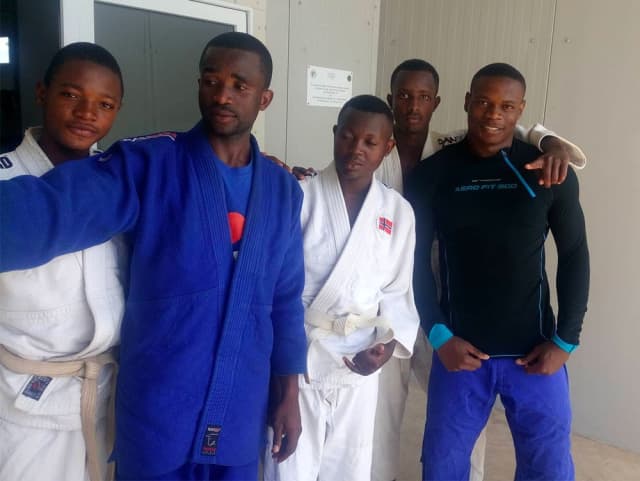 Before arriving in Lusaka, the refugee team was a bit scared: "They were a bit worried. I told them that it was logical but that they just had to apply what we have learned on the mat", explained Faustin, before adding: "All the other Zambian competitor swere amazing. They were cheering for us. Everything went very well. It was funny because everyone was a bit curious about who we were. They wanted to learn more our language. The atmosphere was simply incredible."
Alfred Foloko concluded: "The League provides safe environments for refugees as they participate in training and competitions alongside Zambian judoka. The refugees are integrated in the League and other activities where they share common goals and interests with their Zambian colleagues. It gives them an opportunity to learn Olympic Values including respect, friendship and fair play, thereby making them responsible people capable of contributing to the development of Zambia and their countries of origin."
Last December, a new dojo, financed by the Norwegian Olympic Committee, was inaugurated within the Meheba Refugee settlement. Three of the four athletes who participate in Lusaka are now training in that dojo. It is sure that in the months to come, more of the refugee athletes will gain enough confidence to win more medals and to build a better life.
You can donate to the Judo for Peace programme by purchasing one of the items of our JFP collection: https://judoforpeace.net/