Not long ago Leandra Freitas was still a professional judoka. Not long ago Grace Goulding had never worn a judogi. Not long ago Gabriela "Gabi" Sabau immortalised them in a photo together. We spoke to the three of them not long ago.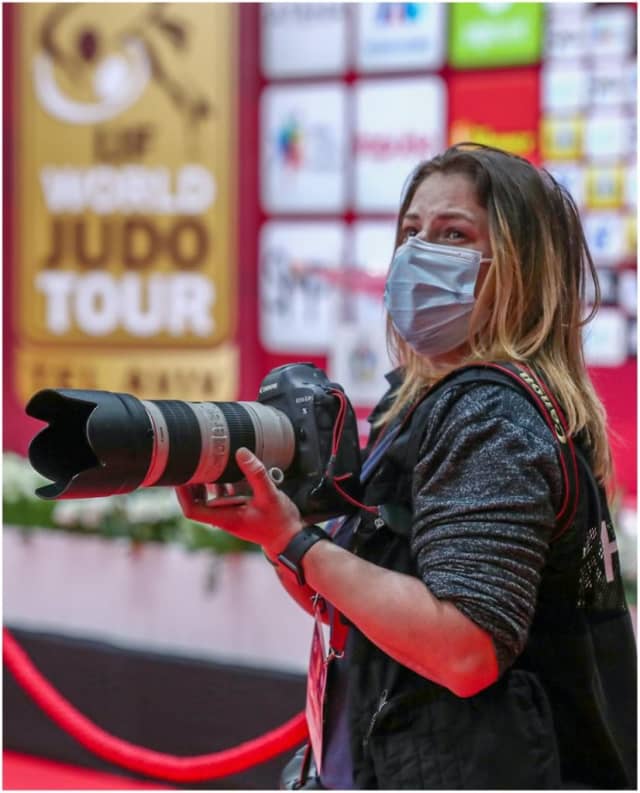 Gabi, from Romania, is that woman who runs from one place to another, machine-gunning all the judokas on the World Judo Tour with her camera. It is quite easy to locate her in a stadium because she always finds the best places to activate the camera. After many years she has understood the dynamics of professionals and is able to anticipate gestures before they occur. When she presses the button she is usually right and the result speaks for itself. With her, an image is always worth a thousand words. 
Leandra, from Portugal, is the definition of adaptation. Since she has competed at the highest level, she thinks and feels things like those who are still active: the rage of defeat, the euphoria of victory, the taste of sweat and the exhaustion of extreme effort. She has several strings to her bow, she does everything. The programmes for children, promoted by the international federation, bear Leandra's signature. She also conducts interviews because she knows everyone on the World Judo Tour and has direct access. As a judoka she asks the right questions to the right people. 
Speaking of multitasking, there is Grace, from the United States, whose role is also multi-faceted. In addition to distributing images to the media around the world, she conducts interviews that always go viral on social media, while she also keeps guests and athletes at bay at medal ceremonies. 
All three of them work for the International Judo Federation. What started as a job has been transformed into passion, hence the quality of the work done and of course they have an opinion.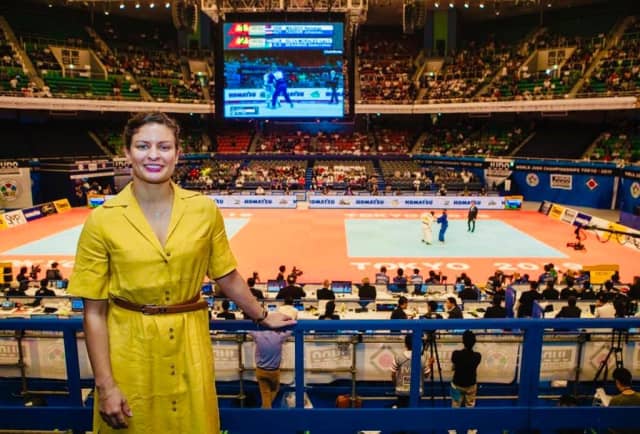 If you had to make a summary of this special season, with just a few essential tournaments, what would it be? 
"I remember what I felt when I went to the grand slam in Hungary. It was the first competition after a long period of lockdowns and at first I felt fear because of the unknown. How will the competition take place; will it be safe? But after the first 5 minutes of my arrival everything changed. I saw all the people happy and optimistic; everybody was just happy to be able to travel again, to see their friends, colleagues, to finally see some judo and to compete, to do the thing they love and I felt safe and enthusiastic. It's not easy to travel and to participate in events because of all the Covid tests that we have to take. It's hard to find flights. We have to stay only in the hotel or venue, but after you pass all these 'obstacles' and you find your self in the middle of a big venue, surrounded by the best judo athletes in the world and you see the most amazing judo, you're just happy that you can experience it and be part of this beautiful and exciting world of judo." 
This is what Gabi says. In short, fear, happiness, optimism, a sliding scale of sensations and an open-hearted confession. It's a human reaction and a complete analysis. 
Leandra puts her finger where it hurts the most. That is why we wanted to speak with her, as well as with the other members of the IJF staff, because they are all aware of the difficulty of these moments and do the impossible to alleviate sorrows and start smiles. All these efforts deserve to be published so that the whole world knows it. 
"Without a doubt it has been a very different year for everyone. It was and is still a question of adapting ourselves and living a bit more limited. The pandemic is still active even if we have possible vaccines. People are losing their loved ones to Covid, their jobs and some of them losing their minds also. The pandemic is depriving children of there school and friends and sports and in our case, judo. We need to see that in some countries school is the place where children can have 3 meals a day for free, so also this has been different and difficult to manage for the parents and deprived families. The IJF WJT managed to return, with a lot of protocols. It brought hope to all athletes, coaches and staff working behind the scenes, but also brought some training to people, judo fans, children, with many able to have some judo live streamed to or from their home since the Tour started last year with the Hungary Grand Slam. We also had a lot of content for children online, with the Great8, that entertained children with requests to illustrate the values of judo. Many of the drawings included the virus being thrown for ippon, reflecting the children's view of the virus and the pandemic. We also had JudoFit Kids Golden league, which challenged the younger ones to do physical exercise at home. As an overview I think the theme we used for World Judo Day was the real summary of the year. #strongertogether, only together can we face this pandemic." 
Perhaps out of modesty or to remain faithful to her professional ethics when answering, Grace focuses more on how the calendar was made, but don't worry, she is just warming up. 
"This past season has been unique for many reasons. Not only were there more grand slams, but this is also the first time that there will be a World Championships held as the final qualification event before the Olympic Games. So what we see, despite there only being a few events, is that all of them are extremely valuable, so the stakes are higher now than ever." 
The calendar, the pandemic and the return of judo, this is what there is and what we know. Let's go, now, with what we do not know. 
What do you think will happen in Japan? Tell us your forecasts.
"Given the unpredictability of both judo and the developments of the past year, I think Tokyo will bring many surprises. There are many highly contested categories that will be particularly interesting to follow, such as -81kg, -70kg and -90kg, as we have seen a variety of different individuals take gold over this last season," says Grace.
It's technical but without names, as if she were a disciple of the Messnerian current. (Read previous chapter).
A school with which, apparently, Leandra also identifies, "I believe that Tokyo2020 happening is a very courageous act; it's fantastic. I know that the global situation is a huge consideration, due to the pandemic, but we have to move forward and the Games are a whole world sporting event and all the nations of the world will pause to see and maybe for a moment not think about this pandemic. Maybe we can all have a little bit of joy, not to mention the athletes, who have worked for a lifetime for this moment. The Olympics is a dream of a lifetime. I know what I'm talking about because firstly I was an athlete and secondly I have one here at home who can't wait to be there. 
About what will happen? Hmm, the athletes are doing a fantastic job, an enormous effort. There are now many tournaments up to the Games and clearly the preparation will be different for all athletes, but I think that this will not discourage them, but rather give them even more strength to get there, ready to give everything to reach the podium. Everyone can win the Games, everyone can throw by ippon in a few seconds and all of them will be ready, so no way I would bet on someone. Even the Japanese, Ono, Abe Uta, I think they are able to win but the road will not be easy at all. Qualification is not over yet, so it is still early for forecasts." 
Fortunately we have Gabi left. She does jump into the pool with names and if she's wrong, it doesn't matter because it's the beauty of trying to foresee the future and, of what we are sure, is that she'll be accurate with her photos. 
"I'm waiting to see and to catch some really nice judo in my pictures. As I saw in the last events, judo is getting more spectacular, with beautiful throws. I'm sure that we will have some surprises and we will see some unexpected names on the podium. I'm expecting to see Daria Bilodid on the podium and of course Teddy Riner with a gold medal. I'm really waiting to see the teams of Japan and France in the final of the nee mixed teams event. I think it will be an amazing Olympic Games, highly anticipated and with a lot of medals for Japanese athletes." 
We insist with the last question, to see if good fortune smiles on us and Leandra will drop a name. The answer is no but it is still an excellent answer that sums it up.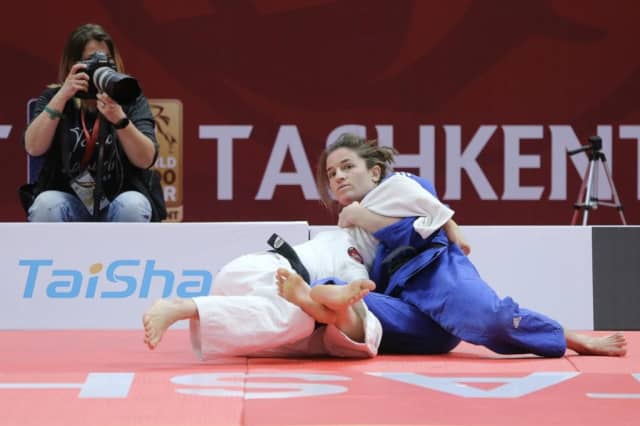 Who do you think is going to surprise you in Tokyo? 
Leandra is analytical, "The Olympic Games are that one special competition, because it is the dream of a lifetime for many athletes, or even all of them. I think everyone excels and gives that extra touch that is sometimes enough to win a match or project the opponent for ippon at the right time. No mistakes are allowed there. So, eyes open during the judo days, every second will count, doesn't matter where you came from, your nation, what results you had before. If you are there it is because you have a chance to become Olympic champion. Anyone can win!" 
It is the same with Grace, as if they have agreed to leave us hungry. 
"What I think might come as a surprise is the diversity of Olympic champions. Usually we see very heavy Japanese domination across all categories, but I think this past season has shown us the strength of judo in other countries as well, which will definitely pose a challenge to the Japanese team, even on home soil." 
As if this were not enough, it turns out that Gabi also does the same. 
"I'm really excited about going to Tokyo and being able to go every day to the venue, to watch judo and at the end of the day to be surprised by the winner. For me this is the beautiful part of judo, the fact that everyone has equal opportunity and anyone can surprise you with a gold medal. It will surprise me even if winners from the last Olympics will win again or if new names will take the podium. Names, I couldn't give you as they are a surprise for me at the moment." 
Perhaps this is the master lesson that Gabi, Leandra and Grace give us, savouring the present and enjoying the moment because, in judo, everything is surprising.