We aren't asking about geography! Tokyo, the centre of the sporting universe, the focus of more than one whole Olympic cycle, home to almost 14 million people and the capital city of judo's motherland.
Despite relatively low Covid numbers, in comparison to European and American neighbours, Tokyo has experienced and is experiencing some of the most complex upheaval of this pandemic. The Olympic and Paralympic Games should have come and gone, with the Paralympic Games closing ceremony, due to have closed the most magnificent sporting weeks of this Olympiad, just a few days ago. Yet, here we are, with still more than 300 days to go until it all begins.
Imagine the logistics involved in rearranging all layers of activity and provision for the residents of Tokyo, but also for everything to do with the projected number of visitors. Businesses were relying on predictions of tourism, an influx of millions of people and even more millions of dollars. Now they are in a kind of limbo, someone hit the pause button and Tokyo must wait and realign and try to fill the 12 month gap.
They are, of course, doing just that!
Canadian born Justin Fumiya Imagawa is the first and only employee of the All Japan Judo Federation to not be a native of Japan. He is a former elite judoka with Judo Canada and a key member of the organising team for the Olympic judo event in Tokyo, working under the Judo Sport Manager, Mr Yamada Toshihiko. Justin's work life is exclusively at the service of judo, being a world class intermediary between the International Judo Federation, the International Olympic Committee and the All Japan Judo Federation (AJJF).
As if Justin's work life didn't provide enough absorption in the judo world, he is also married to Fukumi-Sensei, coach to Abe Uta. The couple have a young son, just 3 years old. This is a busy life, an intense life.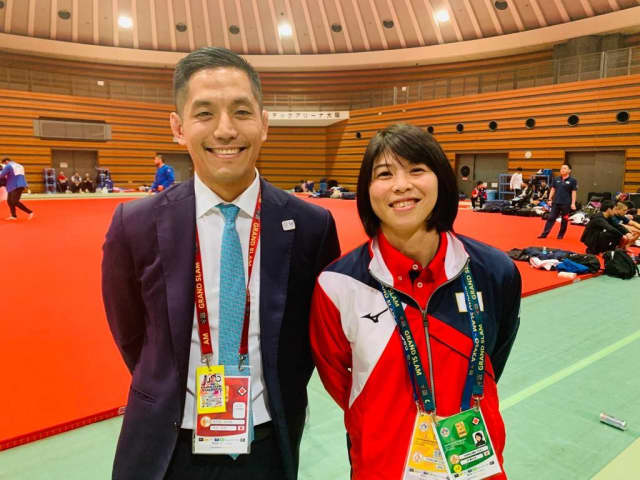 So, where is Tokyo, right now? Justin elaborates, "organising all competitions, whether a worlds, a grand slam, an Olympic Games, is challenging, but one year extra means another year to cement positive working relationships with international colleagues. I love the networking. Usually the preparation for the Olympics forces us to just get the job done. A real positive for me is the extra time to polish the best of our work and really solidify excellent working processes with great people."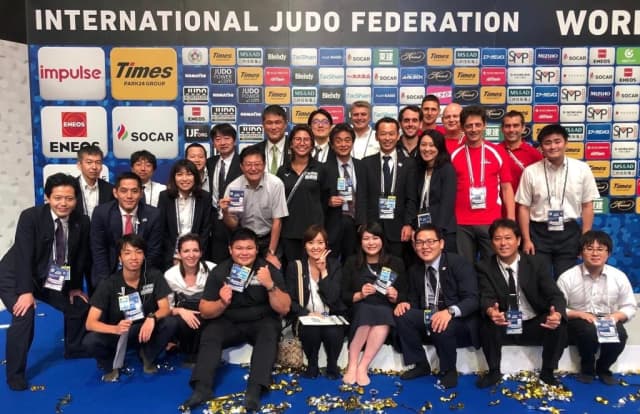 The postponement of the majority of public events, the world over, has been hard to take, but to have moved the Olympic Games is something no-one could have foreseen. It's hit many very hard.
"It's been more than disappointing, so many feelings of uncertainty. Athletes are devastated and there are sponsors, the IJF and the Japanese people; everyone is affected. We've all had it pulled away after years of build-up.
I was in London, at the 2012 Games and it made me want to be a part of Tokyo2020. With my wife's role as a Japanese team coach and mine with the AJJF and Tokyo2020, everything is up in the air, financially, logistically. There are new challenges every day and all stakeholders now need to feel stable again.
About a month ago we experienced a second wave of Covid-19 but the numbers are steadily decreasing now and even judo is beginning to start back, with different regions able to train with different levels of contact, in line with local rules. The Japanese National Championships is scheduled to take place at the end of October, following AJJF Covid protocols. This is a real goal and brings some much-needed hope.
In Japan, where I have lived for the past 8 years, judo is a part of the curriculum, embedded in the culture. It's not as simple as closing judo clubs temporarily. Everyone has had a period of cessation but here it's just as unthinkable as asking schools to stop teaching mathematics."
There are positives. Justin already noted the great relationships the extra time fosters, but there's a lot more to be grateful for.
"We all have a new appreciation for the normal, small things. For Japanese judoka, they start really young and all this time is unprecedented and a unique opportunity for us all to reflect, the athletes too.
It's given me a chance to assess my perspectives. I miss travel, but I have a 3 year old son. My wife is usually coaching and I'm working and suddenly we have had a lot of time together as a family. Tokyo is a turbo, minute-by-minute city and the slow-down has been welcome in many ways, even if it wasn't invited.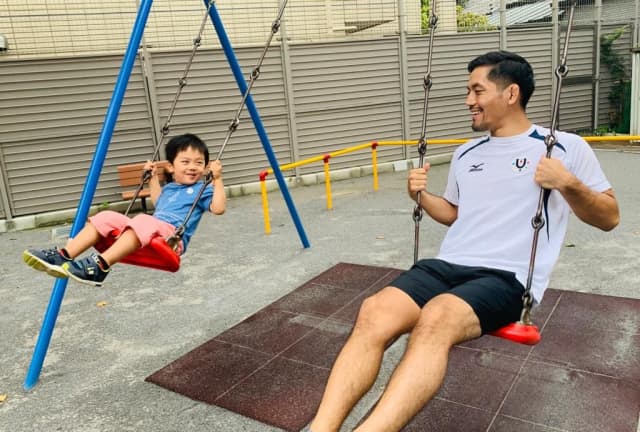 I have found it difficult to not have a fixed calendar, a set of date-based work goals, so I was super-excited when the IJF released their plans for the end of year grand slams. The success of these events will be a huge milestone in the path to the Olympic Games. The global situation means the Japanese people really need a boost in confidence. The AJJF is working with the government and sport ministry so we can host the Tokyo Grand Slam at the end of 2020. The AJJF hosting an international event of this stature will put us in a great place to deliver the Olympic Games next Summer. Making the Tokyo Grand Slam a success is the current priority and we will ensure that all guidelines and protocols locally, from the IJF and the AJJF are followed, in order to keep everyone safe and showcase the highest level of judo. Organisational collaboration can be complicated but for this situation it is a strength. Working with the IJF always yields professional, prompt, working circumstances.
I have been fortunate in my career to date to have great mentors. Within Judo Canada I was well supported and consider Nicolas Gill a mentor. Now Yamada-Sensei holds that position for me. An extra year gives us a unique set of extra hours to fine tune tiny details and deliver a truly special Olympic Judo event and that's exactly what we plan to do."