For several weeks now, we have been following Sabrina Filzmoser in her quest to reach the summit of Everest, beginning at sea level. Leaving from Digha in India, on the edge of the Bay of Bengal, she has now arrived in the vicinity of Everest, where she will spend the next few weeks preparing to attempt the ascent of the tallest mountain in the world.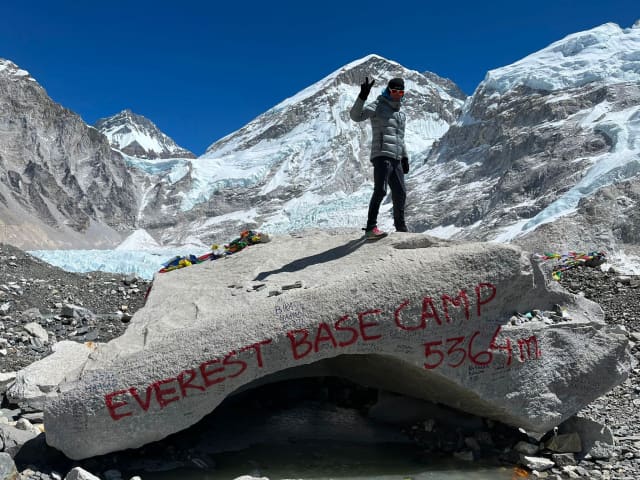 If the first weeks passed at the speed of a rocket on two wheels, with her two travelling companions, Laxmi and Harka, Sabrina's rhythm is now very different because transitioning to such altitude requires preparation on the one hand, but also a great deal of humility in the face of the forces of nature involved.
More and more of you are following the adventures of the Austrian champion on social networks (IG: @forevereverest2022) and that is fantastic, but there are only a few of us who are in direct contact with her on a daily basis, ready to tell you about the evolution of her days. There are several reasons for this. The first is related to the difficulty of communicating in an environment dominated by walls of stone and ice several thousand metres high. There's also the need for Sabrina to properly prepare for the major challenges ahead of her, literally and figuratively. 
Whoever says 'prepare,' obviously says physically, but also mentally. It is therefore important that Sabrina can immerse herself as much as possible in everything that surrounds her because there it is not just a question of mountaineering. Putting one foot in front of the other is one thing, climbing the highest peaks in the best conditions is another, understanding the reason for such an achievement and being able to experience it fully takes on yet another dimension, to which Sabrina is particularly attached.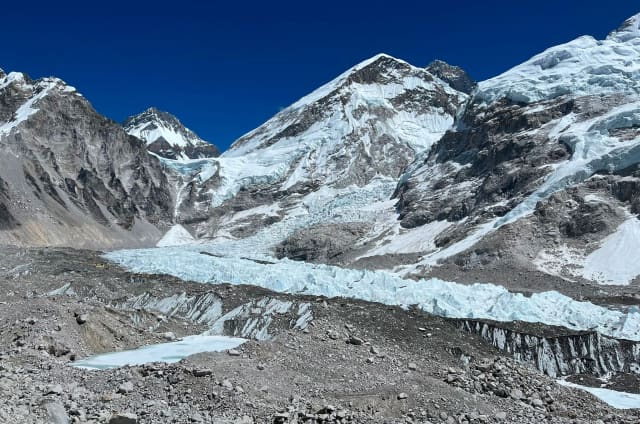 In the first place, therefore, comes the sporting achievement itself; the most obvious and undoubtedly the most visible. More than 1000km covered by bike, then hours of walking to Namche Bazar and beyond and now the first climbs to acclimatise; here is a programme that defies all possible physical preparations. Reaching the summit of Everest at an altitude of 8849m requires extraordinary preparation, an ascent during which Sabrina will have to enter the 'Death Zone,' beyond 8000m, a place where the body literally devours itself to face the elements.
When we talk about sporting achievement, the question of its usefulness always comes. So let's just say it like it is: what's the point of getting to the top of the world? This question, Sabrina has been asking herself for years and it is to her credit because in doing so, she shows great humility. Yet this same question, as relevant as it is, comes down to asking many others, such as the usefulness of doing high-level sport, chasing after medals, dedicating your life to making it different from others.
Wanting to become a world or Olympic champion and wanting to climb Everest therefore come down to the same thing. It's about pushing your limits, organising your life around clear objectives, giving yourself the means to succeed. It offers you the possibility to live quite simply, including the inherent risks. Since there is no guarantee of success, because that would be too easy, the danger of failure exists and is part of the exploit. It is an inseparable element of success and it allows us to talk about the journey, because isn't that ultimately where the very essence of performance lies?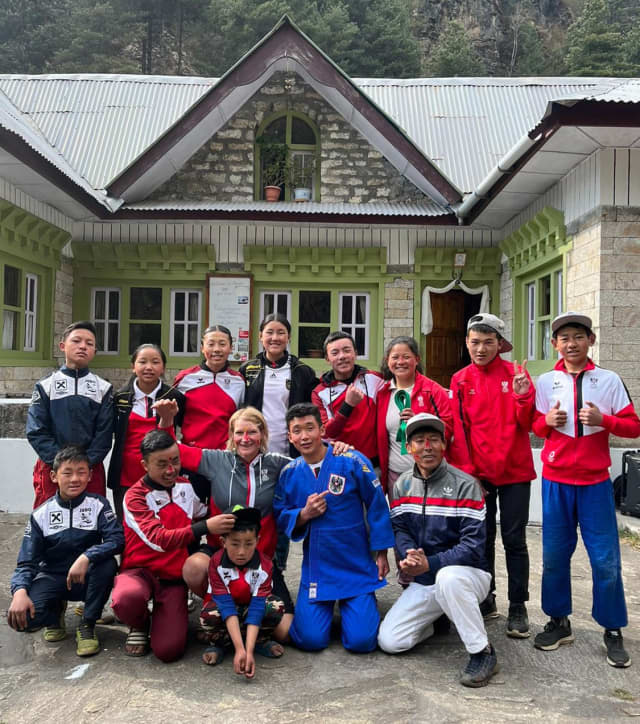 In the discussions we have with Sabrina, when a few minutes of wifi allow her to give us news, all these questions are omnipresent. They are the fruit of hours of reflection and introspection but they are anything but weakness. They are the doubt that is useful and necessary to face trials and overcome obstacles. They are what connects the athlete to humanity in its most formidable and exhilarating aspect. These moments of reflection are what gives Sabrina and anyone with a dream, the tools to get through the steps. This is why we speak of the path. Without a goal, without a sometimes crazy dream, there is no way.
Along this way, Sabrina has to face another reality of the world, the one in which the local population lives around Everest. It is an understatement to say that thousands of inhabitants are suffering here, in general indifference. Since the outbreak of the pandemic, tourism, which was one of the region's main activities, has sunk. As if one disaster weren't enough, Earth itself is increasingly showing its displeasure with what we are doing to it. Thus the melting of altitude glaciers threatens here more than elsewhere. Landslides are legion. Pollution, even in these remote places nestled in the heart of the Himalayas, is present.
By embarking on the Forever Everest journey, Sabrina has therefore become not only an accomplished sportswoman, but also a witness and therefore an ambassador. She tells us about the Himalayas, she tells us about it with her heart. She shares with us the incredible images of snow-capped peaks, while explaining to us that behind the beauty also hides a more harsh reality that some sports tourists, who only focus on the exploit and who are without empathy, cannot or do not want to see.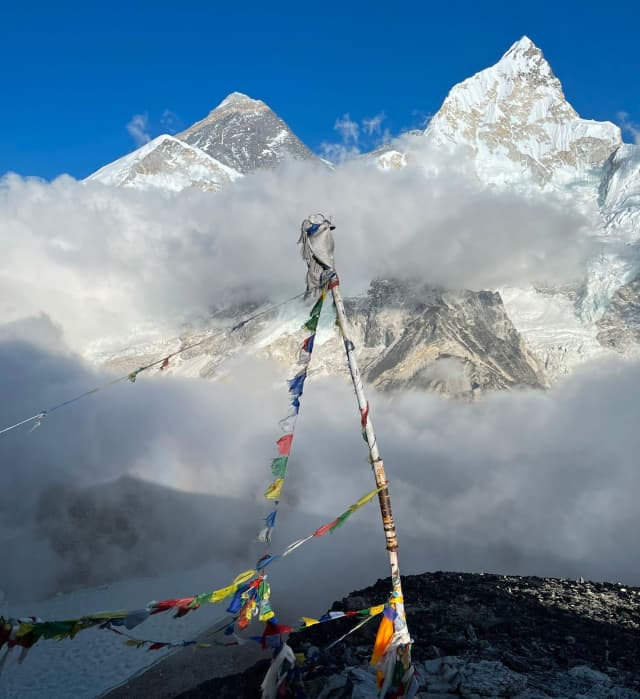 So yes Sabrina, we want to tell you that even if some see futility in your adventure, that's not what we understand of it. With you we have the happiness of discovering a way, one that allows a study of oneself, but also one that allows the world to open up to the suffering and happiness of everyone on this planet. This thirst for discovery and openness that you show has driven human beings since the first of them left their African cradle. This desire for knowledge that you share has nourished generations of pioneers, explorers and adventurers and has made it possible, even when it seemed improbable and impossible, to give the world meaning.
By setting off to climb Everest, you spread the spirit of judo along the way, its values of mutual aid and mutual prosperity. You make yours the motto, 'Maximum efficiency.' You help your little Judokids and support through them a certain philosophy of life. Your questions are legitimate, your doubts honourable. They are the sign not only of a great champion, but also of a human being who walks a path that inspires others.
Follow Sabrina's adventure: CLICK HERE