On Monday 21st September, on the occasion of World Peace Day (#PeaceDay #peaceday2020), the organisations 'sportanddev' and UNHCR have launched a 'Week of Action' on the topic of 'Sport and Refugees,' taking place from 21st to 27th September. The activities will raise awareness of sport's role in addressing challenges faced by refugees, while also encouraging discussion and partnership building and providing guidance and resources for organisations working on the topic.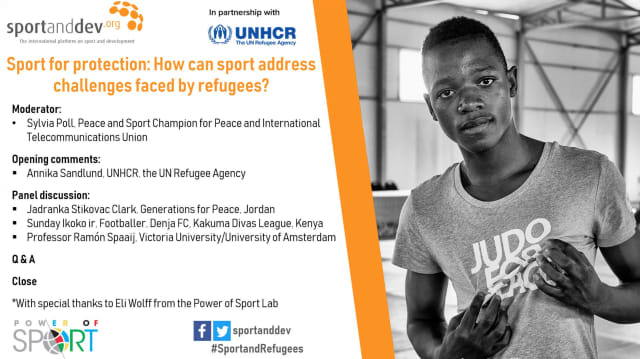 The first event of the week was a Webinar held with more than 200 people from all over the world and from all backgrounds. The theme was 'Sport For Protection - How can sport address challenges faced by refugees?' During the webinar, speakers from UNHCR, civil society, refugee athletes and academic specialists shared their experiences on how to use sport to protect people and ensure the rights of refugees.
The International Judo Federation was represented by the Judo for Peace Commission. In the introduction, it was underlined that the situation for refugees is going from bad to worse and that displacement lasts longer and longer. According to UNHCR, the UN Refugee Agency, 79.5 million people were forcibly displaced at the end of 2019 and 40% of them are under 18, with most of the refugees having to flee their country at a young age.
The figure, which has increased significantly in recent years, includes refugees, asylum seekers and internally displaced persons (IDPs). All experts agreed upon the fact that sport has proven to be an effective tool to promote and ensure the rights of refugees, including by encouraging social inclusion, social cohesion and psychosocial wellbeing. It was also said that through sports we can influence local and global policies to enhance educational opportunities for people and further demonstrate the importance of sports. 
It was very exciting to see how many organisations and people are involved in supporting refugees, while also making it very clear that sport can provide a supportive environment to help build a better future for people who have lost everything.
Many challenges arose in recent months, the main one being the global pandemic, which affects the economy and the strategies put in place on the five continents, for refugees. It is still very difficult to see what will be the consequences of today's situation. Another challenge is the diversity of the refugees. They are not a single group but an infinite number of cases, with specific, unique stories and backgrounds. 
One of the conclusions of the webinar was that sport can be considered a medicine, as well as a barrier to all kinds of discrimination. Last but not least, sport can be considered as a 'social glue'. There was also a reminder that ultimately sport is play and that this dimension must never be forgotten.
The IJF has been very active in supporting refugees for many years. Three refugee camp programmes are active in Kilis (Turkey), Meheba (Zambia) and Dzaleka (Malawi) currently. One programme was initiated last year in Za-atari refugee camp (Jordan) and an inclusive ongoing programme is running in South Africa (Judo for Peace South Africa), helping refugees already present in society, while JFP initiatives are active in Ethiopia and in many other places around the world. In Parallel, the IJF is supporting a refugee judo team, to help athletes with refugee status to participate in the World Judo Tour events.
More information on sportanddev and the Week of Action:
• https://www.sportanddev.org/en/article/news/week-action-sport-and-refugees
• https://www.sportanddev.org/en/article/news/sportanddev-launch-online-section-sport-and-refugees