JAPAN WINS NEW MIXED TEAM WORLD CHAMPIONSHIPS WITH OLYMPIC VERSION TO DEBUT AT TOKYO 2020
The IJF introduced its new Mixed Team competition to the world on the final day of the 2017 Suzuki World Judo Championships as Japan laid down a marker with a convincing victory on Sunday in front of International Olympic Committee President Dr. Thomas BACH.
The Mixed Team Competition was officially added to the Tokyo 2020 Olympic programme by the IOC in June and the hosts of the next Olympiad won the first edition of the new format at the senior level.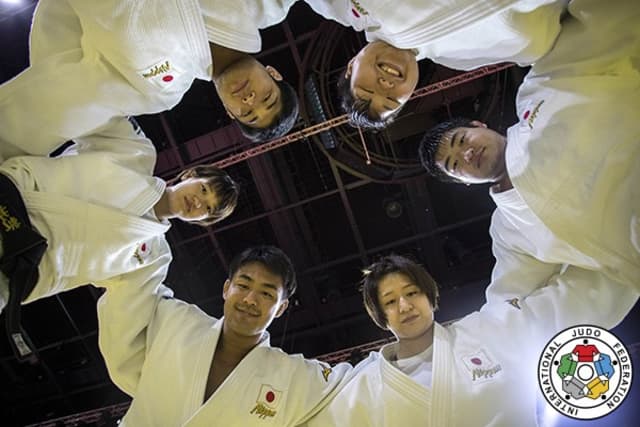 Japan's super six who defeated Brazil in the final
Top seeds Japan defeated Ukraine 5:1 in the second round after receiving a first round bye. Japan beat Germany 5:1 in the third round and then conquered South Korea by the same margin. They saved their best until last as they won all six contests in the gold medal match as Brazil took silver after losing out 0:6.
IOC President Dr. Thomas BACH said: "The place of judo is very important as part of the Olympic program. We are really looking forward to the Olympic Games in Tokyo and especially for judo.
"Japan is the motherland of judo so in Tokyo judo will play an even greater role within the Olympic family. I won my Olympic gold medal in the fencing team event. So this mixed team event has a special taste for me. But at the same time it's very important because individual athletes will get the team spirit and we will also promote gender equity."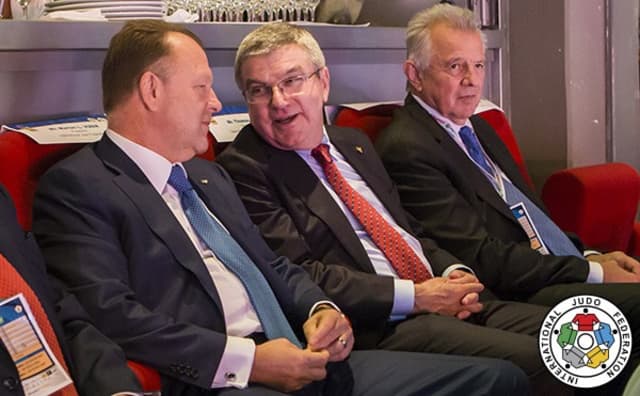 IJF President Mr. Marius VIZER (left) and IOC President Dr. Thomas BACH (center) watched the Mixed Team competition together with HE Mr. Pál Schmitt (right), Former President of Hungary and double fencing Olympic Champion
New IJF Athletes Commission
The IJF Athletes Commission was renewed in Budapest for the 2017 – 2020 period as new members were elected including Olympic and world champions.
Voting took place all week at the competition as athletes could pick from a list of judoka featuring all continents.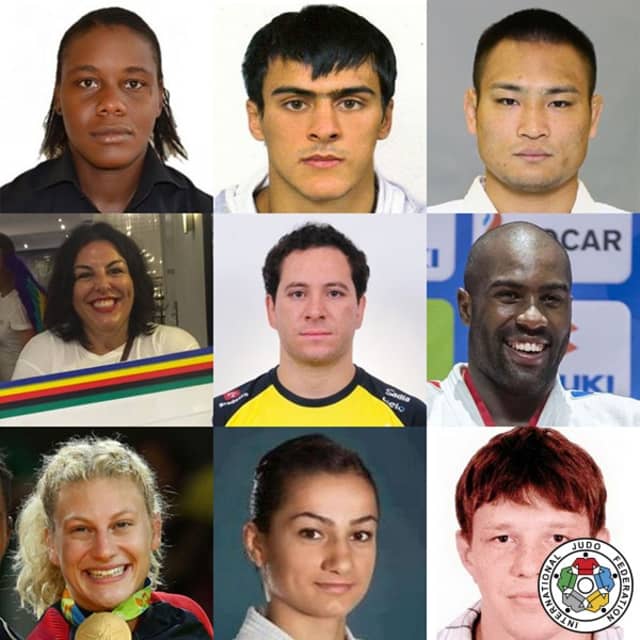 The results were revealed on Sunday :
Antonia Moreira ( ANG)
35 years old
Ebinuma Masashi (JPN)
27 years old
Tiago Henrique De Oliveira Camilo (BRA)
35 years old
Natalie Galea (AUS)
44 years old
Georgii Zantaraia (UKR)
30 years old
Nominated Athletes by IJF
Teddy Riner (FRA)
29 years old
Majlinda Kelmendi (KOS)
26 Years Old
Kayla Harisson (USA)
27 years old
Ivan Nifontov (RUS)
30 years old
IJF flag handover as Baku prepares for 2018 Worlds
The IJF flag was officially handed over from the 2017 Worlds hosts to the 2018 hosts via the IJF President Mr. Marius VIZER on Sunday ahead of the final block.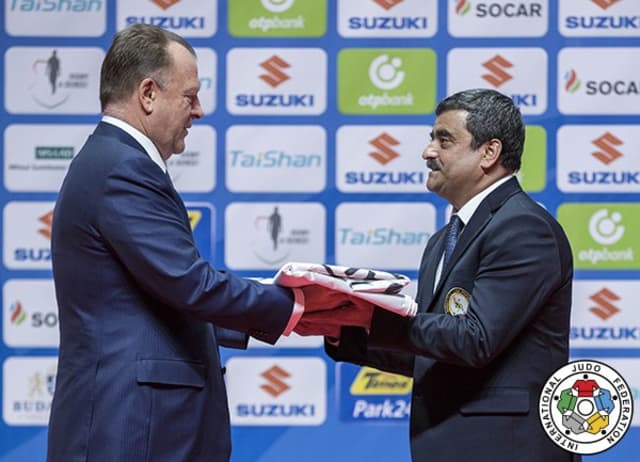 Dr. TOTH Laszlo, Hungarian Judo Association President returned the IJF flag to the IJF President Mr. Marius VIZER (above - left) who then handed it to Mr. Sadig SADIGOV (above - right), Azerbaijan Judo Federation Vice President. Baku hosts the next edition of the World Judo Championships which will be the first to emanate from Azerbaijan.
OTP Bank awards prize money to Best Hungarian Judoka
Baku Grand Slam silver medallist BOR Barna (HUN) was presented with $5,000 prize money by OTP Bank for recording the best result of the Hungarian team after finishing fifth on Saturday in the +100kg category.
IJF President hails #JudoWorlds2017
IJF President Mr. Marius VIZER hailed Hungary's first World Judo Championships as a resound success.
"It was a great World Championships, especially after the Olympic Games last year in Rio," said President VIZER.
"We have a new generation coming in and I think we are on our way to produce the best generation of judoka ever, before the Tokyo 2020 Olympic Games.
"The 2017 Suzuki World Championships in Budapest had great organisation at all levels with a very good public.
Technically speaking the level was very good, I'd say one of the best we ever witnessed and according to the new rules, we can say that we made the right decisions.
"We will make some small adjustments though and starting in January we will have the full refereeing rules that will be used for the Olympic qualifications and for the Tokyo 2020 Olympic Games."
Click here for full results from the 2017 Suzuki World Judo Championships.
The IJF World Judo Tour will reconvene in Croatia for the Zagreb Grand Prix, from Friday 28 September to Sunday 1 October and will be available to watch live and free at live.ijf.org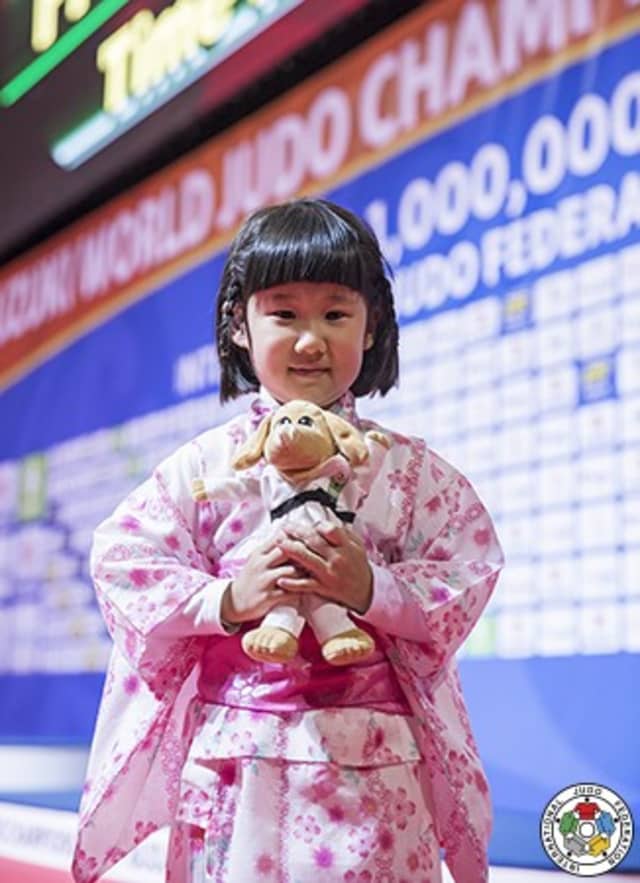 MIXED TEAM CHAMPIONSHIPS
Team specialists Japan conquer the world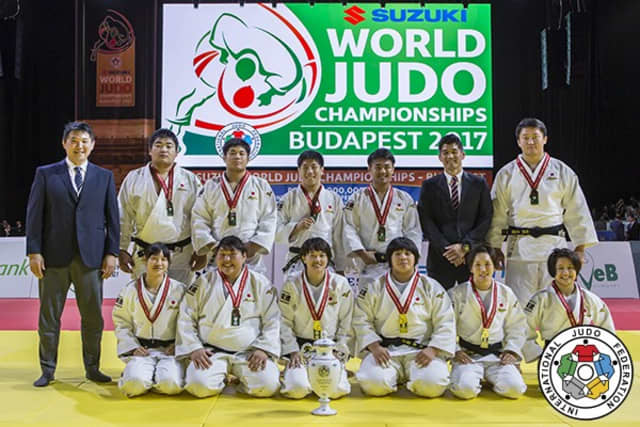 Japan defeated Brazil 6:0 in the gold medal match to send the media into overdrive as the sport's founding nation and the hosts of Tokyo 2020 were unmatched on the final day in Budapest.
Women -57kg
Japan 1 - 0 Brazil
World silver medallist YOSHIDA Tsukasa (JPN) defeated Olympic champion Rafaela SILVA (BRA) after almost three minutes of golden score to give Japan the early advantage. YOSHIDA trapped SILVA in a tate-shiho-gatame hold but the Brazilian escaped before fiving away a score. The Japanese resumed control on the ground and this time there was no escape for SILVA whose gold backpatch was out of sight for 20 seconds.
Men -73kg
Japan 2 - 0 Brazil
In a Rematch of May's Ekaterinburg Grand Slam final world champion HASHIMOTO Soichi (JPN) tormented Marcelo CONTINI (BRA) once again. The Ippon Hunter threw the Brazilian, who initially rushed out full of intent, with his trademark sode-tsurikomi-goshi for a waza-ari which was the difference after four minutes.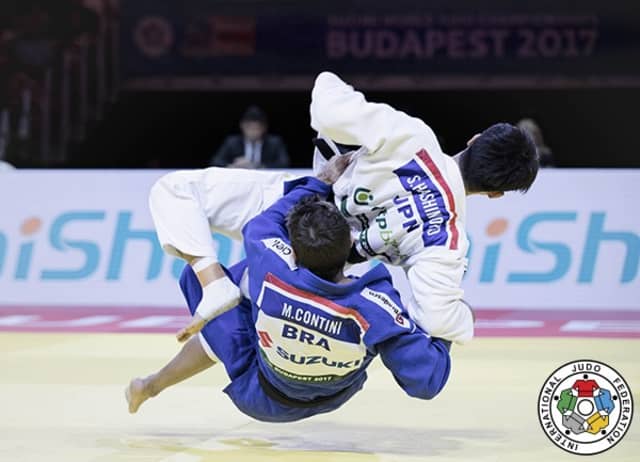 Women -70kg
Japan 3 - 0 Brazil
World champion ARAI Chizuru (JPN) put her country on the brink of winning gold as she outlasted Maria PORTELA (BRA) in golden score. A shido against the Brazilian handed the contest and a third win to Japan.
Men -90kg
Japan 4 - 0 Brazil
NAGASAWA Kenta (JPN) sealed the gold medals for Japan after Victor PENALBER (BRA) lacked any fluidity and was penalised three times to receive hansoku-make. World number eight NAGASAWA, who was only selected for the mixed team competition, dealt with former world bronze medallist PENALBER with relative ease as the Brazilian was below-par.
Women +70kg
Japan 5 - 0 Brazil
There was no pressure for world silver medallist ASAHINA Sarah (JPN) when she squared off against Maria ALTHEMAN SUELEN (BRA) and the Japanese was too powerful and energetic for her more experienced opponent despite fighting yesterday five times including a lung-busting and emotional +78kg final. The 20-year-old, who was supported by her parents and a huge delegations of teammates and members of the Japanese national team, held down the Brazilian for ippon after leading by two waza-ari scores.
Men +90kg
Japan 6-0 Brazil
All Japan Judo champion OJITANI Takeshi (JPN) inflicted a sixth and final defeat for Brazil as double Olympic bronze medallist Rafael SILVA (BRA) lost by waza-ari in the last contest of the 2017 Suzuki World Judo Championships.
In the first semi-final Japan bested South Korea 5-1 while Brazil humbled Russia 4-2 to decide the finalists at the first Mixed Team Event at the senior level.
In the first bronze medal match France routed Russia 5-1 as Mikhail IGOLNIKOV (RUS) prevented a whitewash by defeating Axel CLERGET. World bronze medallist Helene RECEVEAUX, Benjamin AXUS, Marie EVE GAHIE, Romane DICKO and Olympic bronze medallist Cyrille MARET (FRA) all won their respective contests to send the French team onto the podium.
In the second bronze medal match South Korea lost the opening contest against Canada and then won the next five in a one-sided match. Jessica KLIMKAIT (CAN) was the only winner for Canada (v KWON Youjeong) as double world bronze medallist AN Changrim, JEONG Hye Jin, former world champion GWAK Donghan, KIM Minjeong and KIM Sungmin all prevailed.
Final
JAPAN v BRAZIL
Bronze Medal Fights
FRANCE v RUSSIA
SOUTH KOREA v CANADA
Semi-Finals
SOUTH KOREA v JAPAN
BRAZIL v RUSSIA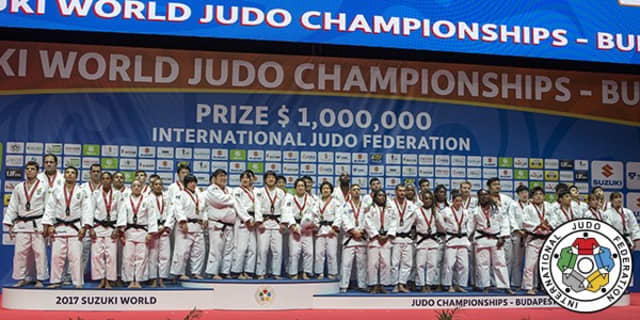 Final Results
1. JAPAN
2. BRAZIL
3. FRANCE
3. SOUTH KOREA
5. RUSSIA
5. CANADA
7. GERMANY
7. GEORGIA