Former World Wrestling Entertainment (WWE) superstar Anthony Carelli, who was known as 'Santino Marella' in the squared circle, is a veteran judoka who coaches the sport at his Battle Arts Academy in Ontario, Canada.
Carelli, 43, who held the coveted WWE Interncontinental Title two times during his highly-successful tenure in sports entertainment, combines his coaching duties with his role as an in-demand sports analyst working for SportsNet, Canada's number one sports network.
Above - Carelli (blue singlet) in action in the WWE ring. 
The multi-talented Canadian star spoke to the IJF about his judo background and picked out five things he has learned from his time in the sport.
Above - Carelli (blue judogi) coaching at Battle Arts Academy
1. Perseverance – On the large scale, when you have a dream or a goal that means everything to you, you must try your very best to stay on target no matter what obstacles and adversity comes your way. Whether you have an injury, obtained a poor result, or have a personal issue, these are merely set backs, and not the end of the road. Regroup, heal, and carry on. If it's worth anything to you its worth the continued dedication and sacrifice required to achieve it. On the small scale, when fatigue sets in during training and you want to stop or quit, just keep fighting through and push yourself. It is at these moments that adaptation occurs, limits are surpassed, and one becomes greater.
2. Learn from your losses – Before I captured a Under-21 National Championship I achieved four 2nd place finishes. At the time each loss was devastating but now when I look back, they were important milestones that helped shape who I am today. With each silver medal I took away a great lesson. When I had learned enough lessons for success to occur, it did! Thus the expression "you win or you learn" either way there is a positive that comes out of it.
3. Don't underestimate your opposition – In my first finals at a National Championship I was up against someone that I had never lost to. When I realised that it was just the two of us left, I started acting like I had already won. I lost focus and it cost me a National Championship.
4. Don't look past the task at hand – During a National Championships back in the 90's I was warming up for an upcoming match. I was on deck, and was going to face the winner of the match that was taking place. One of the fighters in that match I considered to be my only threat since he had beaten me once in the past. However there was a shocking upset and that fighter was pinned for ippon. I thought "that's it I'm going to win" and I started thinking about the draw sheet and whom I would face next and after that etc. That type of thinking took me right out of the moment and I lost focus on the person directly in front of me. I lost by a yuko, learned a great lesson, and had to wait a whole year for redemption.
5. You are a part of a global community
Those that practice Judo share an understanding of the positive effects that Judo can have on one's quality of life. That alone is enough to make Judo practitioners all over the world feel a sense of unity. Growing up I was always under the impression that all I ever needed to travel the world was a judo-gi tied up and carried over my shoulder. I knew I would be welcomed any place in the world that practices Judo. However one aspect that I feel creates an even greater sense of unity is the constant battle we face defending and promoting our sport. Judo always seems to take a back seat to some of the more popular combat sports or martial arts. However we know it's the best.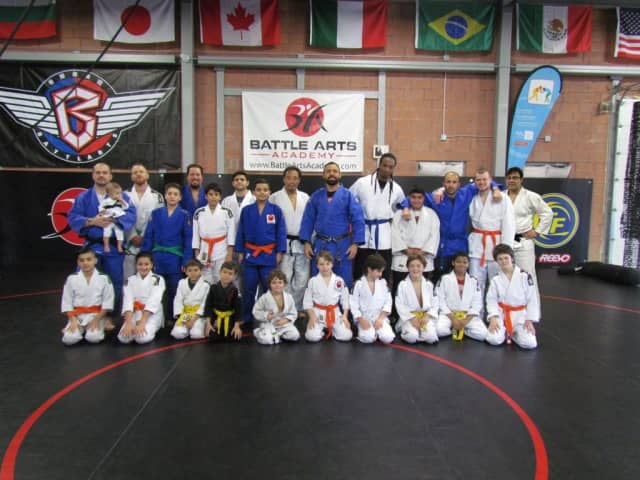 Above - Former Canada Junior World Team Championships member Carelli (centre - blue judogi) with his young students 
Carelli will be in attendance this weekend at #JudoDüsseldorf2018 in Germany.
Watch the first Düsseldorf Grand Slam live and free at www.IJF.org from Friday 23 - Sunday 25 February