Juniors, Derks (NED) and Kurchenko (UKR), and 21 year old Van Heemst (NED) absolutely stomped all over the early rounds of the event with the Ukrainian flattening world champion Wagner (GER) in their opening exchange, the Dutch fighter taking no orders from Boehm (GER) on the other side. Van Heemst won through three rounds too, taking out home favourite Pavic in the quarter-final.
Joining the three youngsters in the semi-final stage was Gimenes (BRA), older but certainly not more experienced, this being only her second World Judo Tour event. The Germans and French number 3 Posvite could have been expected to deal with the draw and find the semi-finals but none managed it. Boehm began her day particularly well, as seen below, but couldn't find the same robustness against Derks.
Emma Reid (GBR) could also have been in the mix, seeded number 3 and with an early victory that looked promising. However, she fell against Gimenes, losing 3 penalties to two almost at full time. She dropped into the repechage but perhaps her disappointment was too strong as she then lost to Boehm and had to leave in 7th place. These are still important ranking points won but they're not yet enough to pass domestic rival Natalie Powell for the Olympic spot. Powell did not travel to Zagreb and sits comfortable above Reid, although both are within the direct qualification zone currently.
For the first bronze there would be another generational discussion but this time Anna-Maria Wagner was not willing to allow the succession. She came out at her very best, renewed and determined, throwing Derks (NED) for ippon just into the safety area with an enormous ken-ken uchi-mata that laid the Dutch fight out, completely horizontal on landing. For this medal it was experience which delivered the lesson.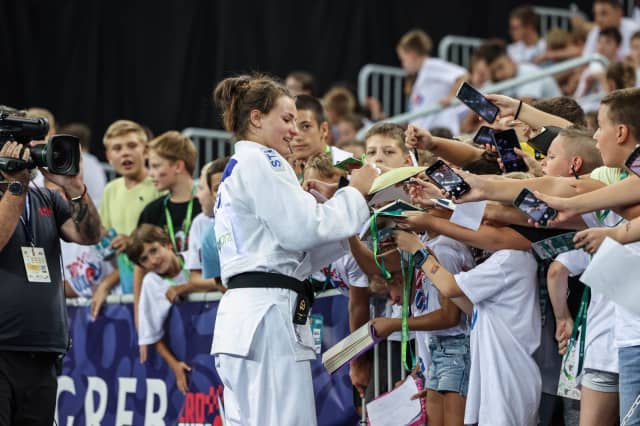 Wagner's teammate, Alina Boehm, also refused any kind of suggestion that the bronze was not for her. Sixty seconds in and Van Heemst went for a distant seoi-otoshi and Boehm went straight in, caught a strong grip on the tail of the jacket and used it to turn the Dutch youngster smoothly on tov her back. The hold lasted for the full 20 seconds and that was that. Germany took both bronzes at -78 kg.
The final, between the newcomer Gimenes and the junior Kurchenko, was fast-paced and powerful at every grip. The Ukrainian looked so solid on her feet and determined with her attacks that a win from the Brazilian looked impossible but with just under two minutes to go Gimenes flew in with a perfectly contacted makikomi and transitioned into a solid ura-gatame. From a field of such quality, those topping the junior and senior podia all over the world, it was a newcomer, a 27-year-old Brazilian who took her opportunity to shine; what a fantastic day for her.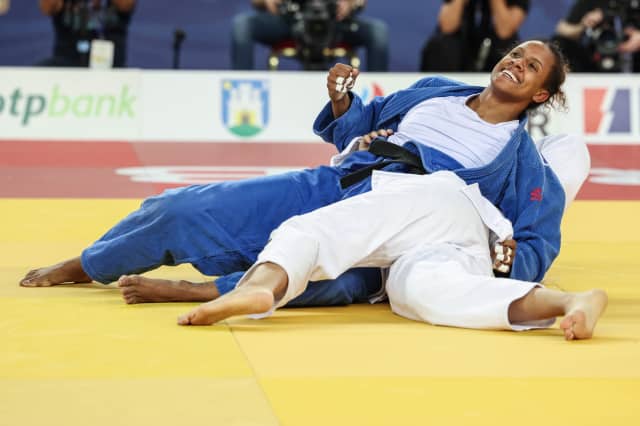 After the final, Karol Gimenes said, "I was very happy to be brave enough to be able to reproduce what we have been working on in training. I studied these opponents and was happy to fight them the way I practised."
Bronze Medal Fights (-78 kg)