Round one began at a pace with Ungvari (HUN), De Wit (NED) and Esposito all coming through the first round at the top of the sheet. Muki didn't make it, with the Brazilian Schimidt disappointing the spectators in the Pais Arena. Boltaboev (UZB) passed Ressel (GER) and Djalo (FRA) looked convincing against his Kyrgyzs opponent.
On the bottom half, there was also not too much waiting around with Gauthier-Drapeau (CAN), Chouchi (BEL) and Gramkow (GER) all sprinting into round two.
The big surprise came from Badash (ISR) as he threw the unthrowable Albayrak (TUR) for waza-ari with a driving seoi-otoshi. There was an understandable assumption that the world medallist, double Masters medallist and European champion would just take a breath and throw him right back but he didn't and with 17 seconds left on the clock, Badash did it again, another waza-ari and an unexpected realisation for both men. Albayrak is 8th in the world, a seeded athlete. Badash is 147th in the world and with no reference on the WJT. He is 20 years old and did something many of the world's elite have never done, twice!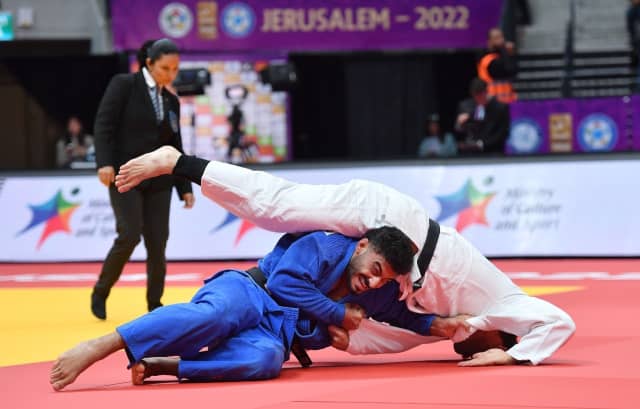 Yes, it's the Masters. Yes, the invitation is for the top 36 in the world. Badash does not meet that criterion. However, the host nation is allowed to bring two domestic athletes per weight category and the beauty of judo, even at a Masters, is that anything can happen. The best in the world can never underestimate the heart of a home athlete, with the crowd behind them, the familiarity of the surroundings and the will to do something special against all statistics; it's a magic potion of ingredients that sometimes produces a unique moment. Badash's next opponent, Fujiwara (JPN) was not likely to fall foul of the same recipe. In fact, he didn't, but it wasn't as clear-cut as one would think. Fujiwara launched every attack he could at Badash and avoidance after escape meant the eventual ippon came in the the very last minute from a massive seoi-nage. Badash was out but he did something remarkable today and gave a performance to match many of the top flight judoka who fought on the same mats.
Round two brought the top seeds into play, those who earned a bye in the first tranche. The always dramatic and addictively watchable Grigalashvili did his job and did it well, dealing with Ungvari expertly. Casse (BEL) threw the Canadian with a seoi off the back of an o-uchi-gari to open things up. It was simple but done very well. The Belgian then rode the clock like a pro and set up an undesirable quart-final with teammate Sami Chouchi, which went as these things often do, to a tactical decider, one which the world champion took.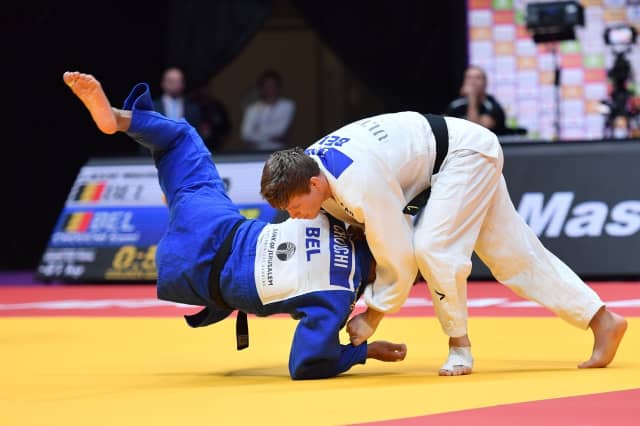 Mollaei (AZE) passed Latsiev with a style more synonymous with nage-komi than shiai, spinning him up and over a precise uchi-mata. It only took 36 seconds too. That set up an Azerbaijan-Japan quarter-final at the bottom of the draw. Fujiwara really struggled with Mollaei's gripping style but was adept at breaking away and creating space to turn in with his powerful seoi. He couldn't do it well enough though and was penalised twice for defensive play. This gave rise to an essential change in style and Fujiwara came forward more where he was caught for a waza-ari. Neither man is averse to throwing and actually Mollaei, even when leading so convincingly, continued his hunt for ippon and went underneath Fujiwara with a trademark kata-guruma for the second score.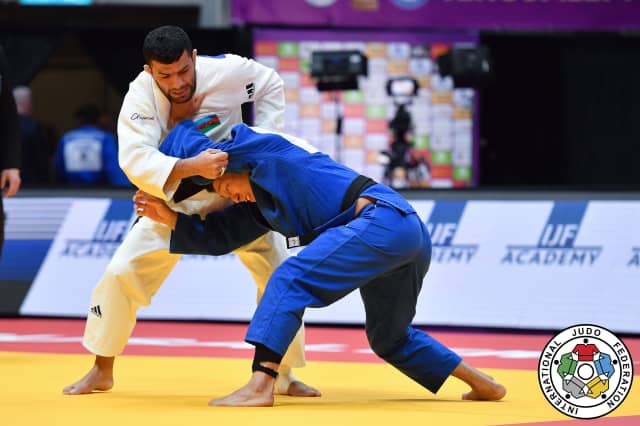 The semi-finals came, with Tato throwing Djalo twice, leaving the Frenchman to fight for a bronze. Tato didn't look under pressure at all, all the way to the final, dominance throughout. The other, Mollaei against Casse, looked closer on the scoreboard but objectively speaking, Mollaei has been unstoppable today and Casse has not looked at his best. The Belgian has still won through though and his tactical awareness is second to none. He forced a change in pace, making Saeid uncomfortable and it was a good strategy. Two shido to one, Casse leading, Mollaei having to come forward even more and that played into Casse's trap further with several low seoi-nage attacks coming from him. The fight became more and more lively as the time ticked away and in golden score things changed again. A possible ride and roll score was wiped off for Mollaei and so he tried a kata-guruma, pushing the pace back up. Casse was eventually picked up and thrown but we saw a better version of him in the last two minutes than in the first, in fighting terms, more explosive and imposing.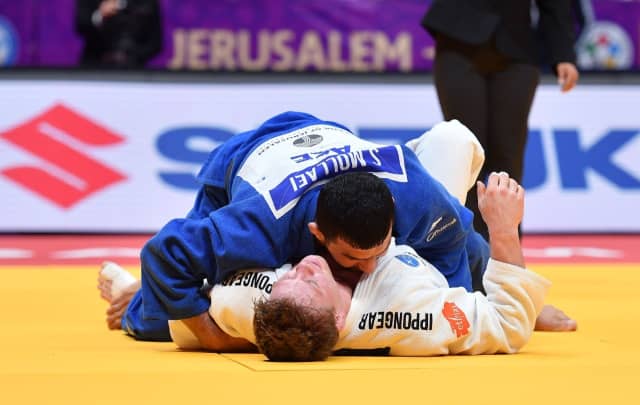 In the first bronze medal match, Casse was not willing to let pace be his issue and he came out like a whirlwind but Antonio Esposito (ITA) wasn't phased and weathered the initial storm before applying his own ko-uchi-gari which very nearly scored. A seoi-nage from one and then the other, a counter, a change of grip and a constant high tempo gave the spectators in the Pais Arena a really great mess contest and at full time we noticed there were no penalties on the board, a clear sign of a positive confrontation.
The first mark from the referee came at 2:42 into the golden score period, with the Italian receiving a shido for a false attack but this can be forgiven because fighting an opponent of Casse's class would be a struggle for anyone and avoiding all negativity becomes impossible when fatigue creeps in.
A tomoe-nage attempt was next from the Belgian and then a turn-in from the other. A ko-uchi from one and tsubame-gaeshi from the other still yielded no score but at almost 8 minutes of fighting Esposito started to turn and Casse felt it coming, reached under his opponent's grip and drove him over in line with the Italian's initial direction of movement. It scored a waza-ari, placing a Masters bronze in his medal cabinet to join his gold from Qingdao in 2019.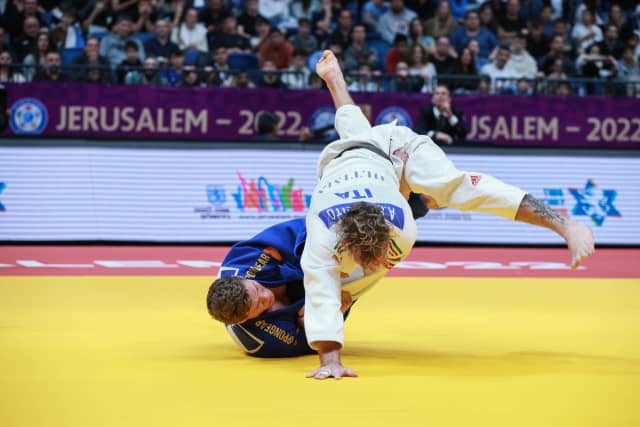 The second bronze went to Djalo (FRA), who threw Chouchi (BEL) with a powerful o-uchi-gari in golden score in an otherwise uneventful contest. This put France on a men's podium and stopped half the -73kg prizes going to Belgium in Jerusalem.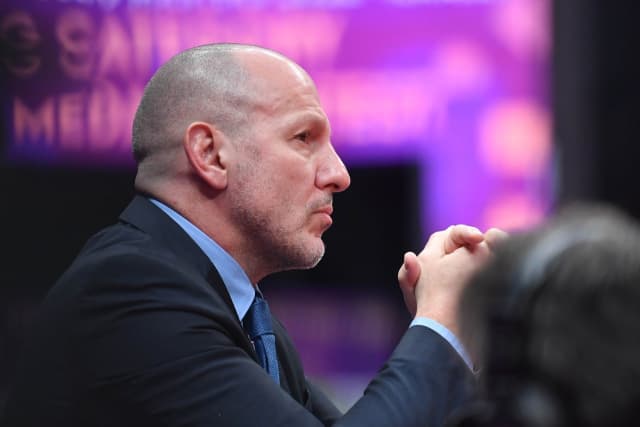 The final between Tato Grigalashvili (GEO) and Saeid Mollaei (AZE) had great potential. They are two of the most dynamic fighters on the circuit and always draw a crowd. It was a gymnastic drama right before our eyes eventually concluded in golden score when Mollaei attacked but Tato's te-waza seemed somehow inspired, controlling the Azerbaijani former world champion on to his back. It was gold for Georgia In Israel.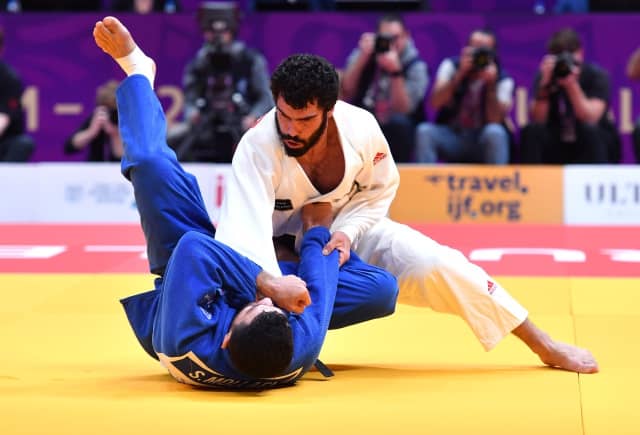 Bronze Medal Fights (-81 kg)