In 2016, the small town of Amatrice located in middle-Italy was completely destroyed by a devastating earthquake. The old town is still a pile of rubble. Many people died. Despite the difficult situation, the community of Amatrice is trying to stand and live again. The Italian Judo Federation (FIJLKAM) has been offering support to the Judo Club Amatrice since the disaster, for example with the donation of tatamis and judogis. With the IJF donation of a minivan another little step forward was done.

The day started as a 'normal' judo day, but what happened was beyond normality. It was a real celebration for the young athletes of the Judo Club Amatrice who could enjoy a day of training with the judokas or former Judokas of the Italian National Team in the sport hall of Amatrice.
Olympic bronze medallist, Rosalba Forciniti (London 2012) led the session with her fellow champions Elio Verde, Antonio Ciano, Ciccio Bianchessi, Giovanni Carollo, Eleonora Geri and Gabriele Sulli. All famous participants enjoyed a randori session with the children together with the young coach Mirco Rendina. On that special occasion the van donated by the International Judo Federation was officially delivered. Were also present during the ceremony Toyota Italia, represented by the Marketing Director of Toyota Italia Alberto Santilli, and the Italian Olympic National Committee represented by the Marketing manager Annamaria Marasi.
"We are happy to give a little contribution to the resumption of a normal life of the children of Amatrice after the terrible experience of the earthquake of 2016", said Domenico Falcone, President of the FIJLKAM, before adding: "I want to thank the IJF and its president, Marius Vizer, for the great sensibility shown to this heartbreaking situation and to the community of Amatrice. I also want to thank Toyota Italia and CONI (National Olympic Committee of Italy). Without their contribution we would not have been able to give these young judokas the chance to move independently to participate actively in other competition."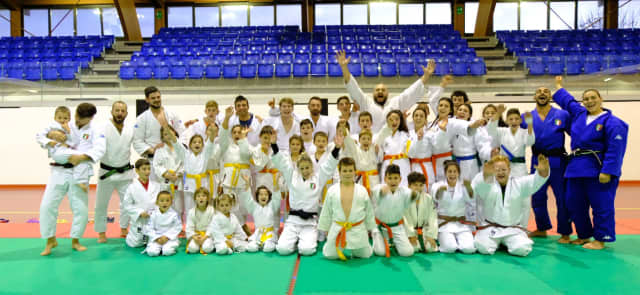 The donation of the van was made by the International Judo Federation with the support of Toyota Italia and the Italian Olympic committee and the whole operation was coordinated by the Italian Judo Federation. It was a necessity as the Judo Club ordinarily plays judo in a tent, which is a very little space. The van will allow the children and the judokas of the club to participate in Judo events in the neighboring cities. All participants had a big smile on their face at the end of the day.