As the World Judo Championships are fast approaching, other important events are already on the horizon at the end of the season. Among them, the Brasilia Grand Slam (6-8 October) will see the return of the World Judo Tour on Brazilian soil. During the inspection visit of the facilities, led by Carlos ZEGARRA PRESSER, Continental Sport Director PJC, a particularly symbolic ceremony took place. Thus in the framework of the World Judo Day 2019, a tree was planted on August 14 in front of what will become the dojo of an important social programme, called Instituto Jita Kyoei (Mutual benefit).
Leandro Cruz, Secretary of Sport of Federal District of Brasilia, Sensei Takeshi Miura, one of the founding member of judo in Brasilia in 1964 and leader of the social programme, Sensei Luiz Gonzaga, President of the Brasilia Judo Federation and Robnelson FERREIRA, representing the Brazilian Judo Confederation were also present.
The location was not chosen by chance. Until recently, the 'Park in the city' had a very bad reputation and was the gathering place for dealers and drug users. Yet from September 23, it is a brand new dojo that will open its doors and welcome the most deprived people. "This project will serve to give opportunities to children and young people, who, inspired by the IJF Grand Slam in Brasilia, want one day to become like their judo idols", explained Carlos ZEGARRA PRESSER.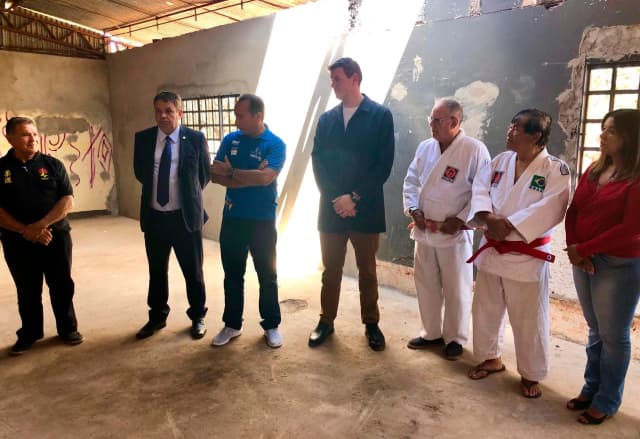 Symbols have their importance, and if the location of the dojo was chosen with the desire to positively change the lives of dozens of young people, the planted tree is also symbolic. The 'IP Amarillo' is a tree with deep and long roots. These roots are the proof of the robustness of the tree as well as the solidity of the social programme that will be unbreakable.
Carlos ZEGARRA PRESSER said: "Planting that tree was a really nice experience. Social projects really change the world."
"Creating a dojo is saving a lot of lives", said Leandro Cruz.
During the ceremony, all guests thanked IJF President Marius Vizer, for having brought back judo to Brazil and specifically to Brasilia. Let's make sure that the little tree that was planted on this beautiful day becomes big and strong as the Jita Kyoei programme.