Judoquinhas is a series of projects created in Brazil in 2016, integrating the wisdom of judo with the most modern scientific discoveries in the field of human development, in a way that is adapted to children's language. Inspired by the legacy of Jigoro Kano Shihan, Judoquinhas expands and deepens children's connection with judo, cultivating a love of learning and rooting the principles and values that make judo a winning lifestyle deeply into their environments.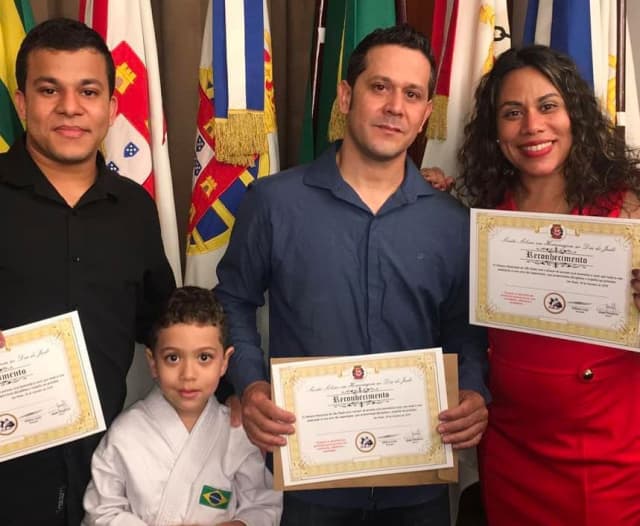 Currently, Judoquinhas offers more than 150 educational videos, viewed more than 2 million times and gathers over 24,000 subscribers in 50 countries worldwide.
"Our team is our family, composed of my husband, my two children and myself. With the exception of my youngest son, each of us works professionally in an area of human development and we are also all judo teachers," said Patricia Amaral.
"Judo is part of our family lifestyle, but it wasn't always like that. There was a time when my husband and I were just parents of 'judoquinha.' Initially we believed that learning how to fight would help our eldest son to face life's struggles. After all, the greatest dream of all parents is to prepare their children to fight for their dreams, have a successful life and become fulfilled and happy people. With this in mind, we agreed to enroll him in the school judo classes," she added.
As parents, they participated in all of their son's activities and they tried to provide him with the best opportunities in the sport. However, they were totally disconnected from the depth of judo and they did not really understand how the wisdom of judo could be used as a powerful tool for transformation and education.
Several years passed before Patricia and her husband decided to practise judo together with their son, "In our life as a family there is a before and an after judo. We started attending training sessions at the 'Judocas de Cristo Missão Internacional' dojo. At the beginning it was just to practise physical activity, until we also started to experience the powerful benefits of judo in other areas of life and we adopted judo as a winning lifestyle.
One of the most incredible transformations that happened to us was regarding the way we see life. We abandoned the mentality that previously limited us to only adjust and adapt to the world in front of us. We changed to a more powerful mentality that impelled us to live our dreams and work on our potential to make a difference, to influence and contribute to the construction of a better world for the benefit of all. As we trained together, the desire to delve deeper into Jigoro Kano's teachings became more important. As we studied we began to identify several bridges between Jigoro Kano's ideas and our own fields of study. Together, these studies represented our turning point."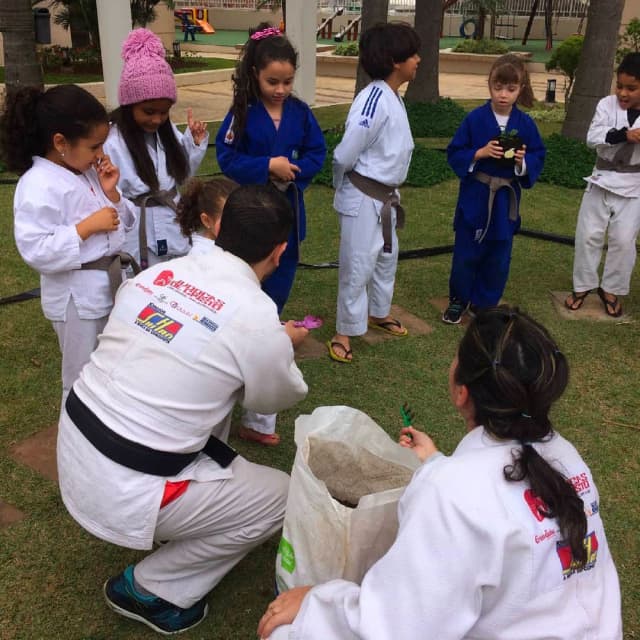 Patricia and her husband wanted other families to experience the same, in order to discover and adopt the same winning judo lifestyle. They wanted to bring judo inside their homes and hoped that other parents would seek to know more about judo, together with their children. "We believed that when getting closer to the sport, they would be able to create a stronger connection with their children and strengthen their families. Who knows, maybe they would also wear the judogi and, like us, try judo and discover their potentials together with their children on the tatami and then become parents of better judoka than we once were."
Over time, the couple and their oldest son graduated and became black belts. As black belts, they are convinced that they have the responsibility to pass on the legacy of Jigoro Kano to other people.
In the midst of all this, a second child was born. They wanted him to love judo just like them. "I was constantly looking for materials, videos and resources that could teach judo in a child's language, but at that time, I didn't find what I was looking for. So, I started to design and refine some activities to help children in different social projects of 'Judocas de Cristo Missão Internacional' and to encourage our son. The result was very positive. The children identified with the characters, understood the concepts better, took the activities home and showed them to their parents. For some time, activities were restricted to our dojo and were done only on paper," explains Patricia.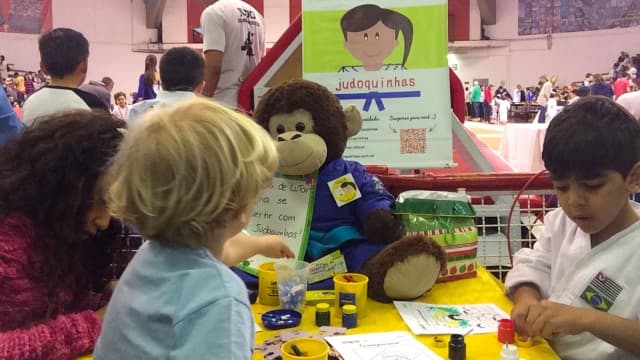 She also said, "Then, we wanted to take a bigger step and transform our work into our family's legacy for society, but how could we do that? Our strategy was based on an adapted scheme to talk to children and we chose to do it through videos and other materials, which focus on history, philosophy, techniques, behavior and other aspects of human development. We didn't know what the repercussions would be within the judo community. However, we put our strategy into practice and, as a first initiative, we started a YouTube channel in 2016 and named our project Judoquinhas."
Quickly they received hundreds of comments from children, parents and judo teachers, expressing their support and appreciation for the videos, even suggesting content. Based on this positive impact, they started to treat their YouTube channel as a virtual dojo, which currently consists of more than 24,000 hearts, passionate about the sport.
"One of our most significant actions was the celebration of the 2020 World Judo Day 'Stronger Together' theme. Every year we participate in the IJF WJD campaign. In 2019, for example, we mobilised our virtual and local community to plant trees, but 2020 was an atypical year. The IJF called on judoka from all over the planet to come together to fight to protect the universal values of humanity and to overcome the global crisis generated by the Covid-19 pandemic. We needed to create something that could really help children overcome the challenges posed by the present and enable them to feel capable and confident to transform the future.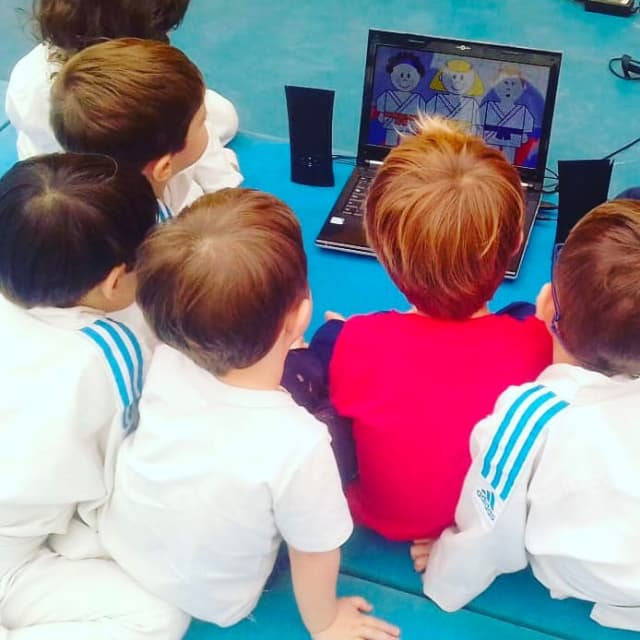 A programme based on the 17 United Nations goals for 2030, UNESCO's 21st century education goals, the IOC Olympic Values programme and the 'My Hero' Project designed to celebrate the best of humanity, was developed.
"It was challenging to create the Stronger Together Judoquinhas programme and make it available to the community because we did not have sponsorship or commercial partners and we worked on the programme in the time around our other work, since it is offered to the community free of charge. However, we were so excited that we could, in a creative and cheerful way, provide a meaningful learning experience for children who were already suffering greatly from the negative impacts of the pandemic on their global development."
The work was very rewarding. Once again many messages arrived. The participants were very active and created the 'Wall of Attitude' based on the activities they carried out through the whole month of October.
As another positive consequence of all the hard work, the Municipality of São Paulo recognised the impact of the programme in preventing drug abuse. "Our role as agents of good for society is something important for our judoquinhas to also mirror and be inspired by."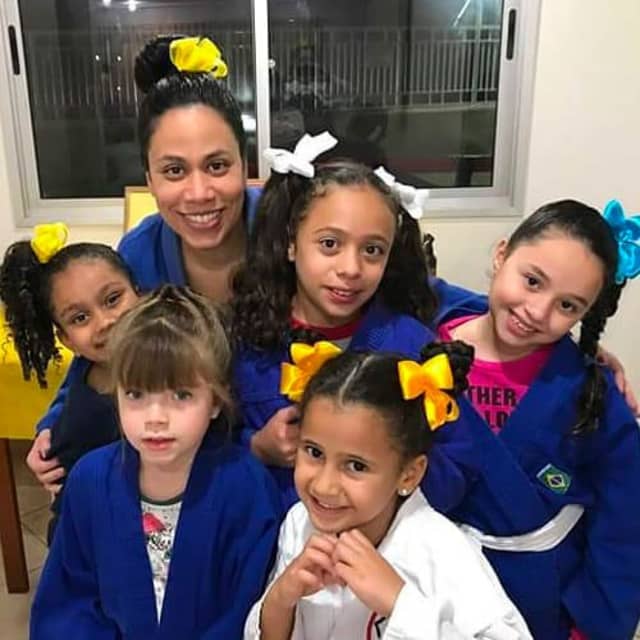 As time went by, Judoquinhas started to cross the boundaries of the online environment, carrying out various initiatives during championships, festivals and other events, "We have created an innovative concept within children's judo championships and festivals. We are present, whenever possible, with our Judoquinhas workshops, where we set up our yellow table full of activities related to judo, for children, where the young ones can have fun, freely.
In our Workshops, we also carry out activities related to the empowerment of girls, as an extension of the work that was already carried out in the dojo and in response to the great response to the Judoquinhas channel videos related to girls. As an example, we can mention the explanatory video on the first menstruation and the menstrual cycle, which reached more than 190,000 views."
What the creators of Judoquinhas value the most in their workshops is the opportunity to chat with children and their families. They always try to leave them in a more positive state, emphasising learning, experience and fun. One of the most striking workshops for instance was held at the renowned Japan House in São Paulo, as an integral part of 'DO:' the way of virtue.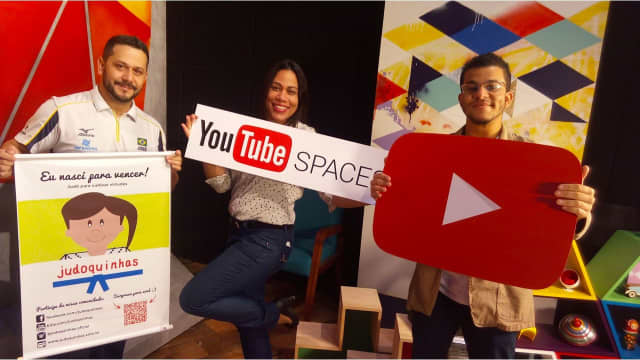 "Among our greatest achievements is our contribution as researchers. We were honoured to have our article selected for the first edition of the Arts and Sciences of Judo, produced by the IJF. Our article deals with the contributions of judo to the development of 21st century skills. In the area of management, my son Caio and I have graduated as Managers by the IJF," added Patricia.
"We also had the opportunity to spread judo through the creation of a series of videos emphasising the power of the sport as a life-changing tool. We fulfilled the dream of recording the series 'Judo: a winning journey' at the YouTube studios in São Paulo.
This is not the end of the story though and currently the whole family is dedicated to the study and preparation of classes and materials for inclusive judo and hybrid teaching, "Our dream is to promote resources so that many children from all over the world can have access to the wisdom of judo and can experience the benefits of the sport in its entirety because, after all, judo must always adapt to new realities and fulfil its role as a universal and profound discipline, invented to achieve a better life."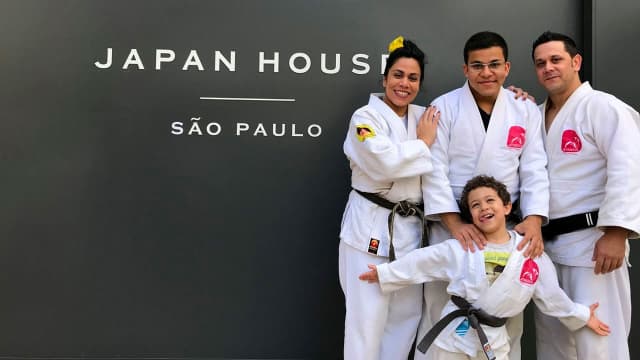 The family:
● Sensei Ricardo Gabriel has a Bachelors of Physical Education degree, specialising in playfulness, recreation and leisure and in motor learning in human growth and development 
● Sensei Caio Gabriel is a psychotherapist, specialising in neuropsychology
● Sensei Patrícia Amaral is a speech therapist and specialises in neuropsychopedagogy 
● Igor Amaral Gabriel is our inspiration, a voice actor, tester and official critic of our content and materials.
Discover the article of Judoquinhas in the Arts and Sciences of Judo journal at p.60:
The Arts and Sciences of Judo, Volume 1, No 1, 2021
Download