At twenty years old, already Ai Tsunoda Roustant has spent a whole life in judo. She is the daughter of Go Tsunoda, former coach to Telma Monteiro and also technical coach of a successful British team in the lead up to the London 2012 Olympic Games.
Go is neither British nor Portuguese; Japanese through and through but living a life defined by the borders of judo, not of geographical lines. His wife, Ai's mum, is French, Celine Tsunoda, also an accomplished judoka, one who trains as hard and as well now as she ever did.
Celine now travels from the family home in Lleida near Barcelona, with her daughter, to coach Ai through her competitive years. Celine and Ai are a team, with absolute faith in one another. From the outside their relationship seems intense and solitary, fenced off from any of the rest. Their dynamic is not usual but it is fascinating and also, one might argue, successful.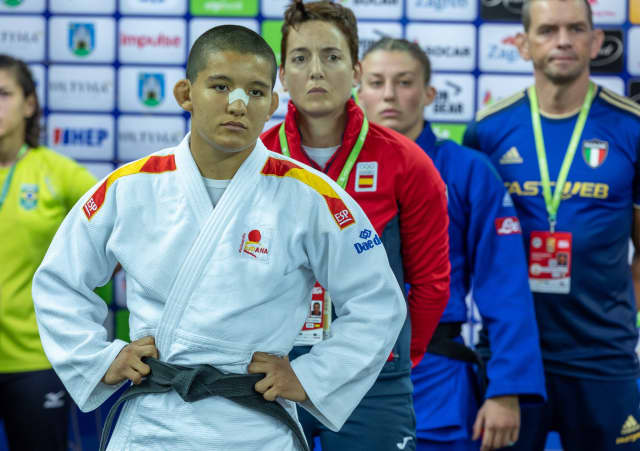 The CV is building. Ai was European cadet champion in Warsaw in June of 2019 and then won a silver at the Junior Europeans that September just 2 weeks before winning the world cadet title in Kazakhstan.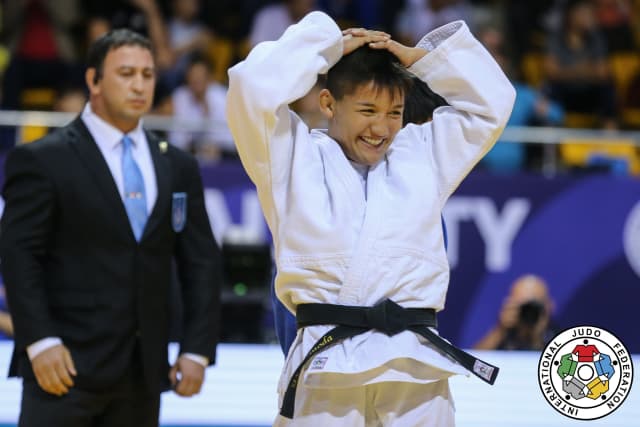 Four months later and on an impressive trajectory, Ai Tsunoda Roustant won a bronze medal at the Tel Aviv Grand Prix and appeared on the medal tally of the World Judo Tour for the first time. She was still a teenager at that time and then Covid reared it's ugly head and put paid to any plans made by anyone. A stop in momentum is unlikely to have been desirable for Ai!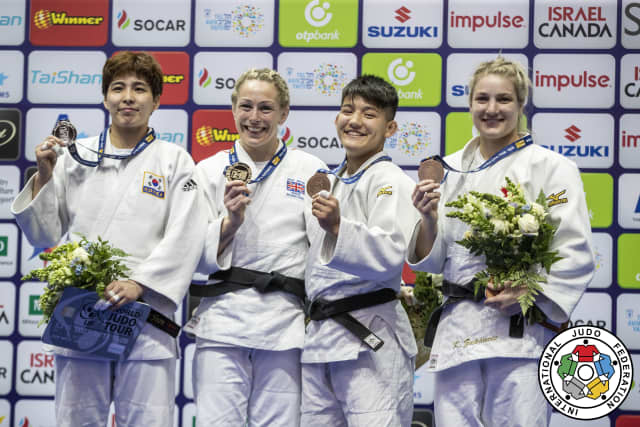 Celine explained, "We trained, of course. We talked at first about finding a way to do judo at home but it didn't make sense and as we have our private dojo nearby we decided to find a way to get there and to train. We knew it was expected for everyone to stay in their homes but with an exact rule neither forbidding nor allowing us to go to the dojo, we went, just us, the family. Dojo Lleida is small but has everything we need and so we trained every day, strength training, conditioning and judo. We didn't have any problems. After a short while, in Spain, it was ok for high level athletes to get back to training, officially."
Ai Added, "Morning weight training and a lot of judo; training twice per day. There was a time when I felt I needed more partners, to touch different people with different judo but I realised if there was a problem, it wasn't that there weren't a lot of partners, it was just with me and I adapted."
Ai was glad to have this clarity, cementing her belief in the family's way. Celine continued, "We do it our way, hand-crafting, it is artisanal training. We have a small club and although Go teaches his way with everyone, each person has individualised coaching."
So knowing that even a global pandemic can be adapted for, the drive forward remained in motion. Ai was back on the circuit in 2021 and with a European senior championship and two grand slam nothings, a quick dip back into the juniors and a gold in Bucharest were necessary to reignite confidence. She topped the podium at the 2021 World Championships for Juniors in Italy and has yo-yoed over the last year between juniors and seniors, building, testing, winning and regrouping.
She won a silver in Tbilisi, a first grand slam medal, then gold at the continental open in Madrid and gold at the Mediterranean Games. In Zagreb it was 5th place and next it's back to the juniors for her final world championships in the age category. Then it will be seniors for good!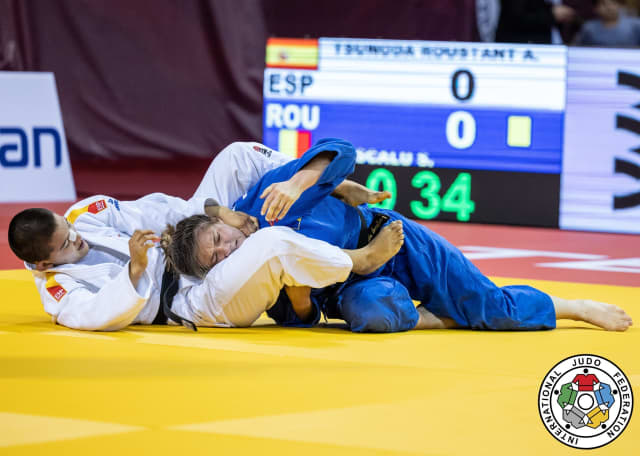 In Zagreb, as with all events, I walked around the warm-up area before the first contests went on, watching the drills and routines and saying hello to people. I caught sight of Ai and Celine straight away. We had arranged an interview back in February of 2020, in Düsseldorf, but logistics prevented it from happening.
Their sequence was different from others, building up systematically to the pace of shiai, very focussed, specific, detailed. Also, totally together, with strong eye contact, a serious expression. They moved with ease but creating designed tension, signalling to change but speaking very little. As one example, Ai repeated the practice, with increasing intensity, of a reverse juji-gatame, from uke on all fours. It could have been superimposed over a photo of Ai's second round win, a perfect replication of practice in competition; exact!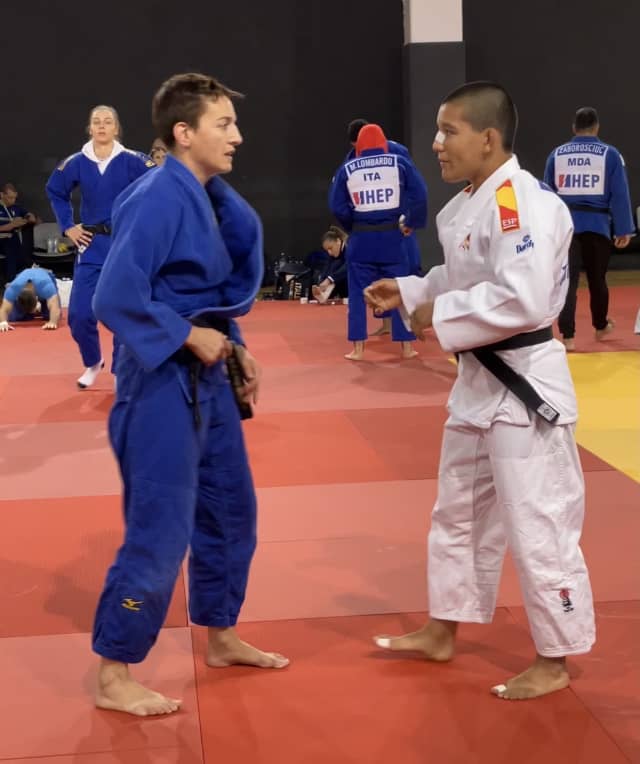 Later that evening, after the competition day was done, we met for a long walk. The heat wave was in full swing, making our 10pm venture very comfortable.
Celine said, "Go is still coaching now, he was working in Eastern Europe and had Ai with him when the war in Ukraine broke out and they decided to continue at home again in Spain as no-one knew how the war might affect the wider region. All his judo and his teaching is key to Ai's judo.
Ai continued, "My father teaches so well but at the moment I don't feel I am able to show the best of our work yet."
Celine and Ai speak completely in time with one another, as if scripted like a play, but it's the best improvisation in the world as it has not been rehearsed. There's conviction and it's hypnotising.
"They are not dolls for me to throw. They don't do what I want them to do. It's an interesting thing about judo, to think about the sport without a partner. If you take respect out of other sports they are still those sports but in judo if you remove the respect you have nothing. No-one pushes you when you run or stops you lifting your legs to jump but you can do nothing without the resistance of your partner in judo." Ai gestures a lot, albeit understated, clearly passionate about what she says. She also smiles, a lot.
That resistance is a key component in both competition and training. Judoka find solutions for as many scenarios as possible and train for them, re-work them, extrapolate from them. It's a never-ending puzzle; as one solution is found, another becomes necessary.
"You fight with your weaknesses. In our life, judo and personal life are completely connected. What we do in our judo life is reflected in us as people."
Celine completes the idea, "Losing or winning against someone is obviously a fight against them but also it is always a fight with yourself. Solutions are not always technical or tactical solutions but deeper than that, within ourselves. We can do randori and without words decide how we feel about someone. We get to have close relationships with people and have empathy in judo and this is reflected in how we feel in all areas of our lives."
And Ai, "When I fight I want to be strong and courageous. It's easy to say those things. I think, not in a negative way, but I don't want to be like that, just saying it. I want to really live it. The people whom have most to lose, the biggest champions, sometimes they really throw to the maximum, taking risks. If they can do this, I have to be able to do something! With some opponents it's easier to be the way I want but there are always a lot of adjustments."
Celine's turn so Ai paused, naturally, "What we think we want is sometimes too general but all real progress is step by step with small details, less general. So the goals, reflection and desire need to meet more closely. No matter what happens though, we keep going. Always forward means always improvement."
Here we can be reminded of Jigoro Kano Shihan, "Where there is effort there is always accomplishment."
Celine goes on, "Sometimes it doesn't happen in the way you think but something always happens."
They explain that their goals aren't really spoken about too far in advance. They don't have their eyes on Olympic glory or a particular gold medal. It's all about that continuous improvement, being better than yesterday. The path is the important part and if it's walked well, there will be positive outcomes too.
Ai offers more, "it's all step by step with continuous improvement. Now I have many competitions planned. It's quite short term though, just for just a few months. Maybe we look 3 months ahead to a target event, not necessarily a world championships, but just a mark on the timeline and then we decide how to reach there in the best condition."
"We take a lot of information from competitions," says Celine. "What we see in competition, everything is true. What happens is real, someone's maximum effort, but at training camps there is not always honest information. You can fall without consequences so preparation is different, the feeling is different. Go sees every event as an opportunity.
Today it's only ever possible to give 100% of what we have, no more. We are thinking that we can't compete at a higher intensity than the level at which we train, so we try to train really hard to meet the same feeling we will experience in shiai. Everyone has good fitness but if you can't meet the level of training in competition then you have to raise the training level to then be able to push harder in competition.
We want to win but also this is the way we want to be, the way we want to live, to be every day stronger, physically, technically and as a person."
This drive for improvement and honesty comes from the very beginning and is the core of everything the family does.
"One important thing I would like to add about our family: it's not only the 4 of us." At home there is also Ai's little brother, Yu. "Go's father, Makoto, was Go's sensei and he is very involved in what we do too, even though he still lives in Japan. It's not only about our foundation or transmission, we send him Ai's fights so that he can watch them too. They have long constructive talks about judo with Go very often. It's our roots and also our present."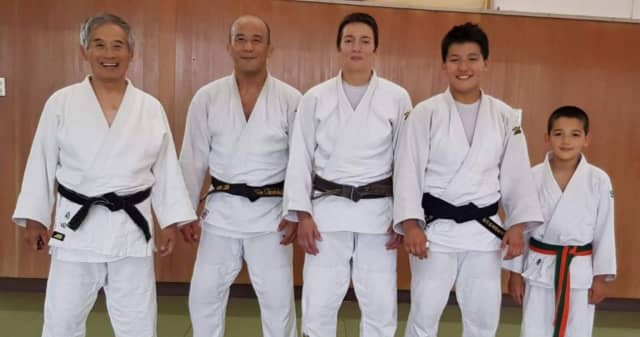 "We are living this together, as a family. It's such a pleasure and a wonderful life. Of course it's difficult but we feel truly alive: really happy, really tired, really alive. Go is the foundation for all of it. If he is not, we are not. There is no sacrifice in this lifestyle, its an incredible life. It's what we want no matter the problems. We all live just once and have to feel alive."
Ai feels the same, "I don't feel I had to give up something to do judo. I embrace it because it is all a choice. In each moment we really try to give our best to it. We know that tomorrow we don't have this intensity of feeling. Today I must feel all of it because tomorrow and the next week I won't feel sad anymore with the loss just like I wouldn't feel the elation and relief of victory."
Emotion is always woven through what we do and in sport we can feel higher peaks and deeper losses than in most areas of life. Celine talked about the need to control emotions but to not try to lose them. Ai illustrated this idea well, "Lara Cvjetko (CRO) is a good friend, someone I have met before. I have respect for her. In the moment I lost to her for the bronze medal in Zagreb, I was of course not happy for either her or me, just feeling my own moment of loss. Afterwards, separately from my own situation, I am happy for her to have won a medal. She worked hard for it. My place in her achievement is irrelevant when considering her achievement on its own merits. I am really happy for her."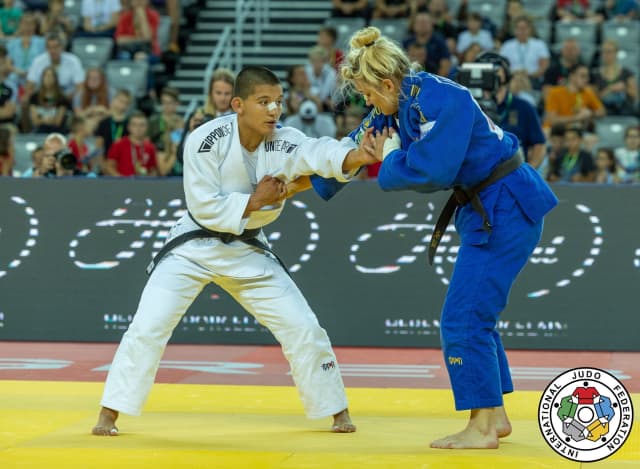 So with continuous improvement, respect, family values, a committed and consistent work ethic and the evidence of an impressive and growing CV, Ai Tsunoda appears to be on the right path. It might not be one that everyone could walk but it is the right one for her, and isn't that the point, that improving herself and becoming the best judoka she can be, is what will enable her and her family to contribute something of value to the world. The Tsunoda way seems to be glued to the philosophy Jigoro Kano spoke about and wrote about, an educational methodology targeting the building of both individuals and society. The result is also simply to be and to feel truly alive.