It is obvious to everyone that 2020 has been a complicated year in so many ways. However, despite the difficulties linked to the global pandemic, the IJF educational programmes continued to unfold and develop for the benefit of the population. This was particularly the case with the Judo for Peace South Africa project.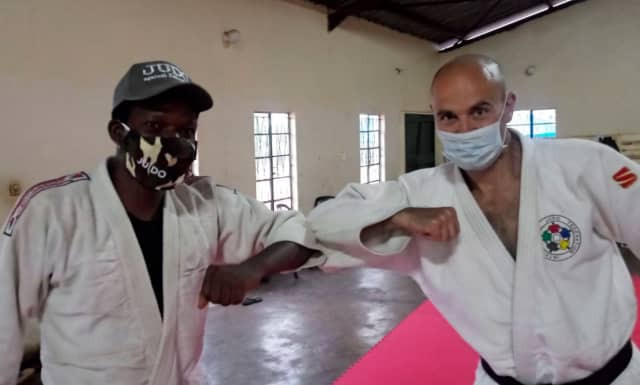 Judo for Peace South Africa is a programme funded by the International Judo Federation in collaboration with UNHCR, the main partners of the activities being Judo South Africa, CleanCitiesSA, Three2six, Dlala Nje, Future Families, Zoe-Life, RSS, Nike Foundation and Grassroots Soccer.
As for today, we are present in Johannesburg with 7 clubs and 4 schools, with other satellite clubs active in Kroonstad, Pietermaritzburg, Cape Town and Port Elizabeth, as well as in Musina (Limpopo).
The vision of the whole programme is to fulfill the dreams of the founder of judo, Jigoro Kano Shihan, in order to offer a brighter future to the younger generations through the teaching of judo discipline and to foster an ethos of mutual help, to build a better society.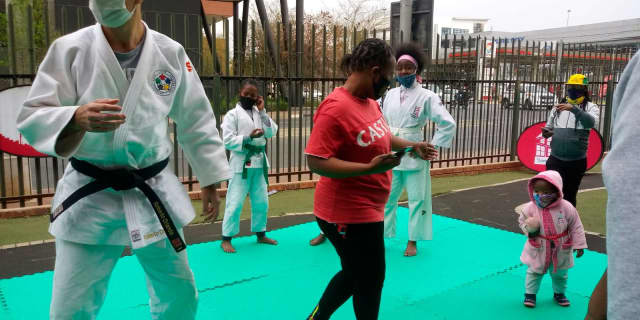 Judo for Peace South Africa is a platform for communities to meet, collaborate and contribute to the social cohesion, youth and gender empowerment and child protection of both local and refugee communities in South Africa.
In 2020 two programmes were implemented, thanks to the strong support of UNHCR:
1 - 'Social Cohesion in times of Covid-19 - Xenophobia no more!' in Johannesburg and Musina – through the partnership with Future Families.
2 - 'Younger Generations for Social Cohesion' in KwaZulu-Natal through the partnership with Zoe-Life.
Because of the COVID-19 pandemic, the programmes have undergone many adjustments, constantly reviewing and refining, due to the ever-evolving nature of the pandemic and the protection measures taken by the authorities. As a consequence the activities were reshaped in scope and length, as necessary. For instance, in mid-2020, as a strict lockdown was enforced, Judo for Peace South Africa partnered up with local clubs to organise online training sessions. 
Enjoying its 4th year of activities and having its main dojo based in the heart of Johannesburg, where there is the highest concentration of migrant populations, Judo For Peace South Africa was very active in the field of social cohesion.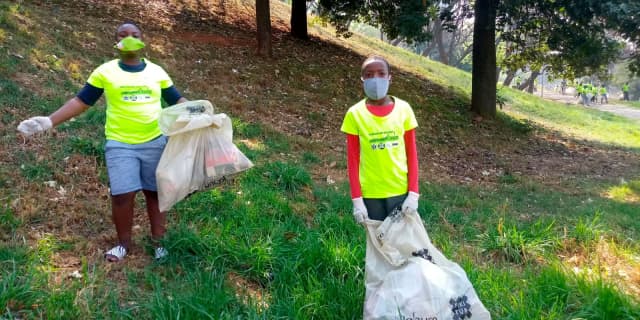 Although judo as a discipline had to be re-thought and reduced in scope (in particular due to social distancing and limiting numbers of participants during the sessions), our judoka haven't missed the opportunity to reach out within local communities and were engaged in outreach activities such as environmental campaigns. As part of the programme, we have teamed up with the community-based organisation CleanCitySA to adopt a local park and join the weekly cleaning campaigns in the Berea and neighbourhoods. Our dojo is home to children and youth of different nationalities; learning to work together represents a fundamental step for social cohesion.
Girls and youth empowerment is also a of main objective of Judo for Peace South Africa. Self-defence classes were held twice a week and aimed at girls and children in their early adolescence. Synergies with local NPO Dlala Nje have been instrumental to sensitise youth and to encourage local participation, in particular, during the 16 days of activism against gender-based violence; a national campaign.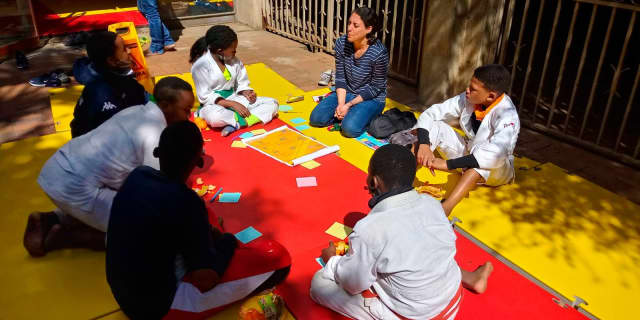 Thanks to UNAIDS board games, crime prevention and reproductive health talks were important components of our action in late 2020, as we focused on these sessions to promote the child protection component of our programme.
Although Judo For Peace South Africa has seen most of its success stories in major urban areas, we have now flown to a new frontier, the border between South Africa and Zimbabwe, a land of rocks, sand and Baobabs.
In partnership with UNHCR, JSA and Future Families our coaches were called for action at the boys and girls shelter in the border town of Musina, where each shelter hosts around 20 migrant and refugee unaccompanied minors.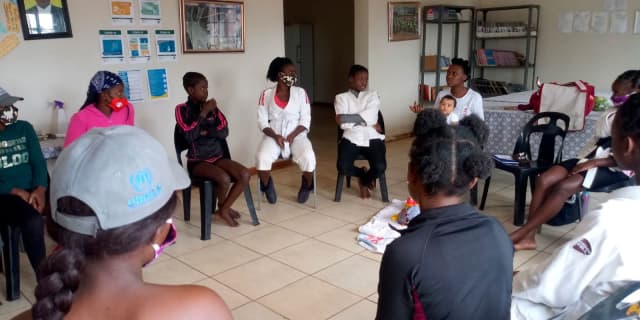 In December a mixed team of judoka, accompanied by Sensei Dirk Crafford (JSA) and Roberto Orlando (Judo for Peace) from Johannesburg, came to Musina to practise judo with the neophyte judoka housed at the boys' and girls' shelters. Judo in Musina is now practised enthusiastically, thanks to the expertise of Sensei Godfrey Kleinsmidt, a 5th Dan judoholic who has lived part of his life in Japan.
As part of the visit our female coach, Dimakatso Rakaki, engaged the group of girls and boys in a round table discussion on gender-based violence, increasing awareness and highlighting various issues, as part of the fight to combat the increasing violence against women and children.
The have been activities in KwaZulu Natal, aimed at promoting social cohesion among youngsters, by exposing them to the judo moral code and various social cohesion activities.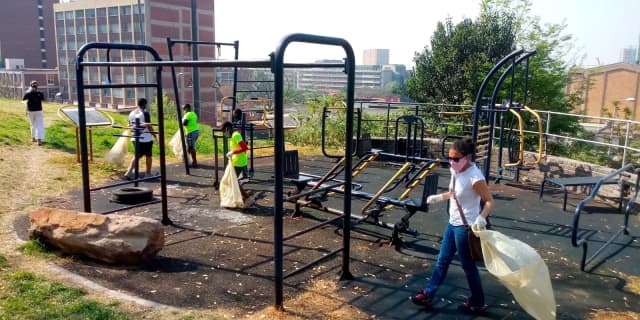 In order to establish a Judo for Peace presence in the area (Durban), we partnered up with the Blue Roof/ Zoe-life centre where a local DRC judo coach offered judo classes to a selected group of local youngsters. The logic behind this pilot activity was to introduce judo to local youth and set up a community network for the launch of the 2021 Judo for Peace activities in the area. Thanks to the resources of the programme we have been able to ship judo equipment to the port of Durban and our vision is to open new local clubs offering a platform for social cohesion at grassroots level.
At the very end of 2020 (13th to 19th December) Judo for Peace South Africa organised a social cohesion camp at the Umgeni Wessa Forest Reserve in Howick (KwaZulu Natal). On this occasion, a mixed team of 33 participants (refugees from DRC, migrants from Zimbabwe and DRC) and locals from Johannesburg and Durban met, shared experiences and judo practice.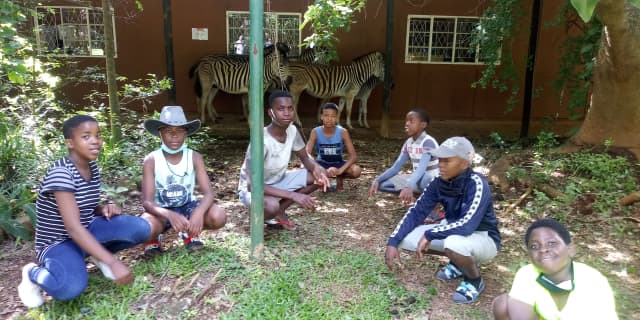 The youngsters participating in the camp were offered environmental activities in the mornings, social cohesion activities and judo practice in the afternoons. A crime prevention and GBV talk was held as well, through facilitation from 6th Dan Sensei Dirk Crafford and Judo for Peace Volunteer Dimakatso Rakaki.
Once again Judo For Peace South Africa proved that, no matter what, development and social cohesion remains crucial to help disadvantaged populations to visualise and realise a brighter future.