JUDO FOR THE WORLD - January and February have been very busy months for judo in South Africa as the IJF Academy held an important practical session in Vanderbijlpark close to Johannesburg and Roberto Orlando, IJF Academy Graduate himself, who is in charge of the Judo for the World programme in South Africa, continued to develop the programme. This project focusses on refugees, to help them to overcome difficult situations and uses judo as a social development tool.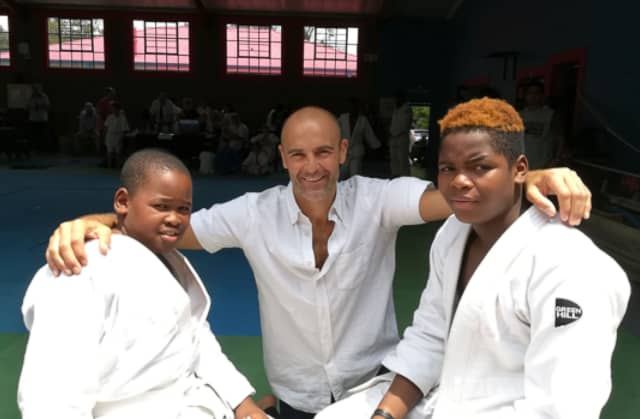 Below – Judo faces… Roberto Orlando together with Jojo and Junior two young refugees from Zimbabwe just before competition
While the elite athletes were in action in Paris for the IJF annual Grand Slam, three refugees were participating in the South Africa National Trials in Port Elisabeth, where Roberto Orlando also had an important meeting with the President of Judo South Africa, Themba Hlasho. A week after, 20 young judoka, participated in the Wesrand District Trials and 25 judoka competed in the Gauteng open in Johannesburg on the 24th, while the 23 was dedicated to some judo demonstration in several schools in Bopelo Impilo and Fordsburg.
Roberto explained: "This season has been characterized by competitions all over South Africa where Judo for the World Judokas have participated with success. The first competition took place in Port Elizabeth (1'100 km from Johannesburg) and due to the high costs we participated with 3 athletes only. The other 2 competitions were in Johannesburg and we managed to participate with a higher number of judo players.
These competitions represent a motivation for our judoka and at the same time allow the project to reach visibility at a national level. JSA president Thambo Hlasho was very satisfied with our participation to the national trials and more in general with our achievements. During the competition in Port Elizabeth we had the opportunity to discuss the future of the project. JSA will be happy to see the project expending to other sectors such as homeless people and to other cities as well, like Port Elizabeth and Cape Town (where there is already a numerous community of refugees)."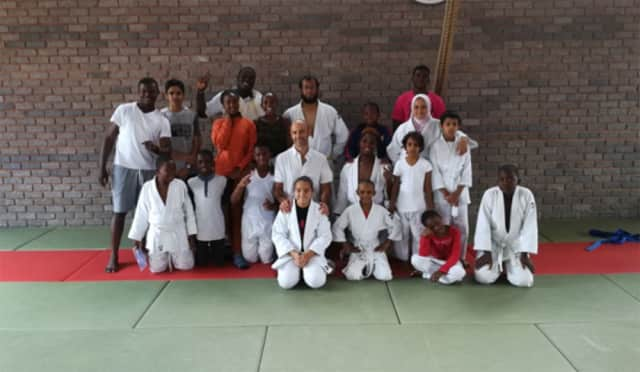 Above - Judo for the world team at Wesrand District Trial

Beside those important and visible activities, several coordination meetings took place with the Italian Consulate, SOS Infanzia nel mondo, Growing Champions Association, St. Mary Orphanage, Outreach Foundation, CGTV and SASCOC (South African Sports Confederation and Olympic Committee), whereas several refugees were registered to integrate the IJF academy.
"Mr Eesa, Mary Immaculate, Carmi and Josias are acting as coach assistants for the project. Their involvement is very important to make sure that the project belongs to the refugees themselves. These 4 judoka have been registered to the IJF Academy courses. Josias and Carmi are not very used to computer yet but I will assist them and together we will plan everything", said Roberto Orlando.
In the Mayfair Dojo, many young refugees are taking part in the judo activities and the experts are expecting to have more students this year due to the great commitment of the community leaders in the area and to the fact that they have now agreement with 2 local schools. The activities are enthusiastically supported by Eesa Sheriff, a community leader who joined judo last July and who is helping during children classes and public relations.
Above – Aisha, Neo, Isaraat and Asanat (Ethiopian refugees) at the Gauteng Open
Jacque Joubert, recently graduated Judo Instructor of the IJF Academy, also conducts classes, allowing Roberto Orlando to focus more on other dojos, like in Rosettenville Dojo, where the attendance is regularly growing (150% compared to December 2017), or in Hillbrow, where judo was relaunched and gained 25% of new participants, compared to last December. Those are only a few examples of the amazing job that Roberto and his refugee team are doing in order to develop judo among the refugee communities.
The Judo for the World programme in South Africa is part of a global approach led by the IJF to help and support the refugees around the world. Judo for Peace activities are held in Turkey, for the benefit of the Syrian Refugees, In Zambia and Malawi for the African Refugees accommodated in camps and in South Africa with the Judo for the World Programme. In order to be even more effective, successful and concret, the IJF has recently joined the UNHCR #WithRefugees campaign READ MORE