The draw for the 2022 Baku Grand Slam has been completed and that means the judo itself is not far away. In just a matter of hours the Heydar Aliyev Sport Arena will be filled with the sound of Ippon judo, in front of spectators on venue and online.
At the draw the promo video kicked things off with explosive footage of some of Azerbaijan's very best fighters at recent tournaments. There were then some welcome speeches and introductions. Those present included Dr Lisa Allan, IJF Events Director, Mohamed Meridja, IJF Education and Coaching Director, IJF Head Referee Director Florin Daniel Lascau, Deputy Minister for Youth and Sport Mariana Vasileva, Rashad Rasullu, General Secretary of the Azerbaijan Judo Federation and their Vice-President Elnur Mammadli who was Olympic champion in Beijing in 2008.
Mr Meridja began, "Dear deputy minister and judo family, on behalf of the IJF and President Marius Vizer, I would like to express to you all a warm welcome to Baku. Thank you to the Azerbaijan Federation for all their efforts. We are convinced that the organisers will create a great event, as they have in previous years."
The Deputy Minister for Youth and Sport then took the reins, "I'm happy to greet you all in our capital. We are under the spotlight of the world community and this is now one of our major events, one which has been hosted here since 2013. It's important as a qualifier, with athletes earning points for the Olympic Games. I'm sure all delegations will enjoy the favourable conditions and I wish good health to all. May the strongest win!"
Mr Rasullu spoke warmly, "We are excited to meet the best judoka on the world scene as well as meeting new talents. We are fully committed to all delegations having a great experience. We are sure this year's event will reach new heights. Thanks to the IJF for all their collaboration. I wish good luck to all.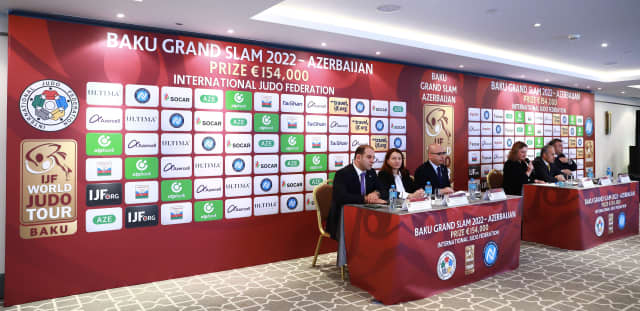 Head Referee Director Florin Daniel Lascau then reiterated the IJF's commitment to bringing referees from among those at the top of their game, from all continents of the world, "Our selection of the best World Judo Tour referees ensures a fair and transparent competition."
Dr Allan then presented some of the practical information including the start times. On day 1 the lightweights will begin at 11am local time, middleweights on day 2 will be at 10am and it's back to 11am for day 3. On each day the final block will begin at 5pm.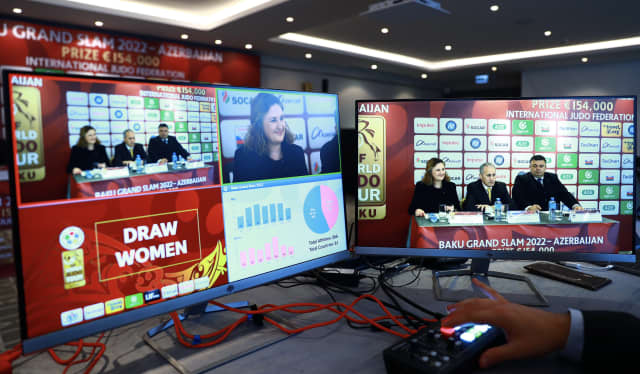 The draw then took place with densely populated categories and despite only two of the current world number ones being present, there is a clear richness and depth in every group with the climax being the battle for supremacy at +100kg where Rakhimov (TJK) and Tushishvili (GEO) will be facing off in what they hope will be the strongest final of all.
Olympic and world medallists adorn each contest sheet, including Giuffrida (ITA), Gjakova (KOS), newly crowned world silver medallist Lara Cvjetko (CRO), the people's favourite Shavdatuashvili (GEO) and a strong meeting of the big names at -81kg with Casse (BEL) and Mollaei (AZE).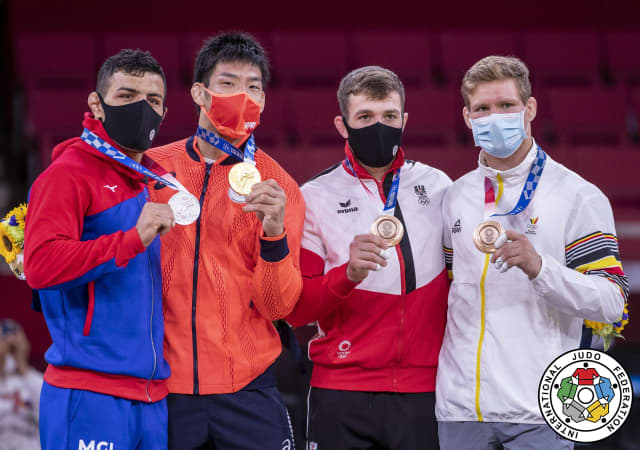 We also note that current world number one Renshall of Great Britain is still touring, having returned from injury very recently. She won in Abu Dhabi only days ago and she is at the top of the -63kg group looking to strengthen her lead. Another world leader, Vieru (MDA) looks set to hold his pole position, if the challengers will allow it.
Dr Allan closed the draw with a reminder, "You can follow on social media using#judobaku and can watch live online as all athletes present chase Olympic ranking points in the beautiful city of Baku.
To conclude, we must acknowledge the support of the local sponsors and the minster of youth and sport. Thanks also to Mr Rasullu and his team for all the hard work leading up to the final preparation for this event."