Great Britain's Chelsie Giles has been on a steady incline for the last couple of years. She is quietly picking off the incumbents, one by one, climbing the ranks of the -52kg elite.
Chelsie's first World Judo Tour medal came in 2018 at the Antalya Grand Prix and others followed. Two more Grand Prix medals and then Abu Dhabi became a hot spot, with Grand Slam bronze medals in both 2018 and 2019, chased quickly by a bronze at the 2019 European Games.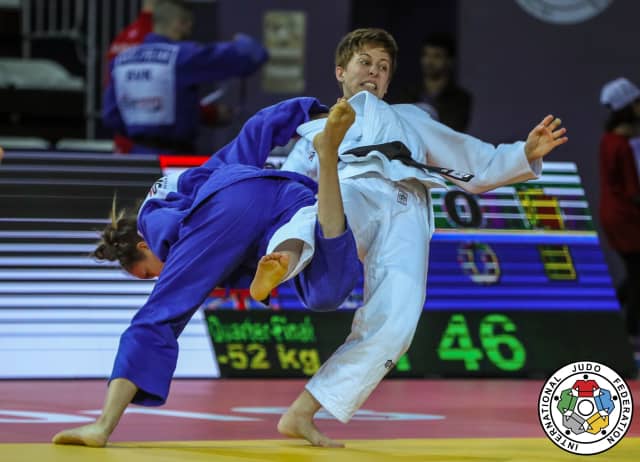 Still, a gold medal evaded her, like a lure teasing the greyhound, but in Tel Aviv that glass ceiling was broken and in spectacular fashion.
Kosovo's heroine, Majlinda Kelmendi has only lost a handful of contests in her whole career, to date. She is Olympic champion, double world champion and an almost guaranteed medal prospect at every event she attends. We recognise her tension on the mats and her trademark focus. She is not playing games, at all. She wants only to win.
In Tel Aviv Giles and Kelmendi met in the semi-final of the -52kg category, with each of them leaving a path of destruction behind them; ippon wins all the way. Twenty-four year old Giles, is as fit as an athlete can be, with an attitude for training that is admirable. This contest would be a test for anyone though.
The match was close, with no drop in pace, tense gripping phases and a professional respect throughout. Golden score began and there was a visible increase in energy as both judoka took a deep breath and decided; now!
It was the Brit that made the truly decisive move, however, taking a deep top grip and positioning her weight with the least risk possible, to show a dangerous o-uchi-gari, before switching to a devastating uchi-mata, at the behest of Kelmendi's lightning fast reaction. It was ippon. Clean. Swift. Beautiful.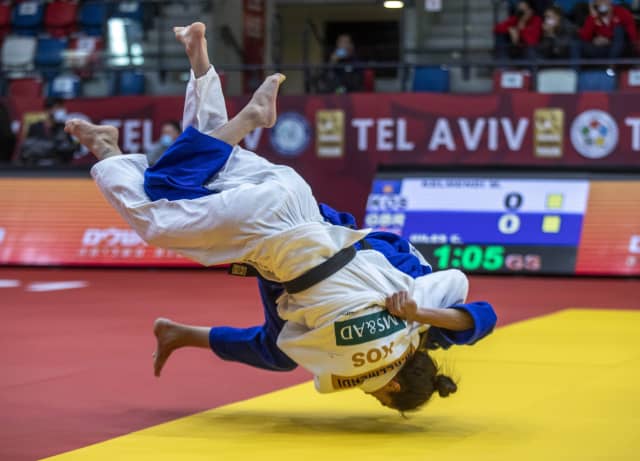 Both judoka froze for just a second longer than normal, knowing but not believing what just happened. The Olympic champion had lost. The humble, young English girl had proved, once again, that judo will always bring surprises and this is the unknown quantity and magic that the spectators crave. It is impossible for this beautiful game to drown in a stagnant sameness. Every moment provides potential and hope and heart-break and this emotional connection will always light up our sports halls.
Taking a moment after the semi-final, Chelsie Giles spoke, "With such a tough year behind us and a lack of training camps, I was underestimating how I could perform today, but I felt I had nothing to lose and so I wanted to give myself the best chance and give it everything."
Her national coach Jamie Johnson agreed, "The thing is with Chelsie, it's about having a bit of belief. I know she can do it but it's been a struggle to put it into practice consistently. We had to change a little after the Doha Masters and get her being more physical. Today she's beaten the Olympic champ and a European medalist. It's about not hanging back. She had to go for it and not conserve her best to save the risk of losing. Chelsie has worked hard in all areas, always turning up and engaging with the programme. I'm pleased with her. She's done exactly what was asked."
British Judo's Performance Director Nigel Donohue was more reserved, with an important contest still to come, "She's doing alright!" He laughed. "She's grown through the weight over the years, getting better and better; bronze at the Europeans and a steady rise toward fulfilling her potential. She's starting to take opportunities and is now making them too."
After such a dominant final, the team was buoyant. Mr Donohue continued from where he left off earlier in the day, "Yes, she was good today. The process is still being followed and we have seen her take the Japanese to the wire, at the 2019 world championships, so it's there. She's now maturing and at 24 she knows her judo and has a great structure. Her incredible ne-waza has stayed with her and been enhanced from her club days. Chelsie is refining all the time and her confidence can only grow from today. The quality of the opposition says a lot and there isn't anyone out there who has thrown Kelmendi like that. It's all coming together at the right time."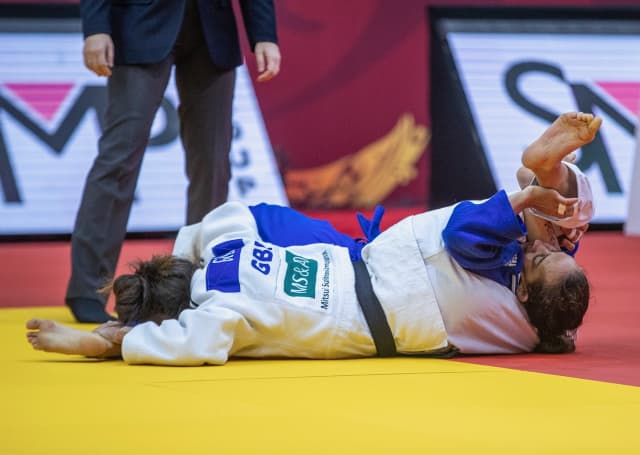 Coach Jamie Johnson was elated, "It's the best I've seen her fight. She's had 5 ippon wins, including beating the Olympic champion. It was just the belief she was lacking. She needs to believe and then deliver and today she did exactly that."
Chelsie came and joined us, still with twinkly eyes and a shy grin, "It's not settled in yet, that I have won. I feel like a lot of people support me and believe in me so to come here and prove to myself that they're right is a really good feeling. Jamie has always believed I can do it and today I pulled it off against the best in the world.
My home club, Coventry, is the biggest support and I get messages all the time. They lend me so much spirit and I want to make them proud. I like seeing Neil Adams on the Tour, as he is from Coventry too. It's a little boost to feel I'm a positive part of his legacy as well.
I really have to offer thanks to Wayne Lakin at United Exercise. He has really kept me motivated and also provided great advice and equipment for continuing my training at hone during the lockdown and with all the various levels of restriction.
The last person to mention is Nekoda. She's been my main training partner through the toughest period of the lockdown and only last week we were doing some gripping work and it was put into play today, exactly as we practised. Those little moments make me happy!"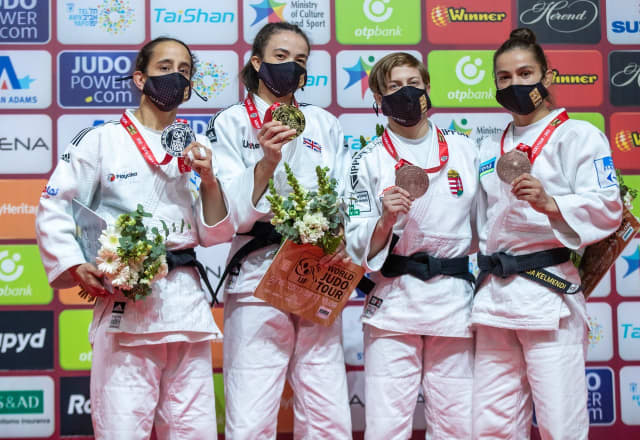 Chelsie's customary humility continues and today is a new day. Never one to rest on her achievements, she will be straight back to the tatami as soon as she arrives home, to plan for the next events. For now she is the one who threw a judo giant for ippon and that experience will scaffold her self-belief in the months and years to come. The rest of the category have also taken note!