Olympic gold, 3 world championship medals, 12 grand slam medals. Isn't that enough, for anyone? It seems not! That's just some of the CV of 2012 Olympic champion Sarah Menezes (BRA). Sarah is now the head coach for Brazil.
What are your coaching goals?
Olympic gold. It's simple. I always want the first place!
How long have you been coaching?
Since December 2021. After I stopped fighting it was time to have a family. Loic Petri and I have a daughter now, Nina. She is 10 months old and so I feel I can begin to travel again, although sometimes I bring her with me to camps, so that she is in the environment too.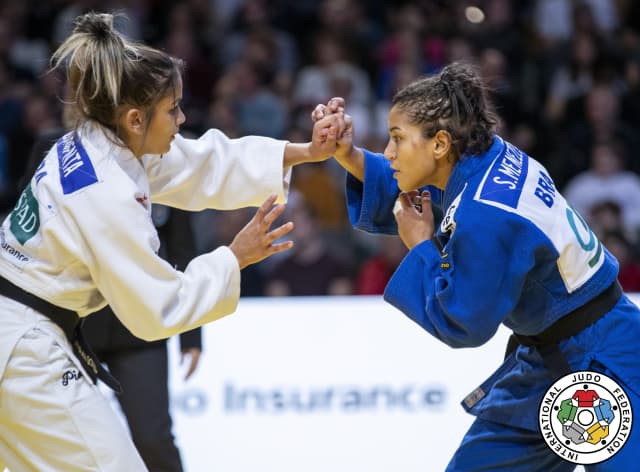 Was it always a goal to coach? How did it come about?
When I was an athlete everyone always talked about the tactics for contests and I was very aware of this. The Federation (CBJ) saw potential in me to help the next generation and so the process began.
What is your favourite part of the coaching process?
The best part is to help others and to mix what I lived as an athlete with what I am learning now. I have a vision, joining those two worlds together, to make a difference for them.
How can you compare the feelings of being a coach at the side of the mat with those of being an athlete on the mat?
Adrenalin! There is Adrenalin from both perspectives. Normally I'm not an emotional person, but when I got medals as an athlete and when the athletes get them now, I cry and this is a very singular situation for me. I put in my mind that I have to be focussed on the goals and so I have to control all I can. Once I have what I want I can really live that moment and boom!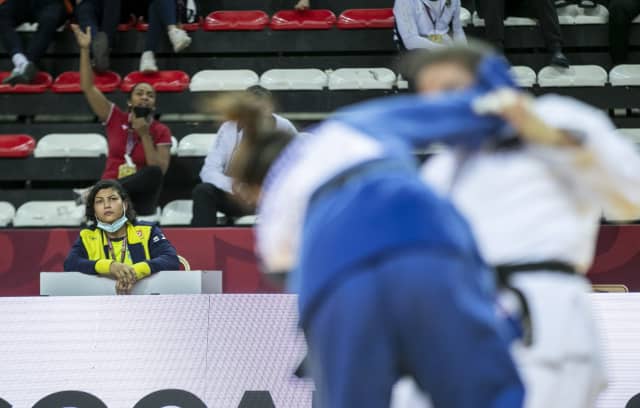 What is the hardest part of coaching, for you?
I was an athlete before and many times the coaches said to do this or that and now I'm on the other side and it is very difficult to make the athletes understand. Some of them were on the team with me too and so building that confidence between us is a big job.
Which coaches have you learned most from about coaching, now or in the past?
Expedito Falcao was my coach from when I was little and all the way through. He was very inspiring. Towards the end I had to work with Rosi too but it was always done as a team. Rosi always protected us and fought for us and we really felt this a hundred percent. From him I learned about what to do day to day and to never give up. With Rosi I had the extra power. I want to be my own person as a coach but I use what they both taught me to build my way.
What do you want athletes to say about you behind your back?
They should say that I am hard with them and cold sometimes but that I do it always for them, for the best reasons.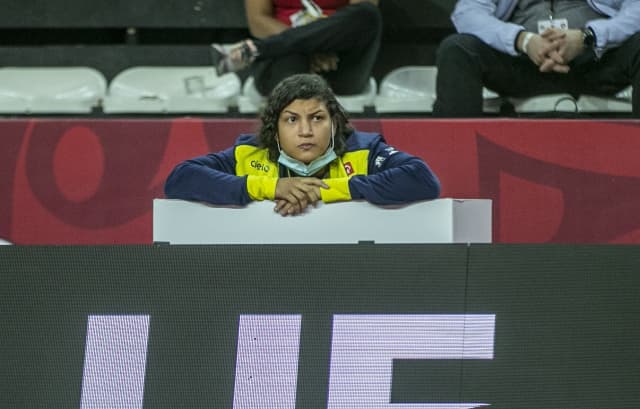 Do you have any advice for women coaches?
In all the world there are many very good women coaches but we must work together to keep bringing more women to the high level. Believe in your power and you can go and get medals and be the best support for your athletes.
With the 2022 World Judo Day theme of Inclusion encouraging us all to be more tolerant and open, seeing such high profile athletes, like Sarah Menezes, leading the way, is heartening and inspirational. More and more women who were high level athletes are making the transition to international coaching, making this pathway more visible and possible for those who follow.