Clarisse Agbegnenou (FRA), answered to our questions for the fourth EXPRESS INTERVIEW (after the IJF President and Asahina Sarah - JPN and Dorjsuren Sumiya - MGL). This format of interview, that we will regularly offer you, will help you to discover in the upcoming months, until the 2018 World Championships, Baku, Azerbaijan, our champions. 5 questions, 5 answers to the 15 current World Champions (14 + 1 open) to discover more about the judo world.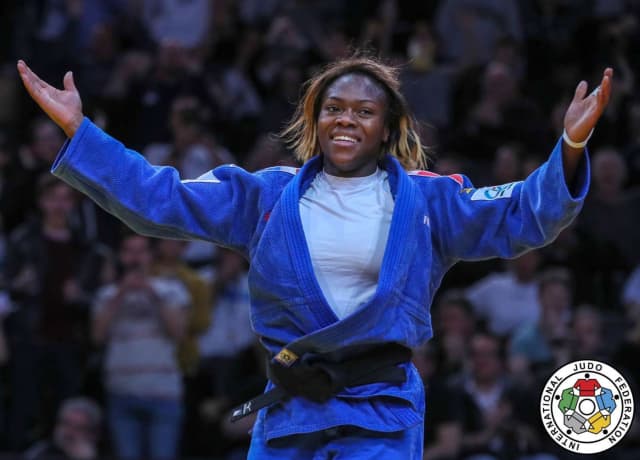 Should we still present the double World Champion and Olympic silver medalist, Clarisse Agbegnenou (FRA)? The young woman, whose family roots are in Togo, was born October 25, 1992 in Rennes, France, and evolves in the -63 kg category. Beyond these few biographical facts, the presence of Clarisse at a competition on the World Judo Tour is the guarantee of spectacular judo, as most matches end with an ippon. Dynamic and powerful, she also has a remarkable technical background. While she is only 25 years old and still has beautiful years at the top level ahead of her, her career has already been punctuated by memorable struggles including the one that opposed her to her friend Yarden Gerbi (ISR). In 2013, in Rio, the Israeli won the world title defeating the French in a memorable final, but the following year, it was the turn of Clarisse to win the title, then it was the Slovenian Tina TRSTENJAK to stand on her way. At Rio in 2016, TRSTENJAK became Olympic Champion, and Clarisse silver medallist. But last year she became again World Champion in Budapest, and the story is far from being over. Her answers are as sharp as her judo.
IJF: How do you experience the status of favorite in a category that has been hotly disputed between you and Tina Trstenjak in recent years? Clarisse Agbegnenou: I am favorite on paper but in my head this is not the case. I will eventually be a favorite the day I win the Olympics.
IJF: Who are your most difficult contenters? Clarisse Agbegnenou: Without any doubt the Japanese Miku TACHIRO and Tina TRSTENJAK.
IJF: Where is there room for improvement in your judo and in which sectors do you still want to perform better? Clarisse Agbegnenou: I still have room to progress on the ground, in ne-waza and I want to vary my technical skills.
IJF: What is your favorite value in judo and why? Clarisse Agbegnenou: Ippon because it ends the contest.
IJF: What did Judo teach you? Clarisse Agbegnenou: It brought me a culture, a lot of knowledge and friends but above all more self control because I was quite agitated when I was younger.
OTHER EXPRESS INTERVIEWS: • Marius Vizer, IJF President • Dorjsuren Sumiya (MGL) • Asahina Sarah (JPN) • Nemanja Majdov (SRB)