If you are not affected by a serious vision problem yourself, it is not easy to imagine what life is like without the ability to see and understand space. We can of course always try to imagine what a day in total or partial darkness could be like but that is only speculation. How then to represent the practice of judo without vision? This is the question we asked the athletes participating in the IBSA Judo Grand Prix Portugal 2023. Before sitting down to listen to them share their impressions with us, we would like to thank them warmly for their kindness, their availability and their desire to talk about themselves, sometimes in the most intimate way.
Chris Skelley (GBR) became Paralympic Champion in Tokyo last year. The first word that comes to his mouth when being asked how it feels to step on the tatami is "Scary." "Yes it's really scary to go on the tatami. At the beginning, you are guided to the mat and taken care of by the referee, with whom we have a very special connection. Before the start there is some space between you and your opponent, then you grip each other and it's game on immediately. There is no observation phase. Just before that precise moment when you take the kumi-kata, you have all kinds of thoughts going through your head and once again, to be honest, it is simply scary. Your mind is whirling around. Eventually your hands become your eyes."
For Chris, judo has changed his life, "I've been on the Tour for twelve years and I feel so lucky. It's like a family to me. When I lost my sight progressively, I lost my job and I couldn't drive anymore. I felt like everything was taken away from me but the one thing that was left was judo. Nobody could take me from that. Every evening I'd go to training. It gave me a direction, a purpose and a goal in life. Every minute I would think about judo. I am now 29 years old, having started to practise the sport when I was 5. Through judo I've learned perseverance. Without judo I wouldn't have known my wife, who was a wheelchair tennis player. We met at the Paralympic Games. 
You know, judo is not easy but I'd like to quote Rocky, 'It's about how hard you can get hit and keep moving forward.' I believe that judo is the most adaptable sport when those who have a disability and ultimately it makes you happy, so be happy. I went to the Paralympic Games in Tokyo and I won but for me it was not only about winning. It was more about sharing with my coach, knowing that my family couldn't be there, and knowing how to become a better person on and off the tatami. Judo taught me humility."
Christella Josette Garcia (USA) was a bronze medallist at the Rio 2016 Paralympic Games. She competed again here in Portugal. "I am totally blind, so I don't have the advantage of seeing even some things. Usually people believe that us, blind people, we have other senses that are more developed. Actually I don't really agree with that. It's just that we have learned to use them in a more appropriate way. For me, sounds, smells and the temperature of the room is important information. We are very adaptable. I don't hear better than anybody else, I just pay more attention. My brain must be focussed on that information. What seems insignificant for others, is crucial for me. In the end, it's all about feelings. I am tuned in to my environment, especially when I step on the tatami. I can hear the crowd, my coach, even the heartbeat and the breathing of my opponent.
The thing is that I focus on the body and the body language and ultimately even without seeing, I can feel what other people are feeling. You see, not through your eyes, but you see. This is why judo is so great for us, for blind athletes. Often in the past I felt underestimated but with judo I feel free and independent."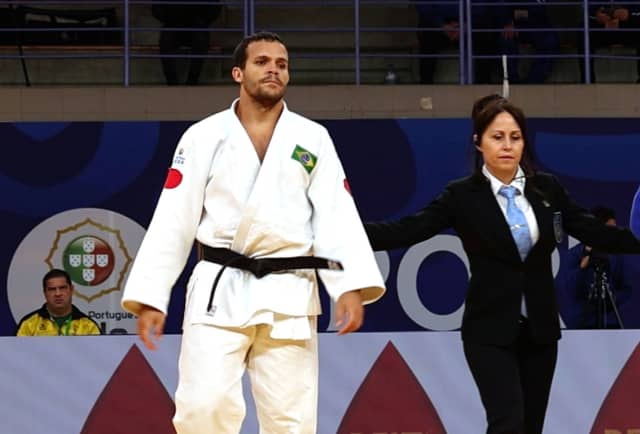 Arthur Silva (BRA) is competing in the J1 -90kg category. For him, "The most important thing is the contact. We need to touch. When I grip my opponent, I immediately know where he will go, right or left, pulling or pushing. Using the lapel, I have a sense of direction. Really, there is not much difference between the judo practised by anyone. We can not see but we can touch and feel. The learning process is longer. Other people can watch videos and demonstrations, we have to feel them, but otherwise it is all the same. 
What I wanted to add is that, in IBSA we compete but we are really like a family. The organisation is great and we are more than welcome everywhere."
Chris, Christella Josette and Arthur may not see you but they feel you and of course they do have to be careful when stepping on the tatami, not to take a tumble, as Christella Josette mentioned, "We don't want to break a toe when we enter the arena," but then, they practise judo in the most beautiful way. For the three of them, and this is what matters, judo is about freedom and recognition. It is about having a goal and a direction in life; once again, it's not different from anyone else. 
More images of the IBSA Judo Grand Prix Portugal 2023 - CLICK HERE