In the fall of 2017, the Israeli judo team set out for Abu Dhabi, to take part in the International Judo Federation's Grand Slam. This was an historical day for many reasons.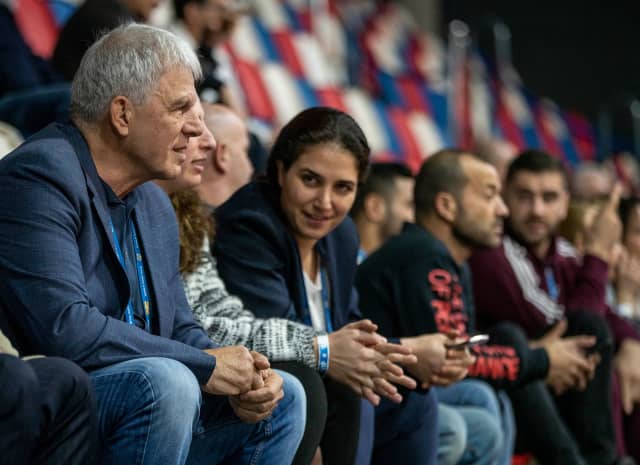 Among the Israeli team, no one needed to recite the history of what is what in this part of the world. Everyone knew, and understood. How, though, in such a situation, one naturally filled with any number of anxieties, to keep everyone focused? Calm? Together?
Moshe Ponte, president of the Israel Judo Association, was having nothing but focus. Concentrate on the competition, he kept saying, and indeed the clearance finally came through, the Israelis were allowed into the United Arab Emirates and, in a memorable scene, Tal Flicker won gold in the men's under-66 category, singing the Israeli anthem — HaTikvah, or "The Hope" — on the stand even though organizers did not play it.
Recalling it all now, Peter Paltchik, the Israeli standout in the under 100-kilo category who in 2018 would win gold at the Abu Dhabi tour stop, said of Ponte, affectionately, "He is a bulldozer."
Indeed, the 63-year-old Ponte is one of the leading personalities in world judo.
By force of his considerable personality and tenacious will, he has made Israel — a country of eight, going on nine, million people — into a legitimate medal contender at virtually every event at which its athletes appear.
In judo, Israel is significantly more likely to win a medal — or medals — at this summer's Tokyo Olympics than the United States, with 330 million people.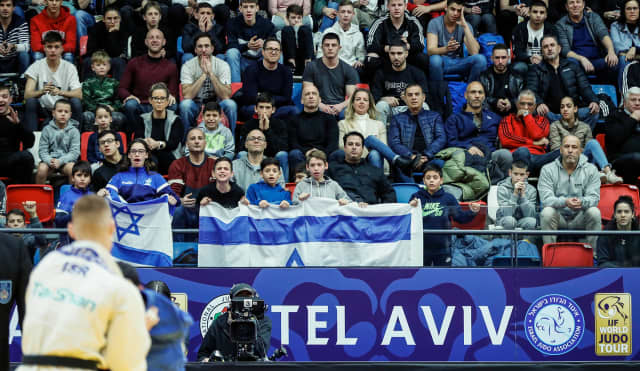 With Ponte, it's all about focus, drive, concentration and competition. The 2017 Abu Dhabi stop yielded five medals for Israel, Flicker's gold and four bronze; back in Abu Dhabi in 2018, this time wearing their flag and with the anthem playing, the Israelis again won five, two gold, Paltchik and Sagi Muki in the men's 81-kilo class. In 2019 in Abu Dhabi, however, the Israelis unexpectedly came away with a big fat zero, and afterward Ponte let his team know in no uncertain terms that if it was more important to be posting, say, what they had for breakfast to Facebook or Instagram than to be winning that they ought to reconsider the entire thing.
For the record: Ponte has a Facebook page. His last post was a year ago. His focus on focus is so laser-intense that the Israeli team — looking out toward the start of the Tokyo Games, in July — will more or less cut off feature interviews as of February.
It's not that Ponte is necessarily disagreeable. It's that he has his way, and he believes his way works, and the truth is that after eight years as president of the Israeli Judo Association he has a proven record of producing and if you want to argue about it — well, there's the record, so what's to argue about?
Consider:
Ponte takes over as president in 2012.
The very next year, with Shany Hershko — who has known Ponte essentially his whole life — as her coach, Yarden Gerbi becomes world champion in the under 63-kilo category.
Three years later, at the Rio Olympics, Gerbi wins bronze. On the men's side, Or Sasson, in plus 100-kilos, wins bronze, too — coached by Oren Smadja, who Ponte had coached to a bronze medal at the Barcelona Games. The performance in Rio is Israel's first two-medal judo take-home since 1992, when Smadja and Yael Arad (she won silver) had done so.
And so much more.
Muki is also the 2019 world champion in that 81-kilo class and will be a medal favorite in Tokyo.
"He lives judo," Muki said of Ponte. "He has a lot of passion, ambition and will to make judo in Israel a success, and you can see the results."
Israel's minister of culture and sport, Miri Regev, used the Hebrew word emunah to describe Ponte -- in this context, "belief." That, she said, and "professionalism." And "devoted."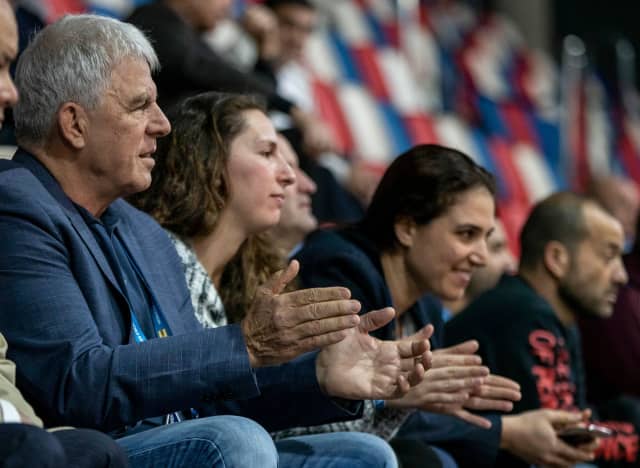 She also said, "He is a man of the people."
This is for sure. Ponte has no airs. To be clear, everyone calls him Ponte. Everyone. His first name, Moshe, translates as Moses, arguably the most famous name in the Hebrew Bible. No one uses it.
His wife calls him Ponte. His daughter calls him — Ponte.
He laughs about this. It's Ponte, he said.
Since the formal founding of the state in 1948, one of the central stories of Israel — in any context — is that it is a "normal" country, like anywhere else.
This is a delicate balance. Even as the judo tournament was underway Thursday in Tel Aviv, world leaders were gathering an hour away in Jerusalem to commemorate the 75th anniversary of the liberation of the Auschwitz concentration camp.
For Ponte, judo has offered a step beyond — a way to show that Israel is not only, in his words, "normal" but "special," too.
Ponte competed at the 1984 Los Angeles Games, in the same weight class as Neil Adams, the 1981 world champion who has since become the 'voice of judo' as an IJF commentator and referee supervisor. Adams would go on to win his second Olympic silver medal; Ponte finished in a tie for 20th.
Soon after was born Ponte's coaching career, which begat Smadja who begat the likes of Sasson and Muki, and another branch that begat Hershko that begat Gerbi, and so on.
Watching Thursday from the stands, Ponte's passion was abundantly evident. When Timna Nelson-Levy, who won her category here last year, women's under 57-kilos, went out in the third round, he slapped his knee in disappointment. A few moments later, Baruch Smailov threw his Kazakh opponent to move into the semifinals at men's under-66; Ponte lept to his feet in exultation.
Hershko has been around judo — around Ponte — since he was 6 years old. Ponte was his — Hershko's own — coach when Hershko was a teenager. In all, the two of them have wandered together, well, some 40 years.
For a moment, via Hershko, the Moshe metaphor: "So we've been in the desert a few years together. We stick together and we fight a kind of enemies. Most of the people said, don't fight. You can only lose. Now he has a lot of power because of the results we have made. As a coach and a president. But I have been with him in a difficult situation when he didn't have the power. Just the belief. And, of course, I got a lot of power and motivation, and I learned.
"If we didn't cross the desert also a few years — we would be totally different personalities."
Beyond the medals, on Ponte's watch, the growth in the sport in Israel has been nothing less than explosive.
When he took over, Ponte said, the federation had 500 members. Now: 7,000.
Eight years ago, Ponte estimated, perhaps 3,000 to 5,000 Israelis were practicing judo. Now: 60,000 to 70,000.
Another metric:
In 2018, Tel Aviv staged the European judo championships. Then, last January, the first IJF Grand Prix, with 373 athletes from 53 nations. This week, for the 2020 Grand Prix, there are 548 athletes, 83 nations.
It's not hard to see what Ponte — there's that will, that drive, that personality — would like to tick off next on the to-do list. Israel's first Olympic gold in judo. Bring the IJF world championships to Tel Aviv — someday, and sooner than later. The first opportunity would be in 2025.
Ponte, meantime, having engineered success in judo, clearly sees opportunity elsewhere in this country in Olympic sport.
What?
"I can't tell you," he said, but there is a hint from a man who is a proven winner. "We need," he said, "to make a revolution … we need to change the thinking of the people."