France and Japan, two of the leading nations in judo, linked up in December to host the first instalment of the "Japonismes 2018 JITA-KYOEI PROJECT" in France.
The special introduction of Japanese culture to France is exclusive to judo and the sport was selected as it is one of the leading sports at the international level and is a mutual passion of both countries.
Kodokan Judo Institute President, IJF World Promotion Director and IJF Hall of Famer UEMURA Haruki and judo's only three-time Olympic champion NOMURA Tadahiro held a seminar for Black Belts and Teachers in Paris to open the project.
The world-renowned duo then moved on to Villebon-sur-Yvette, a commune in the Essonne department in Île-de-France in northern France, about 20 kilometers south of Paris, for a special seminar for clubs which also featured Lucie DÉCOSSE, 2012 Olympic champion and Marc ALEXANDREl, 1988 Olympic champion.
Toulouse was the final destination as the group delivered a seminar for Instructors and high-graded judoka and also a panel discussion between coaches of judo, baseball and rugby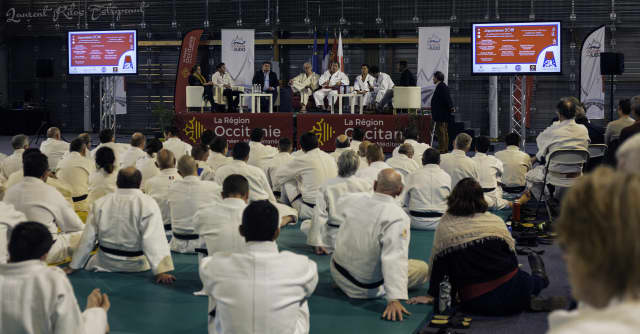 The project is a joint venture organized by The Japan Foundation, the Kodokan Judo Institute and the French Judo Federation with special support from Groupe Barrière.
A Japonismes 2018 JITA-KYOEI PROJECT exhibition will take place from January 15 to 26 at Maison de la Culture du Japon à Paris.
Additionally, a seminar and demonstration of kata will take place at Kagami biraki, a Japanese New Year ceremony that means "Opening the Mirror," which will be a closed door event on 19 January at Institut du Judo.
Judo fans from around the world will be able to join in with the project as an exhibition and demonstration of kata is scheduled to take place at the Paris Grand Slam 2019 on February 9 and 10 at the AccordHotels Arena.
Pictures courtesy of the French Judo Federation