The International Judo Federation President, Mr. Marius Vizer, just concluded a very positive two-day-visit in Cairo, Egypt. Invited by the Egyptian Judo Federation and by the Minister of Youth and Sports, Mr. Vizer had the opportunity to discuss the possibility of organizing major events in the country in the near future. One of the locations that could be chosen is Charm El Sheikh in 2017 and 2018.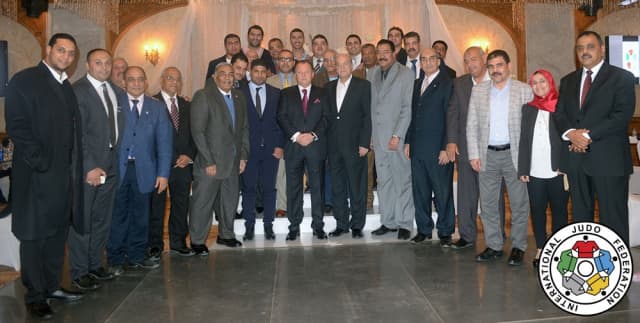 The Egyptian Judo Federation (EJF) President, General Mohamed Sameh Mobasher was very pleased with the visit: "We are very happy that the IJF President, Mr. Vizer, came to Egypt and we are awaiting a lot from this visit." Actually Mr. Vizer proposed to organise some major IJF events in the city of Charm el Sheikh. During the first day, the IJF President visited several important sports facilities in Cairo and received the guaranty from the Egyptian Federation, that Charm El Sheikh had also a very high standard in terms of accommodation and sports facilities.
Mr. Vizer president the Jigoro Kano Statue to General Mohamed Sameh Mobasher - president of Egyptian Judo, Aikido and Sumo Federation (image below)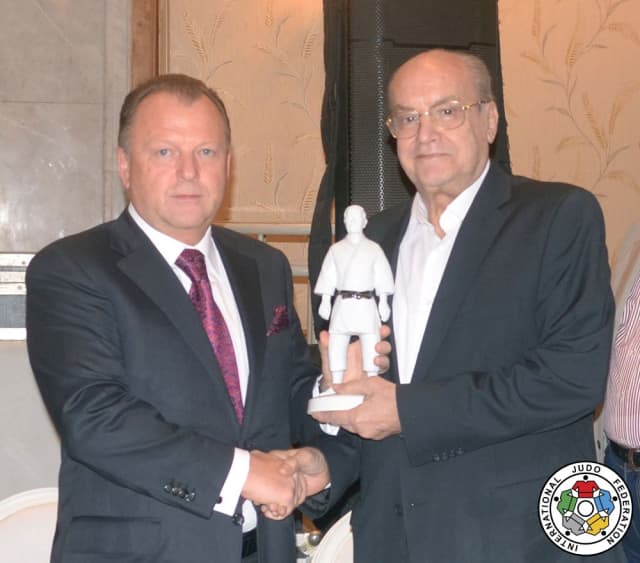 General Mohamed Sameh Mobasher declared: "Charm El Sheikh would be the perfect location for World Judo Tour events but we are also looking for a wider cooperation with the International Judo Federation." In fact the IJF President and his hosts had the opportunity to talk about other important projects for the development of judo in Egypt and in the region. The possibility to set up projects with the IJF Military and Police commission have been discussed as well as projects in schools. 15 to 20 first schools, throughout the territory, would be targeted to launch the first phase of a larger Judo for Children programme. Mr. Vizer said: "With such a strong initiative, we could focus on disadvantaged populations and bring them judo and its values to build a better society. Judo at school is very powerful and can improve the situation of many young people."
Mr. Vizer presented the IJF Placket to Mr. Mahmoud El-Helw - Executive Director of National Sport Council , representative of the Minister of Youth and Sport (image below).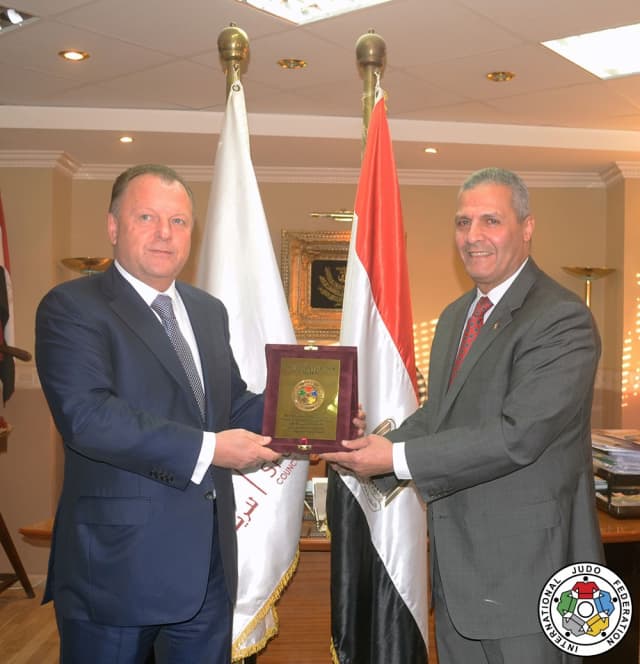 During the second day of the visit, Mr. Vizer gave several IJF distinctions while he was also awarded by Egyptian officials. During that second day, he also met with the Executive Director of the Egyptian Sports Council, who underlined the willingness of his country to have the IJF come to Egypt for the next two years and to work hand in hand for the development of judo in the country.
After this positive visit, the cooperation between the IJF and Egyptian authorities will be discussed more in details in the upcoming weeks, keeping in mind that having one major event in Egypt would be associated with other developments such as the Military and Police projects or the Judo for children programme.