The IJF held a two-day workshop with the world's leading judo referees in Antalya on Tuesday and Wednesday ahead of Turkey's Grand Prix in the resort city this weekend.
Following on from an IJF Academy course tailored to the referees last year, the short gap between the back-to-back Grand Prix in Tbilisi and Antalya was used to further develop the clarifications and understanding of certain situations as the referees work towards selection for Tokyo 2020.
IJF Sport Director and IJF Referee Supervisor Florian Daniel Lascau led the seminar alongside IJF Head Referee Director Jan Snijders and IJF Referee Commission General Secretary Pasquale Chyurlia.
IJF Referee Supervisors and Olympic champions Catherine Fleury and Giuseppe Maddaloni were also on the tatami to share their expertise on both days. IJF Head Sport Director Vladimir Barta opened the course on Tuesday while Turkish Judo Federation President and two-time Olympian Sezer Huysuz also visited the Hotel Su to greet the participants.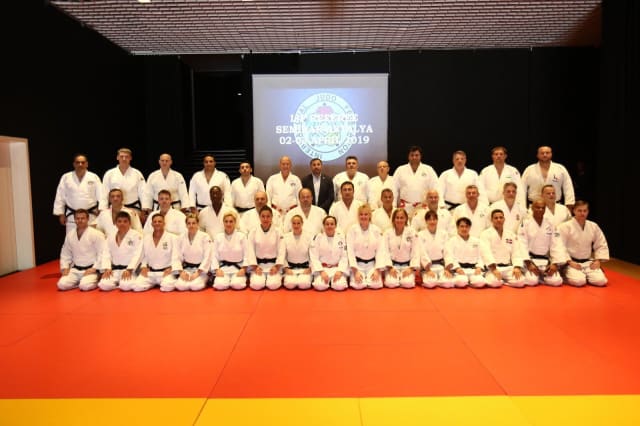 IJF Referee Commission General Secretary Pasquale Chyurlia said: "The organisation was super, it was a very good course and the training was very hard.
"Everyone put in a great effort and it was valuable for the referee's to share this experience with supervisors and of course Daniel who led the course.
"It was really interesting the connection between the practical session and the video session. The clips were strictly connected with the job of the referee on the mat and we shared a good discussion.
"I have to thank my colleague for their good work including Daniel, Jan Snijders, Armen Bagdasarov and Mohamed Meridja, Vladimir Barta and the Turkish Judo Federation President who also visited us ans showed their support. There was great attention from the IJF to conduct this course and I'm sure we'll see positive results on the competition tatami."
Further sessions will take place later this year.
Watch #JudoAntalya2019 at live.ijf.org