Once again everything was written in advance, everything except the incredible but true story that the French Judo team has just written on the last day of the judo tournament of the Tokyo 2020 Olympic Games. On paper, Japan at home, had all the cards in hand to end their Games in apotheosis. Not less than 9 Olympic champions were lined up in the team and yet it was France that won the coveted trophy as the first nation in history to win team gold.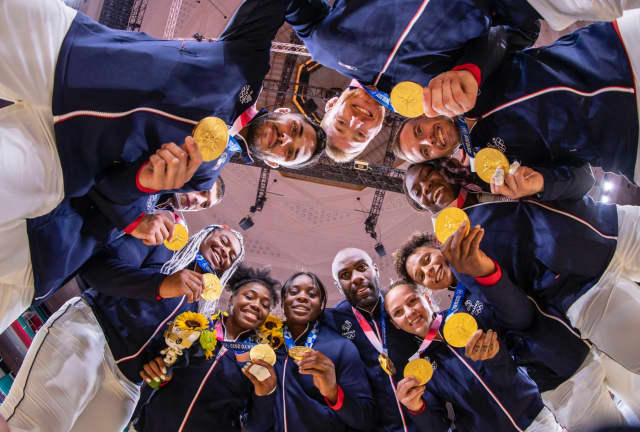 57 years ago, the Tokyo Games ended with the victory of a Dutch giant, Anton Geesink, which allowed judo to enter world history fully. Today the story continues. The Tokyo 2020 Games were dominated by Japan, that's an undeniable fact. 9 Olympic champions is unheard of. 24 countries on the podium of the individual competition. However on this final day, it is the French team who climbed to the top of the podium and who can make the French national anthem resonate in the stadium.
This team title concludes a magnificent week of judo, with very incredible champions and medallists. At the end of the day, we saw smiles light up faces. There was no more fatigue, no more stress, just the happiness of having celebrated victory on the tatami and the victory of judo over the difficulties of the past months. Our sport has rebounded and organised itself to offer a show of very high quality. Well done to all the athletes and all the organisers. Without you all this would not have been possible. Domo arigatou gozaimasu !!!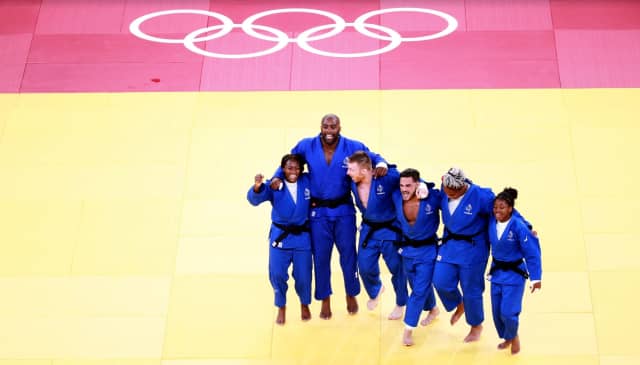 We cannot say it enough that judo is an individual sport that is practised as a team. By this we mean that it is impossible to become a great judoka, even a great champion, if you do not have the opportunity to develop with a team of training partners and coaches. The individual dimension in judo exists, but it only exists through the group with which one athlete can identify and to which he or she belongs. It is therefore not surprising that team competitions always have a special flavour.
The International Judo Federation wanted it and the judo world dreamed of this Olympic Judo Mixed Team tournament, which for the first time made its official entry at the Olympic Games here is Tokyo and no-one was disappointed because from the first rounds, the show was there and several matches could have been the poster of an individual Olympic final.
What have we seen that was so incredible since the morning that we had goosebumps? For those who were lucky enough to be present in the Nippon Budokan or in front of their TV, the list cannot be exhaustive as there were so many highlights. Can we name a few?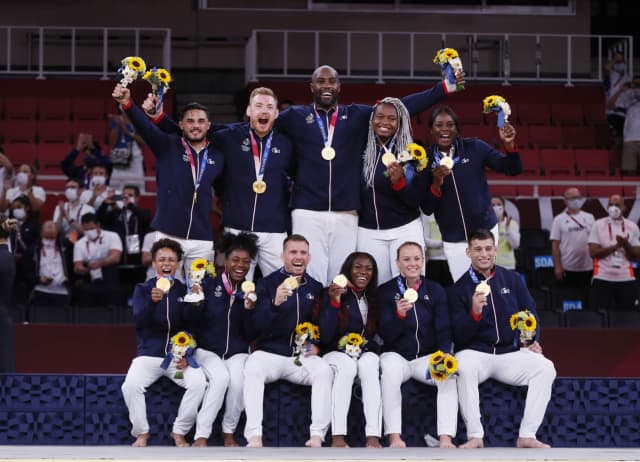 • From the outset, we discovered the refugee team (EOR) which did not shy away from Germany and which displayed the banner of unity and mutual aid proudly.
• In the following round, the same German team found themselves facing the Japanese dream team in which only Mukai Shoichiro was not Olympic champion. Yet after the first two bouts Germany led 2-0, after the defeats of Abe Uta and Ono Shohei. The one who seemed invincible a few days ago was suddenly thrown by Igor Wandkte. Then Japan came back and won 4-2 but that was closer than anyone would have expected.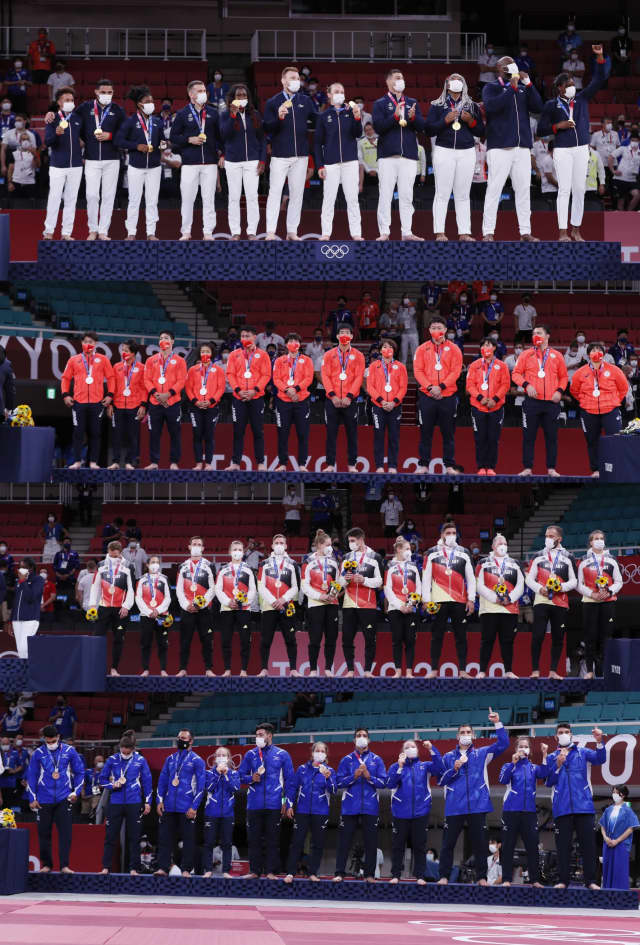 • Saeid Mollaei was lined up with the Mongolian squad. Against Germany he was opposed by Eduard Trippel, a silver medalist like him, but in the higher category. Against the ROC team, he faced Mikhail Igolnikov, again fighting a category above his own. In both cases he won with panache.
• Israel fought heartily against Italy and then against France, with the end result being decided via a drawn and a randomly drawn extra golden score contest. Margaux Pinot initially lost against Gili Sharir, but during the rematch the Frenchwoman scored a liberating ippon.
• The Netherlands got off to a rough start with Henk Grol's new loss to Bekmurod Oltiboev (UZB) but with the sides tied, the draw for the golden score was that same heavyweight category. This time Grol offered victory to his team. In the next round he was once again the one who gave the victory to the Netherlands against Brazil by defeating Rafael Silva.
• After a first fight lost to everyone's surprise, Ono Shohei finally redeemed himself by executing a perfect movement against the ROC representative Musa Mogushov.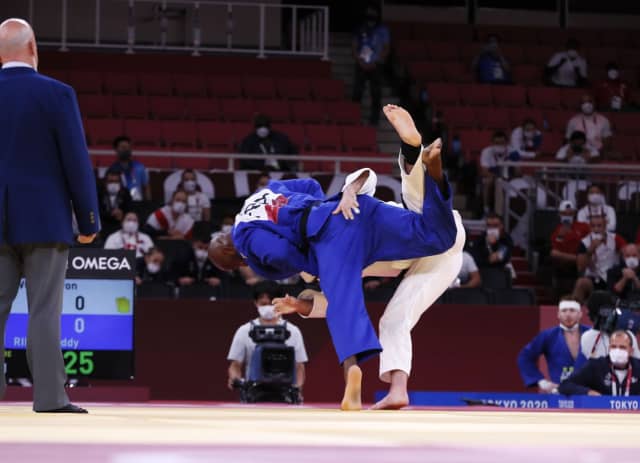 So here are some of the stories that a single day of competition allowed us to enjoy. Throughout the morning session, the noise level increased a notch and as the final block was about to begin, we could expect, despite the absence of an audience, a boosted atmosphere.
Final Results 1 - France 2 - Japan 3 - Germany 3 - Israel 5 - ROC 5 - Netherlands 7 - Brazil 7 - Mongolia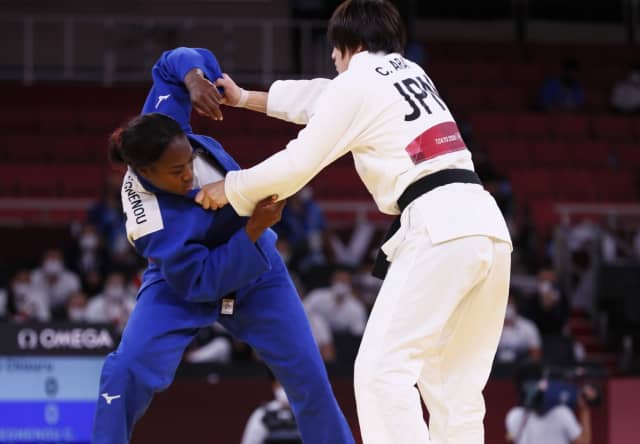 Final
Japan vs France -70kg Chizuru ARAI vs Clarisse AGBEGNENOU -90kg Shoichiro MUKAI vs Axel CLERGET +70kg Akira SONE vs Romane DICKO +90kg Aaron WOLF vs Teddy RINER -57kg Tsukasa YOSHIDA vs Sarah Leonie CYSIQUE -73kg Shohei ONO vs Guillaume CHAINE
The Final went off with a flying start, a first left ko-uchi-gari for waza-ari scored by Clarisse AGBEGNENOU, followed by a counterattack from the French for a second waza-ari. 1-0 for France. Clarisse is definitely the boss.
The second bout was just about power and strong kumi-kata between Shoichiro MUKAI and Axel CLERGET. The French played a perfect tactical match to score an important ippon in the golden score period. 2-0 for France.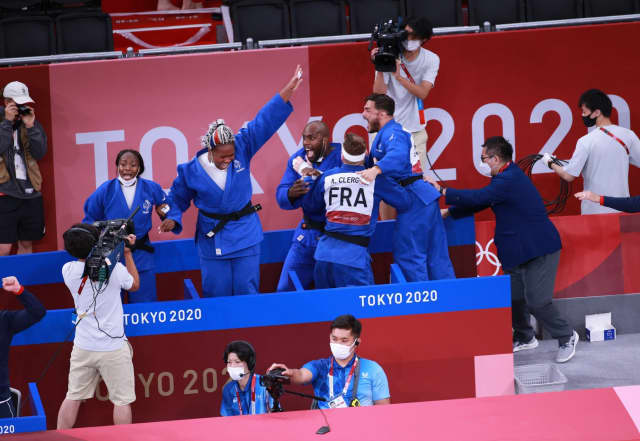 The third match was the one that was expected on the last day of competition between Akira SONE and Romane DICKO, but as the French was defeated by Idalys ORTIZ, it didn't happen until today. During the first half of the contest, DICKO was not impressed by the Olympic champion and imposed her power. SONE was blocked, without an answer, but she found her way to score a first waza-ari with her o-uchi-gari, followed in the next sequence with an immobilisation to take it to ippon and 2-1 for France.
It was Teddy Riner's turn to step on the tatami, against the -100kg Olympic Champion Aaron WOLF. If at the beginning Riner seemed to be able to control the fight and force Wolf to be penalised twice, slowly but surely the Japanese judoka was getting more confident and was able to disturb the Frenchman but in the golden score period Teddy Riner finally scored a waza-ari for the third point for France.
The next contest could be decisive between Tsukasa YOSHIDA and Sarah Leonie CYSIQUE, both medallists in the individual competition. Immediately CYSIQUE appeared more into it than YOSHIDA and she scored a waza-ari. Would she be able to stand the pressure? The answer was yes, she did and they did it! This was absolutely extraordinary. Japan was meant to win, by all predictions. How could they lose the final, at home with so many Olympic champions aligned? France proved that a team event is about team spirit, the cohesion and the fact that individuals put themselves at the service of the collective result. France did in 2021 what Anton Geesink did in 1964 and tipped the balance away from expectation towards the incredible.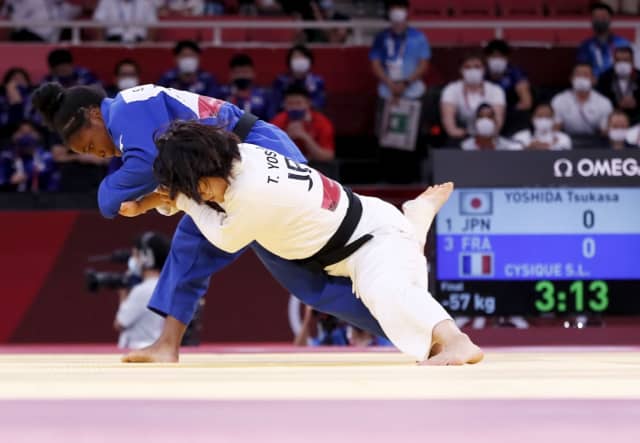 For ever, France will be the first ever Mixed Team Olympic Champion. There will be others in the future but for now they are the Olympic champions as they were chanting just before the awarding ceremony. Clarisse Agbegnenou is a two time Olympic champion in Tokyo and Teddy Riner is now officially three times Olympic champion and he has as many Olympic titles as Nomura Tadahiro. All the other medallists or non-medalists from the individual competition can now say that they won the gold in Tokyo 2020.
Clarisse Agbegnenou said, "This morning we felt great, we were relaxed, all together, we played music. It was cool and we thought 'let's go for the gold'. The good thing of this competition is that if you fail the team will rescue you. Look at Pinot, she started losing and then she saved us. As for me, even if I'm used to train with -70kg people, this is something else. I had to face olympic champion Arai. I think im at the pinnacle of my art. I won scoring, it wad just amazing. We won against Japan in Japan, this is what we call in France French exception."
Margaux Pinot said, "At 3-3 I had the feeling my category would be chosen for the final contest and I wasn't happy because I felt bad and was not able to perform. So, for the first time in the competition I raised my hand and for the first time I tried uchi-mata. I felt so relieved and it is also like revenge for my poor individual tournament. I am Olympic champion."
Aaron Wolf said, "The French judoka were today a little bit better than us. With Teddy I tried to attack his legs and then I tried to change but it did not work. I did my best but I couldnt do it."
Kosei Inoue said, "I feel sorry for our fans and I'm very disappointed but France has a great team and a super team spirit. I congratulate them. This will also be a good experience for us, we will learn from this."
Bronze Medal contests
Germany vs Netherlands -70kg Giovanna SCOCCIMARRO vs Sanne VAN DIJKE -90kg Dominic RESSEL vs Noel VAN T END +70kg Anna-Maria WAGNER vs Guusje STEENHUIS +90kg Karl-Richard FREY vs Henk GROL -57kg Theresa STOLL vs Sanne VERHAGEN -73kg Sebastian SEIDL vs Tornike TSJAKADOEA
With two waza-ari and the victory against Giovanna SCOCCIMARRO, Sanne VAN DIJKE brought the first point for team Netherlands. 2019 world champion Noel VAN T END was already stepping on the mat to try to win a second point but after more than 5 minutes in the golden score period and nothing but penalties on the scoreboard, Noel VAN T END was penalised a third time for passivity. 1-1.
Anna-Maria WAGNER scored the second point for Germany, with a ura-nage launched a few seconds before the end of the match. Next on the tatami were Karl-Richard FREY and Henk GROL. The Dutch heavyweight equalised with a counter attack. 2-2
Once again, the score was tight between Theresa STOLL and Sanne VERHAGEN. The German scored first, followed by the Dutch. It was STOLL who finally scored a second time, in the golden score period, to offer the third point to Germany. The next round could be decisive or not and it actually was. With Sebastian SEIDL's victory, Germany scored the fourth point that offered them the bronze medal.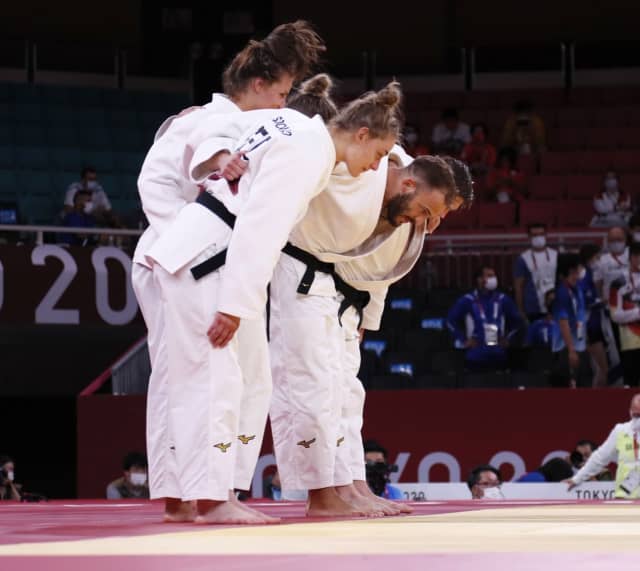 Anna-Maria Wagner said, "This morning we decided to wait and not line me up for the first rounds. It worked, so the bronze medal contest was for me like a final and I felt fresh. My arm hurts but it was worth it. This is an amazing team. We support each other so much and the competition was so nice, so I'm proud of the team and of the medal."
Israel vs ROC -70kg Gili SHARIR vs Madina TAIMAZOVA -90kg Sagi MUKI vs Mikhail IGOLNIKOV +70kg Raz HERSHKO vs Aleksandra BABINTSEVA +90kg Peter PALTCHIK vs Tamerlan BASHAEV -57kg Timna NELSON LEVY vs Daria MEZHETSKAIA -73kg Tohar BUTBUL vs Musa MOGUSHOV
With a waza-ari registered in golden score Madina TAIMAZOVA gave the first point to the ROC delegation. It was time for the 2019 world champion, Sagi Muki, to enter the tatami against Mikhail IGOLNIKOV in an effort to even up the score line. The beginning of the match was quite difficult for Sagi Muki, who couldn't find any solution against the challenging kumi-kata of IGOLNIKOV. The Israeli was penalised twice when his opponent had just one shido to his name, but with a few seconds remaining we found again the amazing champion that Sagi is and he score a magnificent ippon for 1-1.
Next on the mat were Raz HERSHKO and Aleksandra BABINTSEVA. It didn't take much tome for HERSHKO to score two waza-ari and give the lead to Israel. 2-1. With Peter PALTCHIK and Tamerlan BASHAEV next infer the spotlight, it looked like the point could easily go to ROC, but PALTCHIK is a powerful judo player, who has no problem engaging with any opponent. The whole match was a bit of a cat and mouse game, but at the end it was PALTCHIK who scored a waza-ari in golden score. 3-1 to Israel.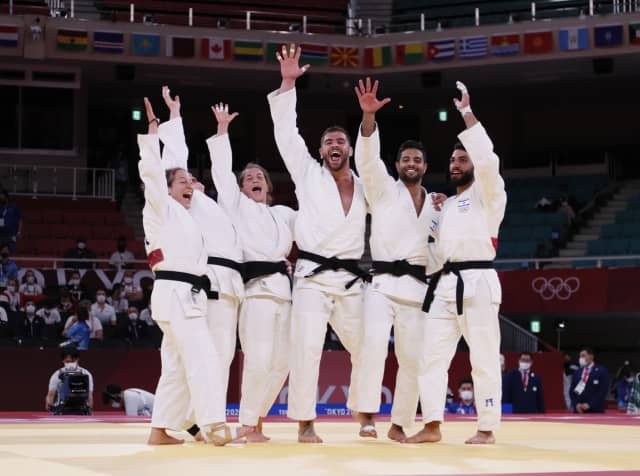 The match between Timna NELSON LEVY and Daria MEZHETSKAIA started badly for Israel when MEZHETSKAIA scored a first waza-ari, but Timna NELSON LEVY was on fire all day and even being a waza-ari behind she kept pushing hard to score two waza-ari and let her joy and that of team Israel explode. Israel missed several opportunities to reach the podium during the individual competition but today as a team and as a group, which is exactly what team events are about, there was a bronze medal for Israel.
Sagi Muki said, "After the individual tournament all the media in Israel were on us because we did not get a medal. Today we were so united, so convinced we could do it and we fought like lions because we believed in our chances."
Peter Paltchik said, "We fight for a team, a country, a flag. It is a unique feeling. When you are on the mat and you hear all your teammates supporting you with such passion and strength, that gives you extra power. That extra power means a medal. It is for these moments that we love what we do. We are proud because we did something amazing."