After a blistering first day of competition at the Coventry Arena, the Commonwealth Games judo tournament continued at quite a pace on day 2, bringing powerful throws, electric transition and dangerous ne-waza traps. The tatami really gave us everything and to top it off, history was made!
-63kg
This was Lauren Semple's first major tournament and a tough bronze medal fight ensued against one of the most experienced and decorated fighters at the event from any weight. Haecker (AUS) mauled her Jamaican opponent with throw after throw and even a near hold, but only a single waza-ari stuck, until a huge hip throw finished the job. Haecker didn't want to be in the bronze medal match but losing the semi-final to Howell was not totally unexpected. The bronze was never going to escape her. Semple was one step away from being the first Jamaican to ever climb on to a Commonwealth podium for judo but it wasn't to be, not this time.
The second bronze medal match between Hacker-Jones (WAL) and Etoua-Biock (CMR) was much closer with a waza-ari apiece inside the first minute but a well-timed ko-uchi-gari brought the medal to Wales.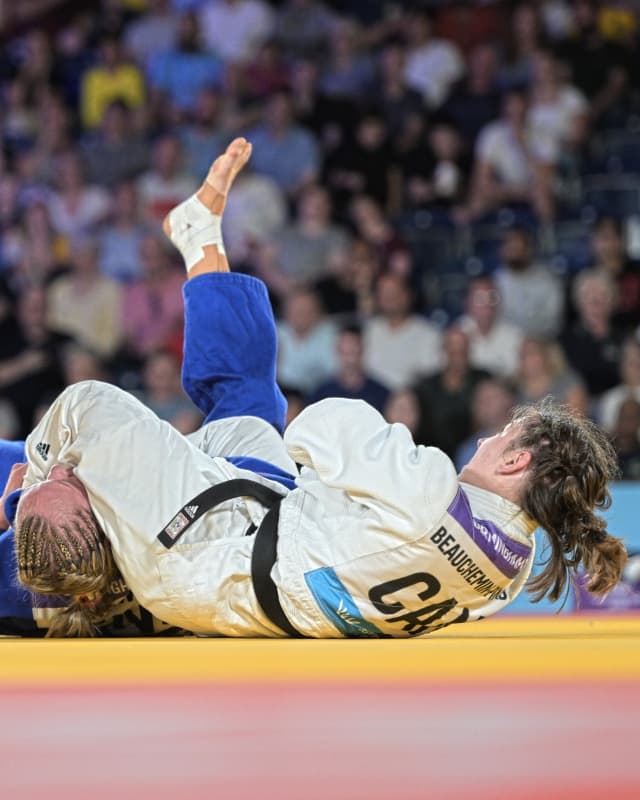 The final was a world class match between world number 3 Beauchemin-Pinard (CAN) and home girl Howell, European champion. They were head to head on penalties with strong, neutralising tactics from both. A little cagey in the standing segments, both fighters had to step on the accelerator on the ground and eventually the Canadian forced an armlock for the submission and the gold.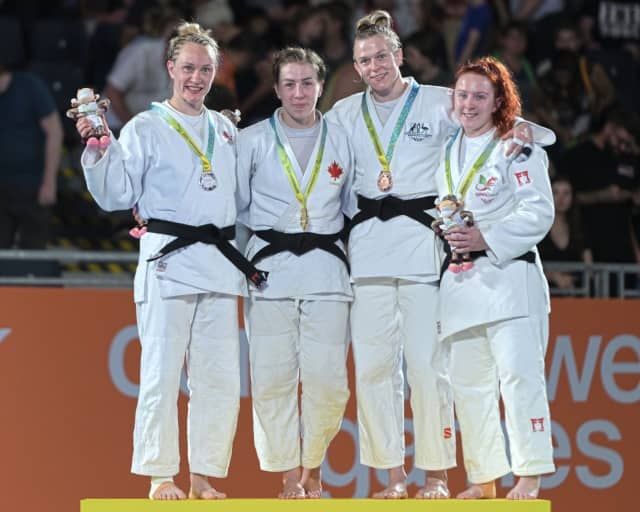 -73kg
The first bronze medal was contested by Joshua Green of Northern Ireland and Australia's Jake Bensted, inspired by his teammates' magnificent performances on day 1, particularly that of Tinka Easton who won her weight category. Green's style is proactive and he tried to take the fight to Bensted but the Australian set him up with a change of side and exactly the position he needed to allow Green to attack and give him the space for a strangle in transition. It was a perfect plan and Bensted popped the medal in his pocket, happily.
The second bronze was decided prior to the final block as Bin Abdul Majeed's Cypriot opponent was disqualified for actions against the spirit of judo, in the preliminaries. The Malaysian fought excellently in the morning session and although it isn't how he'd like to win the medal, he can be proud of a great campaign. Still a junior, he has a wonderful future ahead of him.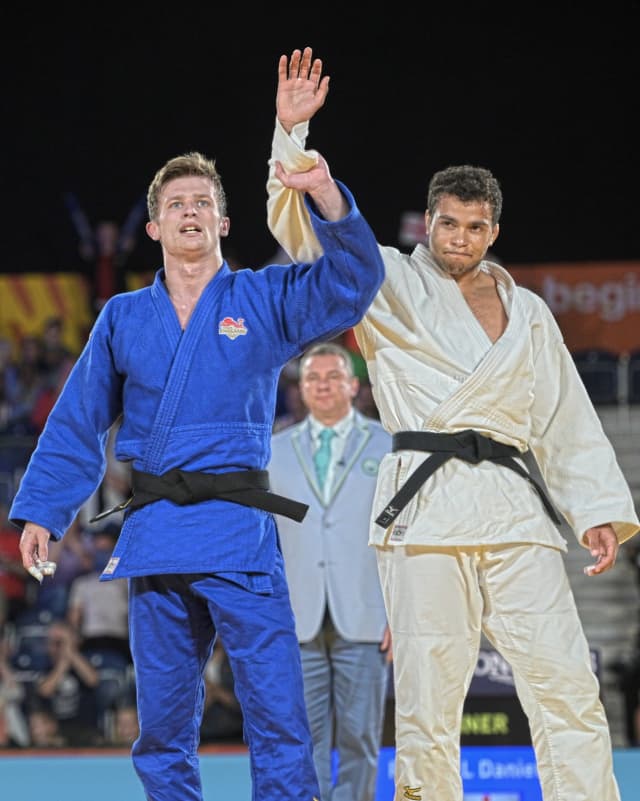 Njie (GAM) has been out on the World Judo Tour and has been doing pretty well. He's a double Olympian and has 3 continental medals. Although England has a very strong team at the Commonwealth Games, it could be suggested that Dan Powell (ENG) was the underdog in the -73kg final. For the first half of normal time, neither competitor seemed to be able to close the space enough to attack convincingly but no penalties were meted out and that says a lot about the positivity of the two athletes. With a minute to go Powell stepped up the pace and Njie went with it. The contest remained that way until almost 2 minutes into golden score when Powell made the difference by utilising some well-drilled ne-waza and held for ippon. Gold for England and silver for Gambia were registered.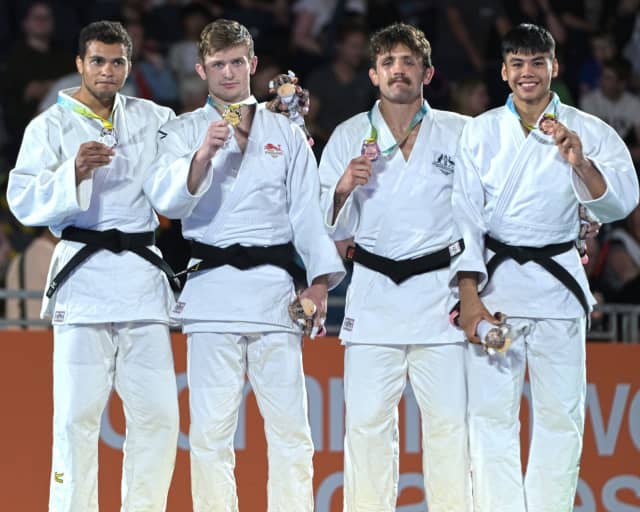 -70kg
Jemima Yeats-Brown was a teenager at the last Commonwealth Games, back in 2014 and she won a bronze then. Now 8 years older and with substantial experience she found herself in another bronze medal contest this time round. Hers is a power game, fuelled by an incredible physical flexibility and she didn't hold back, bringing the fight straight to Hawkes (NIR). Yeats-Brown made some mistakes and Hawkes did her best to capitalise but eventually the English judoka held for ippon and won a second Commonwealth bronze.
For the second bronze, Nigeria's Asonye faced off against local girl Peterson-Pollard (ENG), who made a big mistake in her semi, losing to Drysdale-Daley (JAM) in a counter situation. As a triple grand slam medallist she expected to walk to the medal but knowing there was a strong seoi-nage to contend with, Petersen-Pollard used that seoi to set-up a tidy strangle for the expected win.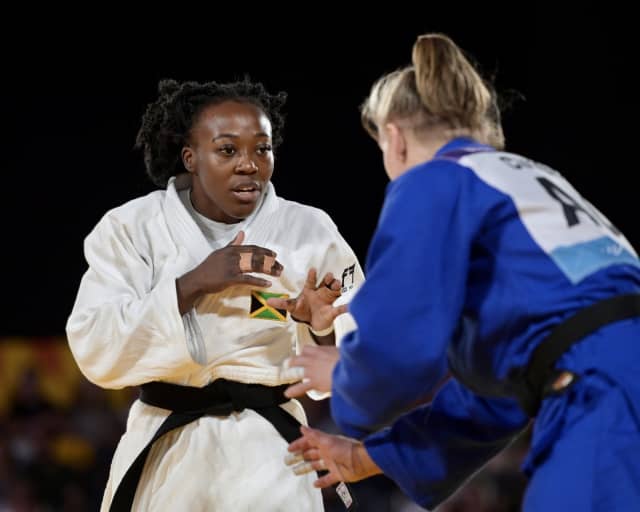 Jamaica and Australia were feeling the pride as their representatives stepped up to fight for gold. Drysdale-Daley (JAM) is setting records as the first Jamaican judoka to ever reach a Commonwealth final and in fact the first ever to win a medal at this level in judo, but she had her work cut out as Coughlan is sitting at 14th in the world and is enjoying an upswing in form.
Coughlan played a tactical game and took the match to the edge, allowing Drysdale-Daley to make infringements, which she did. Another Australian gold to add to Easton's from day 1 and an historic silver medal for Jamaica. It's also Jamaica's first medal at this Games, across all sports. Truly, it's a win all round.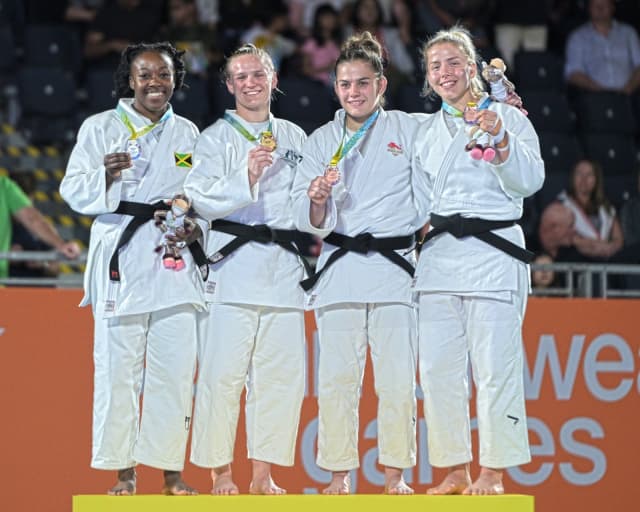 -81kg
Mohab Elnahas (CAN) and Asa Weithers (BAR) fought for bronze with Elnahas bringing the opener, a huge tomoe-nage but without sufficient hand control to earn a score. It didn't deter him from attempting the same plan again and with a different sacrifice technique, a sumi-gaeshi, and slick transition to hold for ippon, he grabbed the medal.
Fleming (NIR) and Nikolic (AUS) battled for the other bronze in a flurry of action that brought a waza-ari each in the opening minute. The pace never dropped but with changes and takeovers from white to blue and back again, it was anyone's guess who might win. A shido each next but then Fleming appeared to sustain an injury that became decisive; a valiant effort to continue but eventually Nikolic took the win.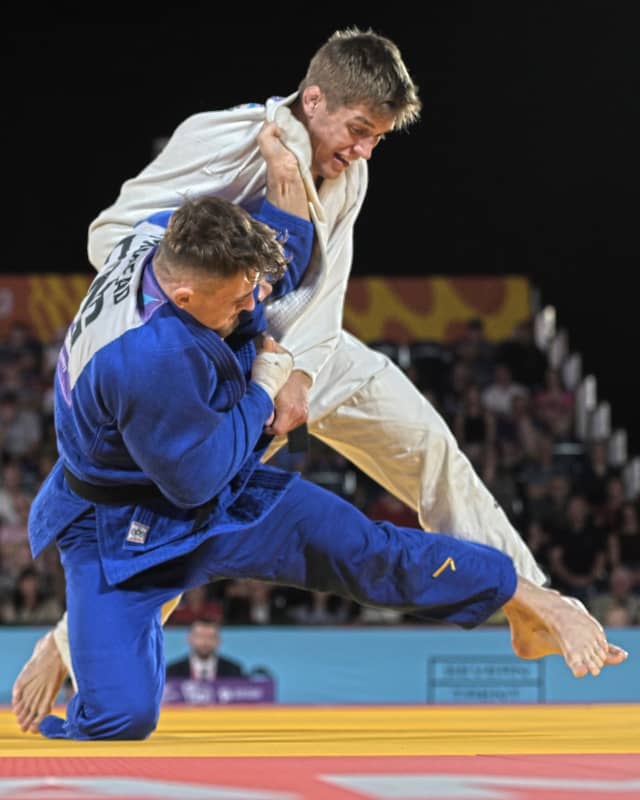 The final between Gauthier Drapeau (CAN) and England's Lachlan Moorhead was a skilled chess game in the beginning. The Canadian should have been ahead on paper but two seoi-otoshi scores sealed a win for Moorhead. He used incredible tension to pull the sleeve through and control the rotation to ensure the waza-ari, both times. The gold went to England, a third at this Games.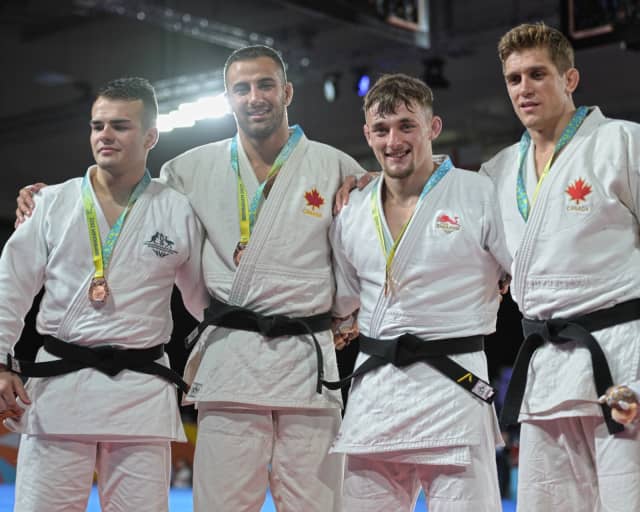 Day 1 was entertaining and impressive and guess what? Day 2 was also entertaining and impressive. Day 3 is just around the corner and we can't wait see how it progresses. The competitors, volunteers, referees and organisers are all right in the thick of it, with an enthusiastic crowd and a fantastic atmosphere. This is what multi-sport games are all about.