The Mediterranean Sea with its heavenly air and the colorful streets of Naples are only a few kilometers away. However the district of Scampia has nothing of a resort and to be born here, at the foot of Vesuvius and northeast of the big city, is not the best guaranty to succeed in life. This popular neighborhood is even considered one of the most dangerous in Europe. Built in the 1970s, the bars of buildings, which were supposed to offer a new social equilibrium, today align their faded walls and they have become over the years the crucible of an endemic violence that develops together with traffic of all kinds that nothing seems to stop.
Gianni Maddaloni was born on September 13, 1956, in the center of Naples. From the age of two, his entire family was 'deported' to Scampia and since then he has not moved. One can say that he and his family are part of the furniture of a forgotten and neglected area.
In the first years of his life, he was part of this youth who had the choice between delinquency and the Neapolitan mafia, the Camorra. Yet the founder of Star Judo Club, after a few years of uncertainty and wandering, decided to take another path in life, that of sport and judo in particular: "Where I was born, who I am and what I have become, I owe it to the suffering that was mine when I was young. I lost my father at the age of sixteen. My brother died in prison, and to this day we still do not know the circumstances of his death. It's still a huge black hole in my life. I did not want to make my mom cry anymore than she could, so I chose to believe and do everything to help the people of Scampia."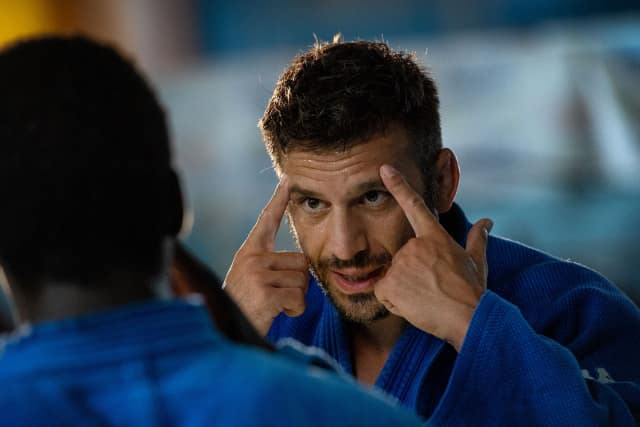 The least we can say is that he has managed his crazy bet to give hope and dignity to hundreds of families for whom the 'Palestra del Maestro' is much more than just a gym. In the heart of Scampia, the building stands proudly and everyone here respects the place and the man for who he is and what he does. But if Gianni is undoubtedly a colorful character having succeeded when it was written that he had to go wrong, he is also a recognized coach who in the land of 'Gomorra', does more than it is possible to offer to kids with an atomized destiny, the possibility of existing by and for judo.
His greatest sporting success is to his son, Giuseppe Maddaloni, whom everyone calls 'Pino', who became Olympic Champion in Sydney in 2000: "What Pino has achieved is the very example of what you can do when you have the will. But for that you have to be well guided in life, because there are so many ways that go wrong in Scampia. It is much easier to switch to the wrong side of the path. His gold medal in Sydney is more than just a medal. It is a symbol for everyone. When Pino got on the podium, I cried. There is nothing else to do at this time but to cry, because when you were born in Scampia, becoming an Olympic Champion is the most beautiful thing. I was his coach, but I was his father too. Everything in this medal, I have it in my heart. You know, even the mafia cried with happiness when Pino won."
But in Maddaloni's family, if there is Pino, there are also Marco and Laura, the brothers and sisters, who made the colors of Italy shine, even if Gianni remains convinced that he did not give them everything. It is allowed to doubt about it. Finally, there are the younger siblings who might shine in the years to come. Serena and her fragile figure, who becomes a tigress when she climbs the tatami and Bright, the adopted son, who could one day become the future great champion, demonstrating that all this was not an accident. But demonstrating the success of the Maddaloni is still necessary?
May the Maestro be reassured. There is no doubt that the work that is being done in the Star Judo Club is absolutely exemplary and that it has already had a major impact on Scampia's youth: "My father that I unfortunately did not know long enough, transmitted me his strength", explains the Maestro," A strength that I'm trying to give back to all those young people who need it, but I do it by being on the side of the legality (dalla parte della legalità) because I believe in the positive potential of Scampia. I know everything about this neighborhood. I grew up here and I still live here, I understand the psychology of the people. sport can work miracles, and we have incredible examples every day."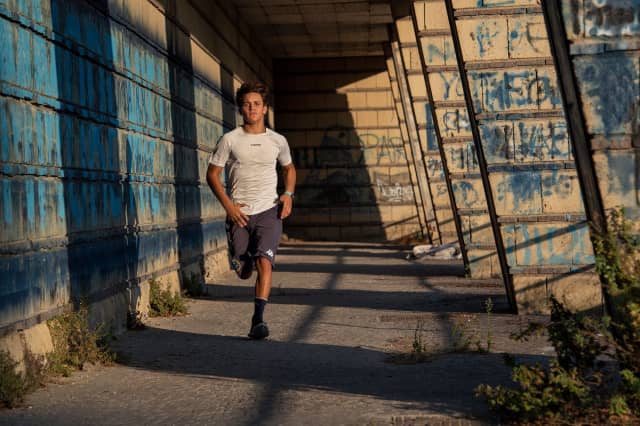 You understand in the moment you enter the club that there is a particular spirit in this place, a spirit of respect and mutual help, especially marked by the immense love that is the marker of a united and supportive family. You can not escape it: when you push the heavy entrance gate of the gym, you become a member of Maddaloni's family.
Gianni has dedicated all his life to others: "I started working at the age of 18 in a hospital, first as porter. For ten years I worked normally, but little by little the sport took more and more place in my life. I earned less money, but I could take care of my people. Sport is no different from life, because if you follow the sports rules in your daily life, then it will be improved."
Today retired - he does not like the word - the man does consider himself as inactive because he can devote more time to the inhabitants of Scampia: "I became the slave of my own ideas, it is a choice that I assume and that I do not regret at all. I would do exactly the same if I had to restart my life."
For example, on Friday morning, the whole clan is ready, as it is food distribution day for the disadvantaged families who calmly come in line to receive basic food. It is because he gives everything that Gianni is respected. It is because he is not giving up the values ​​that he is teaching to the youth that he has succeeded in building a world in which the horizon is no longer so dark.
It's not easy every day. If there are great successes, there are also difficulties to overcome: "In 2008, we had no money to run the center anymore. But it was out of the question to stop. I'm not here to become rich, but to help my people. The world is experiencing a global human crisis today and through sport we can bring a family equilibrium that is vital. Without what we all do together, I do not know where Scampia would be today."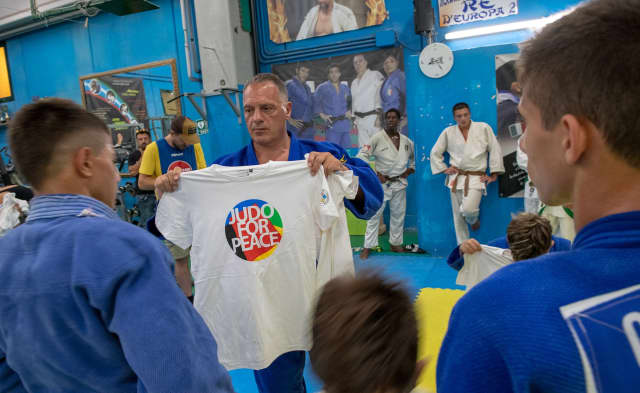 The Star Judo Club welcomes everyone: "We have 75% of families coming daily and contributing to the functioning of the structure. The remaining 25% are people with disabilities, children of prisoners and refugees. Someone whose parents are incarcerated or who has fled his/her country is entitled to hospitality if he/she respects the rules of the club, of course. For these people access is free. Here people feel safe. There is no racism or discrimination."
By providing access for all, Gianni Maddaloni helps to increase the diversity that is fundamental in the globalized world in which we live. Much more than a teacher of judo, much more than a Maestro, he is at the head of a large family where origin, skin color, income or gender are not selection criteria. His only credo: Mutual Aid and Mutual Prosperity! Jigoro Kano would have nothing to deny of what is done in the precincts of the Star Judo Club and it could be said that judo is definitely much more than a sport!