During the Tokyo 2021 Olympic Games, former IJF Head Referee and today's IJF International Affairs Director, Mr Juan Carlos Barcos, received his 8th dan from the IJF President, Mr Marius Vizer, in the presence of Jean-Luc Rougé, IJF Secretary General and Haruki Uemura, President of the Kodokan and IJF World Promotions Director.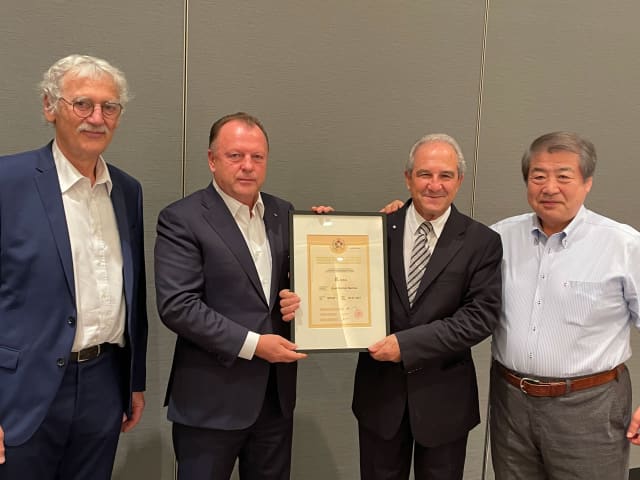 Juan Carlos Barcos declared, "It is a real privilege to receive my 8th dan from the hands of the IJF President himself, as well as from Jean-Luc Rougé and Haruki Uemura. To receive it here in Tokyo on the occasion of the Olympic Games is even more special. If you add that this is received after everything we went through over the past months, I couldn't be more happy."
For many years Mr Barcos has been a part of the IJF scaffolding and being in Tokyo for the first time in a different role, rather than as one of the Referee Directors, is very special. Receiving the 8th dan is again something that marks a judoka's life. 
For 20 years Mr Barcos was the Head Referee Director and an Executive Committee member of the International Judo Federation and before that he was for 13 years a Referee Director and Commission member in Europe. Juan Carlos Barcos is also the President of the Spanish Judo Federation.