Alaa Qasim Alwadi is the epitome of a respected judo teacher by his students, who are regularly invited to listen to the teacher's advice and who can regularly practice judo. Nothing special to report, except that Alaa is the coach of Za'atari refugee camp. Located 10km east of Mafraq and 80km of the capital city of Jordan, Amman, the camp was first opened on 28 July 2012 to host Syrians fleeing the violence in the ongoing Syrian Civil War.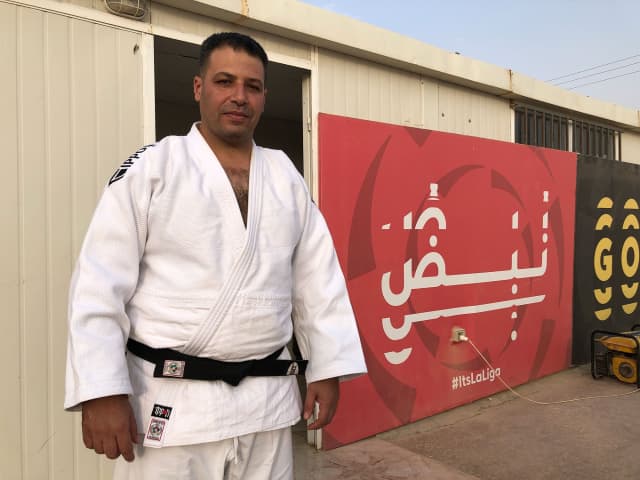 Za'atari is, so to speak, a 'refugee factory'. Today, nearly 80,000 people still live in the camp, and 80 babies are born each week. There are 12 districts, schools, health centres and sports and cultural areas, but it is still a refugee camp and for the people living there, far from their roots, life is difficult.
Alaa fled Syria in 2013 and since then he has been living in Za'atari with his family. Of his nine children, five are already playing judo. He remembers: "At first life was really difficult. We lived in tents and we had nothing. Today we have caravans and life is a little easier." Easier, everything is relative of course.
Graduated in sports in his country, Alaa was also a good judoka of national level, so it was natural, that in his exile, he makes every effort to continue practicing and teaching judo: "I'm crazy about judo. I started practicing when I was twelve in Daram, Syria. I was lucky one day to see a judo demonstration and I immediately fell in love with it. Later, I did some results at the national championships and I was interested in teaching. In Syria I had my own club."
It took him two years before he could start practicing in Za-Atari as he got support from the UEFA Foundation (European football's foundation for children) through Peace and Sport: "Thanks to the UEFA Foundation and with the support of Peace and Sport, I started the practice of judo. At first we had absolutely nothing. Neither tatami nor judogi and we made our own outfits from salvaged fabrics. Last year we received, thanks to the International Judo Federation, our first judogi. It was a moment of immense happiness for the judoka community. "
The UEFA Foundation hosting the judo club is currently the only place where people can practice the sport: "I hope that with the support of the IJF and that of Peace and Sport, we will be able to develop judo. There is great potential. The recent visit of the Judo For Peace Director (Nicolas Messner) gave us even more hope to see judo grow in Za'atari."
Alaa who follows the news of international judo with attention and interest knows that there is now a team of refugees in the IJF: "My dream would be one day to see one of the children that I saw start judo in Za'atari, become world champion. It would be a wonderful day for me."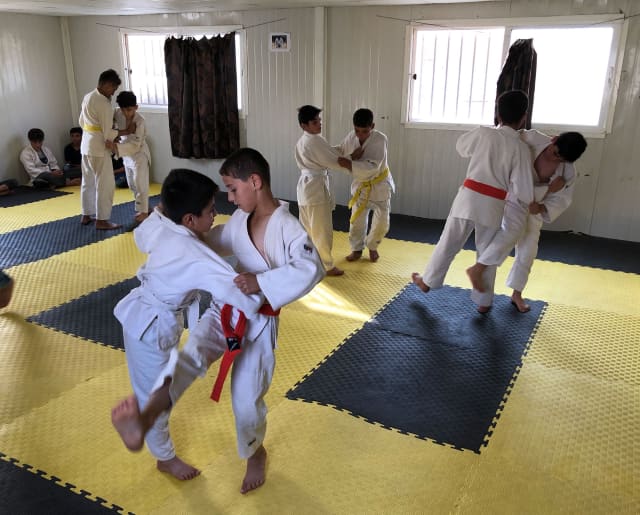 It is undeniable that the development potential of judo in the camp is huge: "Thanks to judo, we can offer our youngsters to practice a sport that teaches them a lot. They can develop physically but mentally and morally as well. With the trauma that our young people have known and still know, it's vital."
Iris Vlachoutsicos, Peace and Sport International Relations and Diplomacy Director, who visited the judo activities together with Nicolas Messner said: "Peace and Sport is honoured to have IJF visiting Za'atari camp to observe the LIVE TOGETHER programme. We work on values for the well being of the refugees and this matches the judo values. We really hope to include judo in the camp activities!"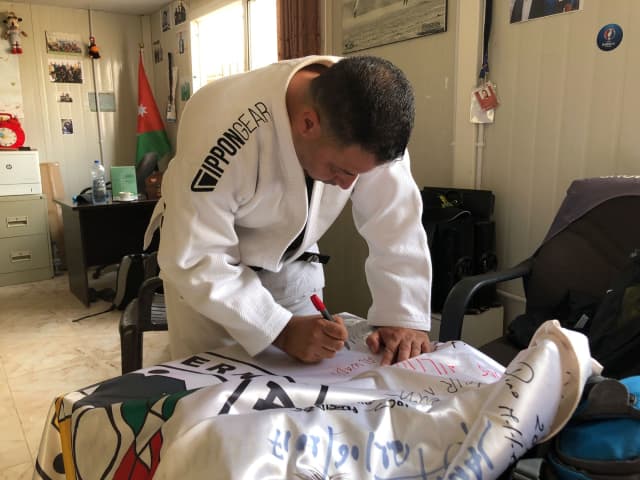 Peace and Sport has been active in Za'atari Refugee Camp for a long period of time, and is leading the LIVE TOGETHER programme, which goal is to bring sports activities to the refugees, through a partnership with UNHCR and under their supervision, together with their implementation partner BLUMONY. Refugee coaches are hired for the activities, and a lot of equipments donated. It is customary to say that judo is more than a sport, it is a way of life. At Za'atari, it has the potential to offer a future to a youth who has already suffered a lot. Alaa Qasim Alwadi, who is the guardian and promoter of judo values ​​in the camp, aspires only to one thing: to see our sport become a major development player for the refugee community in which he lives. That's all we wish for him.