For several years the International Judo Federation and the Israel Judo Association have been discussing about the possibility to develop Judo for Peace (JFP) activities in the region. Recently the JFP commission visited Israel and the first activities were officially initiated for the benefit of all the communities.
Mr. Nicolas Messner, IJF Judo for Peace director, recently visited Israel to discuss the opportunities and possibilities to build projects in the region. During his stay, he participated in several powerful programmes that includes all communities without discrimination. The first day of the visit was dedicated to the ATHENA project (read: https://www.ijf.org/news/show/new-record-for-the-athena-project-in-israel), which focusses on the promotion of sport for women. More than 500 young girls were present on the tatami together with Majlinda Kelmendi (KOS), Olympic Champion, and Yarden Gerbi (ISR), Olympic bronze medalist. The second day was dedicated to the young children of the Bedouin community in the South of the country. The judo for Peace delegation also visited one hospital where sick children are fighting against cancer and use martial arts to overcome their health situation (Kids kicking cancer).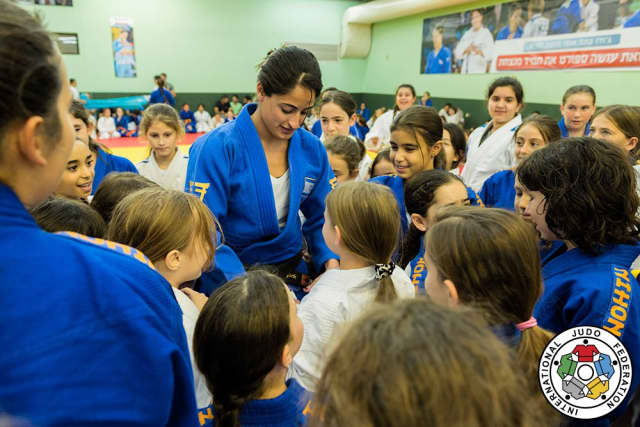 Mr. Moshe Ponti, President of the Israel Judo Association explained: "This is very good to have such kind of projects. In Israel, we have many different communities and the situation in the whole region is not easy but we are working hard to develop judo for everyone. The project with the Bedouin children has been launched two years ago and it is really successful so far. We need more equipments to develop the programme but we are working on that. Our challenge is to keep the children within the programme but it's working. You know, we are doing sport, especially judo, not politic and judo is for everybody.
"
Judo has been part of my life for so many years. My dream is that one day, some of those Arab children we are taking care of will go to the Olympics and why not win a medal.
Moshe Ponti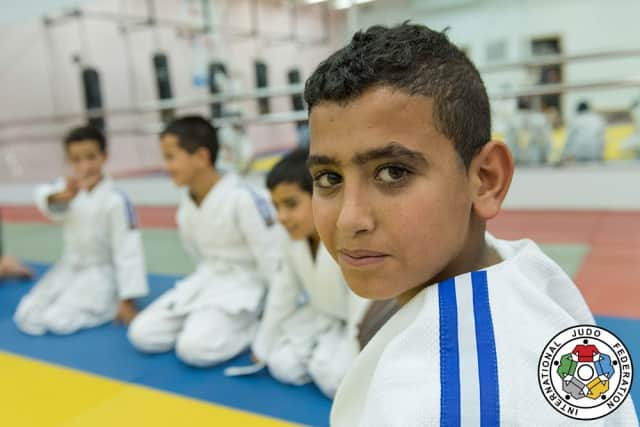 Mr. Ponti also added: "That would be amazing. With judo, we can really help change their life. They have the fighting spirit. We just need to help them channel it. The next step would be to work with Palestine. I am ready, we are ready to go and help the development of judo there tomorrow if needed."

Mr. Yonah Melnik is the coach of the Bedouin programme. Talking about him, Mr. Ponti explained: "Yonah was my coach when I was an athlete. He has been involved in judo for so many years. When I became president of the Israel Judo Association, I wanted those people who developed judo in the region, back to help us to reach a new level. Yonah is someone I can count on. He is doing a tremendous job in the south with all the communities."
Mr. Yonah Melnik also explained: "A few years ago, I was invited by a friend to do a judo demonstration in Harat in the South of Israel. Then I thought him how to become a judo instructor. It is important to have local judo teachers. The impact on the community is bigger. They were already doing some kind of martial art, but I help them to refocus and concentrate on judo and its values. I am still going to Harat twice a week. It's a long distance from Tel Aviv, but it is worth it. The most difficult thing is to bring the children outside of the city. But they like to fight and they are like every child in the world. Even if we have different backgrounds and cultures, our children remain children. Almost 100 young people already participated in the activities since we started them. It's getting more and more popular. We are working a lot also with the girls. This is very important. It's not always easy to go against the traditions but we have a really good group."
"
The ones who are now participating in the judo programme can really become role models for the whole society. Harat can be proud of its talented youth.
Yonah Melnik, coach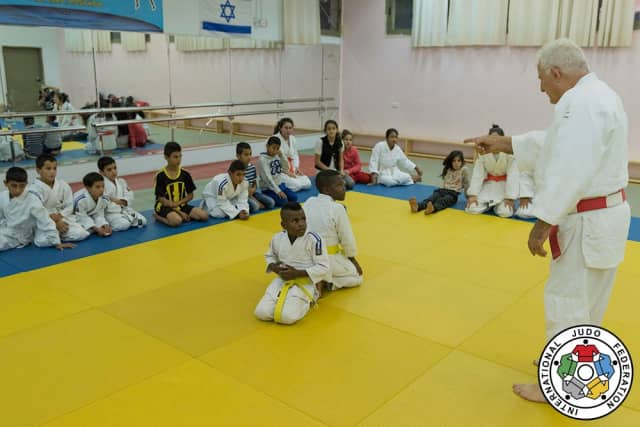 Mr. Yonah Melnik can be considered as one of the legends of judo in Israel. After more than 50 years of practice, he is still very active and motivated to transmit his knowledge to the next generation. An athlete himself in his young age (he participated in the Montreal Olympics in 1976) he has seen judo growing in the country: "Judo has been developing a lot, especially over the past years because we have been focussing in everyone, without any discrimination. Judo is not only about competition. I am happy when I see more and more people practicing the sport."
"
We can not guaranty that people will become champions, but we can be sure that judo will change their life and that they will become better persons.
Yonah Melnik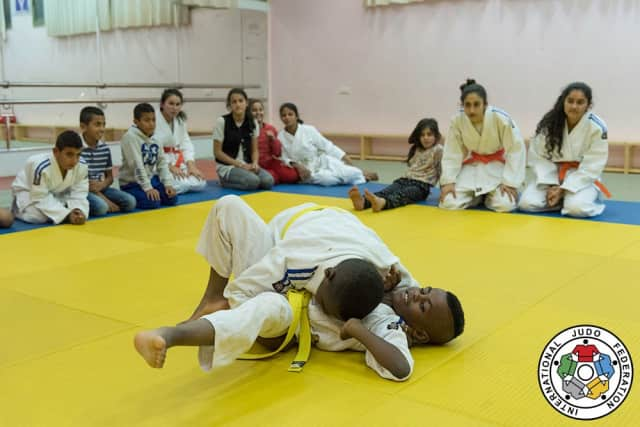 Liraz Ben Melech is the infrastructure coordinator of the Israel Judo Association. Very much involved in the organization of all the activities, she gave more details: "Our government has the project to attract more people to sports. Ten sports have been chosen to achieve that goal and judo is among those ten sports. The idea is to make sport cheaper and easier to access for the youth. Our main challenge is to develop judo outside of the cities.
"
Judo is very well represented in the cities and having amazing champions such as Yarden Gerbi and Or Sasson helps a lot. But we need to be more present in the countryside.
Liraz Ben Melech
"My job is to go on the field and to be the contact of all those people who are passionate about judo and want to help developing it. We really started three years ago and now, I must say that it's developing a lot. We distributed equipments. We build special events and animation for the children. We do that 3 to 4 times a year. We also organize seminars for coaches and we propose judo within the school curriculum or outside of it. Today, we have already 8 places around the country where such kind of program exists. In every spot, two or three groups of 10 to 15 children are involved and everything is manages by 4 coaches. As it is very successful, we have more and more requests for new activities. We now have to find solutions to continue with the programmes after the children turn 13 years old as the governmental programme stops after that age. We are proposing judo to everyone."
"
Everyone agrees to say that the behavior of the children has totally and positively changed."
Liraz Ben Melech
The challenges are numerous but step by step more and more people are coming to judo, especially at a young age. Without any discrimination, judo has a positive impact on the local populations. This first visit of the Judo for Peace commission was very successful and opened the doors to a further cooperation in Israel and in the whole region.