'Judo, the Soft side for children' is a project developed in Mexico to promote the practice of Judo among children under the age of ten. The purpose of the project is to improve the population lifestyle by teaching them physical activities.
"This project was initiated to fulfill the particular needs in Mexico, where often the interest in sport is only competitive in order to win medals and not to ensure a healthy life for people and especially for youngsters", said Cinthya Briseño, who's leading the programme.
"Whit this, we intend to increase the number of children practicing judo, by preparing the coaches for teaching them the fundamental movements. From six to ten years old, they can learn and at the same time have fun but they can also develop their motor and coordinative skills", added Cinthya Briseño.
In order to accomplish these goals, the project, which is supported by the Mexican Judo Federation and its President, Mr. Manuel Larranaga, works together with the Oaxaca Regional Association (AJEO) and the Physical Culture and Sport State Commission (CECUDE) in Oaxaca, where the pilot project was launched.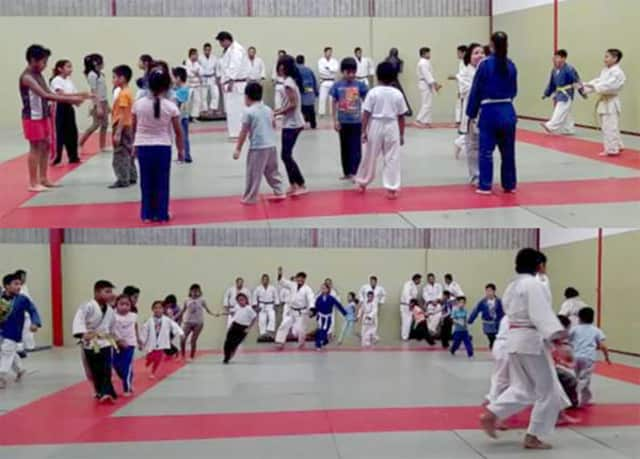 Several workshops for coaches were held in order to qualify them to begin their work in schools and dojo. The main principle is to give them the basics of teaching Judo to children in a enjoyable and formative approach.
A "Judo Basics Handbook" for coaches was designed where the judo teachers can find information about the psychological and physiological characteristic of children at this age. It offers them to have a better comprehension of the specific needs at each stage of the children development. This handbook can help them recognize the best tools for teaching the young generations, make them enjoy the practice of judo and recognize it as something fun and healthy which can be done for life.
Cinthya Briseño concluded: "We have already identified the beginning of a long path and the need of constant qualification in order to improve. We must take into consideration that it is a long-term trip to build an elite athlete and it also takes time to fulfill the needs of the population in terms of growing the physical capacities since childhood in Mexico."