IJF launches its latest and most anticipated film in the hit series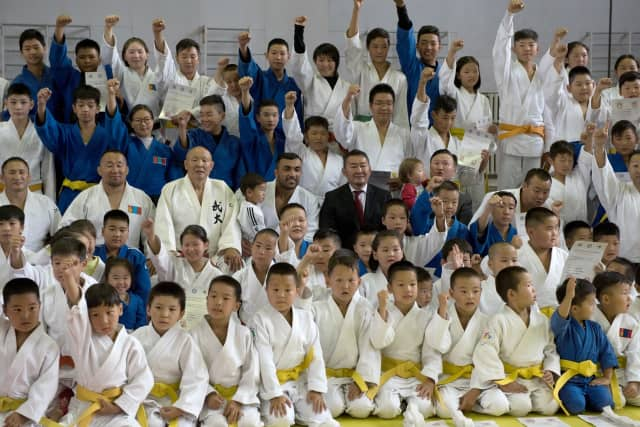 Use#JudoForTheWorld to discuss the series and to let us know where we should visit next!

In August 2017, the International Judo Federation filmed in Mongolia the 12th episode of its award-nominated #JudoForTheWorld series. The initiative started at the end of 2015 in Japan and now 12 countries have been visited and as many films have been produced.
The ancestral traditions that inspire today's champions
The aim is to show how judo can change the lives of local populations confronted with adversity or simply the difficulties of life.

For ten days, the IJF filming team followed Ilias Iliadis (GRE), a three-time world champion and Olympic champion, who set out to discover a country that he dreamed of visiting but had never had the opportunity to visit before. The IJF also teamed with the dentists of the Pour Sourire association, whose framework consists of judoka and who led a 20-day mission to bring dental care to populations who normally do not have access to such health care.
Watch #JudoForTheWorld Mongolia:LINK 1LINK 2

In June 2017, the President of the Mongolian Judo Federation, HE Mr. BATTULGA Khaltmaa, was elected as President of the country. The #JudoForTheWorld journey offered the opportunity to meet him and ask him what impact judo had on his life and his country.
On the occasion of the 2017 Suzuki World Judo Championships, team Mongolia earned a record medal haul at the IJF' showpiece event to finish third in the medal table with one gold, one silver and four bronze medals.

The #JudoForTheWorld movie presents some elements that can explain such a performance and it shows how the ancestral nomadic tradition of the Mongol people might be the secret of today's extraordinary results.

Watch the film and discover the outstanding landscapes of Mongolia. Learn more about the traditions of this ancient civilisation and about what makes Mongol athletes so strong.
During the 20-day mission the team of French dentists took care of almost 1,000 people from five different local and remote communities (Bayankhongor, Erdenetsogt, Bumbugur, Bogt, Bayanlig) from the mountain range around Bayankhongor to the heart of the Gobi desert. 576 people were treated for different pathologies.

Click here to read the The Inside Story on Mongolian Judo's trailblazers

Watch the next generation of Mongolian champions in action at the Junior World Championships live and free from 18-22 October at live.ijf.org #JudoZagreb2017
Click here to see the full #JudoForTheWorld series