Hi, from Jaipur (India)! As promised last time, I've finally left central Asia to discover new lands but I have to tell you more about the end of my Central Asian trip before I take you onward.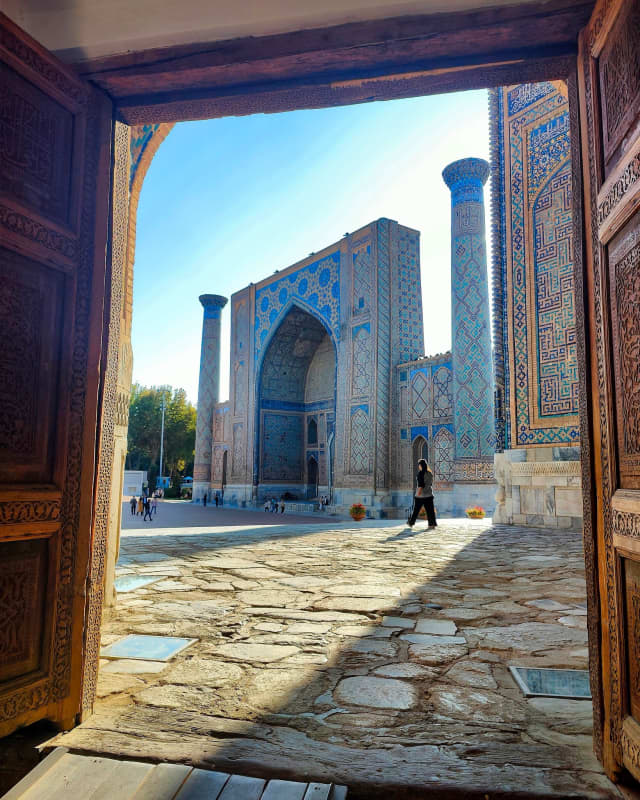 If you remember, I was in the capital of Uzebkistan, Tashkent, just after the world championship. Then I moved to another city, called Samarkand, to discover some of the most beautiful edifices I've ever seen, at the Registan! More importantly, it's the city that made our world become a big village, thanks to the Silk Road.
There everybody was very welcoming and I spent two full nights at my guest house talking with the host. You couldn't pass the door without being given a cup of tea and a joke, many that I didn't understand. The taxi didn't let me pay to get there, the owner of the hostel also offered me a cheaper price because he was happy to spend time with me. This was a really nice authentic moment! 
After those two amazing days, I took a taxi to Tajikistan. Forget about buses and trains! When you are not in Europe, you just need to fit to whatever is the way to go. I passed the border quite easily and jumped in another taxi with way more people than the seat available. I spent five hours like that, while watching the beautiful red mountains surrounding me; absolutely breathtaking.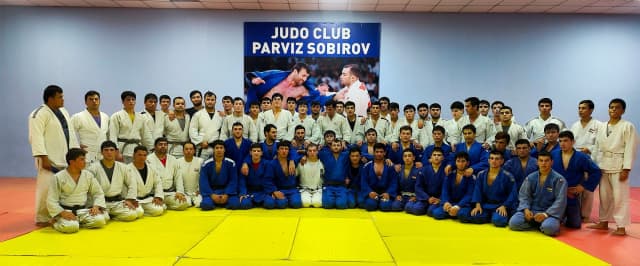 The next day, federation invited me to the National Olympic Centre. They liked the philosophy of my project and I was invited to share my experience with some teachers during a seminar. The plan was to go to two dojo in the capital of Dushanbe before being visiting the Ustorpiriyon family in Khodjan city. 
First I went to Judo Club Parviz Sobirov in Dushanbe. I was told that I would train children but most attendees were big men, plus a reigning junior world champion. I was very impressed by the intensity that everybody put into fighting. They were going very hard but at end they were always best friends. 
I couldn't resist joining in with some randori, even though light randori or yaku-soku-geiko didn't seem to be known phrases here. We went to dinner with some of the guys before I was sent back to Hoji Sharif dojo, where the coach was waiting for me.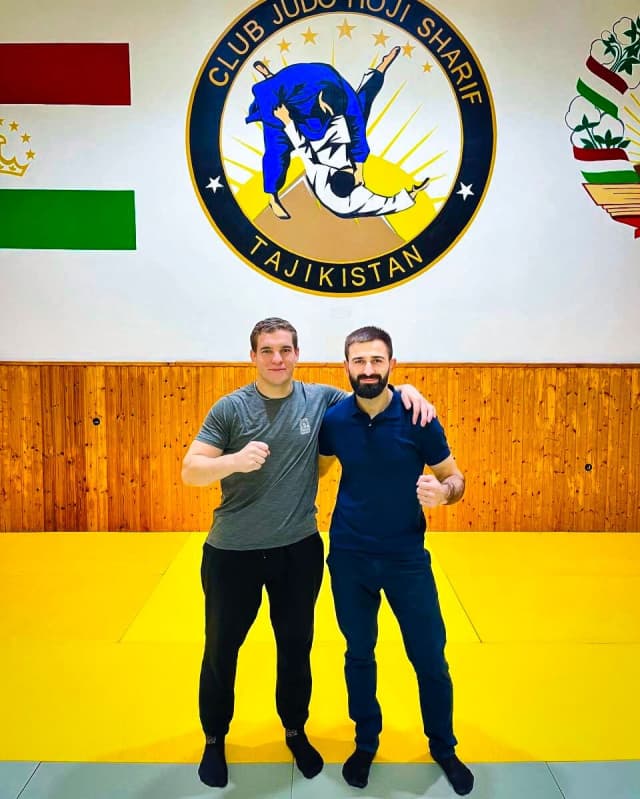 I met David and his partner. I was surprised, because he didn't speak English but on the phone his messages were in perfect English. He had been using a translator all the time. I stayed more than a week. He had a room for the staff of his academy and he was taking good care so I had everything I needed.
I quickly noticed that his style of coaching was very different from everything I had seen in the previous months. All the exercises he was doing made sense in a pedagogical way, the atmosphere felt very Japanese and the drills and techniques of his students were spotlessly clean. We quickly became friends, even though we didn't speak the same language.
I understood that he wanted to help Tajikistan, his new country, to have a better understanding of judo and produce better judoka and teachers but it's hard for one man to do everything by himself. Therefore, he is kindly asking for help from international specialists, to come and visit his dojo.
As I was with him, he was managing everything. I didn't have to worry about any kind of logistics. He contacted the Ustorpiriyon family and organised the taxi to go and come back. It was a 200km journey, 6-7h in a crazy taxi that broke down on the way! 
I didn't expect to meet so many people. Talking about Ustorpiriyon isn't just about Komronshokh, the Olympian, it is a big family. From outside the dojo it looks old, with very basic conditions but inside it's totally different: a big clean tatami with hundreds of children and adults. Once again, I was welcomed very warmly. They wanted me to do so much judo that I didn't even have time to visit the city but I discovered nice people with interesting stories.
Originally the family belonged to Sambo and they decided to go for judo as it is an Olympic sport. The father is a multiple medallist in so many different kinds of wrestling from sambo to kurash and even chidaoba; it is very impressive.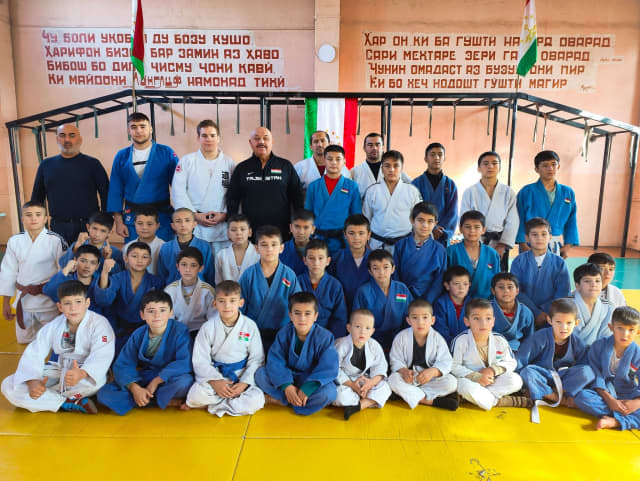 The conditions for those athletes, when they are expected to perform, is really mind-blowing. They earn less than 500 US$ a month and when they have the chance to go to international competitions, they have to take everything very seriously to try to get the prize money. It is a dilemna for the athletes. As he told me, he doesn't want to compete for the money but there is no competition without money.
The youngest of the family helped me a lot with English translation and shared with me his dream of international competition. He might participate in the next junior world championship in a heavyweight category. I am really looking forward to seeing that!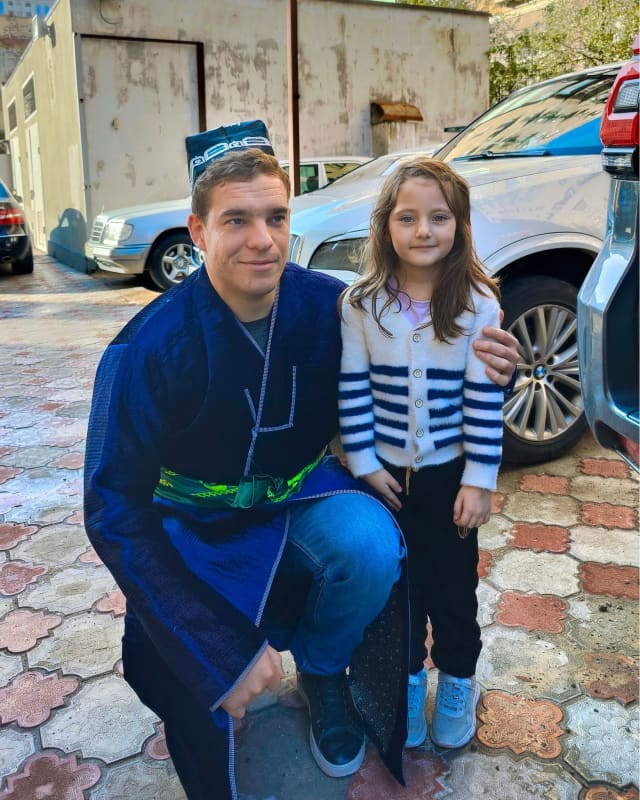 After those days, I went back with David to finish my time in Tajikistan. I also had the opportunity to meet the family of a girl who helped me when I was in Hungary, to a family from Ukraine (https://www.ijf.org/news/show/julien-goes-around-the-world-3).
Without knowing them beforehand, we spent one day together and went to the best restaurant in town. They dressed me with the traditional outfit and literally covered me with food. I could visit pretty much all of the capital during that day. It's another exemple of the generosity of people in central Asia. Those countries aren't very popular for tourists and you can feel it because when you're a guest, they take care of you like you are the last they will ever see! I've had a great time. Thanks a lot!