A delay of 90 minutes is not ideal for any take-off, especially when the connecting flight departs 85 minutes after the original scheduled landing. It is what it is. Take a breath, load the film menu and relax because regardless of the unlikeliness of completing the journey as planned, the circumstances cannot be changed simply by hoping or worrying.
As is so often the case, the first flight landed a touch earlier than the allotted flight time would have suggested, leaving a window for the connection of 49 minutes, but with the taxiing still happening the window was shrinking rapidly.
Istanbul International Airport is enormous, a central hub between Asia and Europe and one of the connection capitals of the world. Anyone who has ever transferred through Istanbul knows just how huge it is. Finding out that the plane was parked in zone F, knowing that flight 2 was taking off from B13, brought a moment of stealing oneself ready to run.
Once the first plane came to a halt and the passengers all rose and foraged for bags and jackets and half empty bottles of water, there were 27 minutes left before the scheduled take-off. Running from F to B to make a flight already showing the 'last call' notice on all the airport schedules is a challenge, one with a clear target.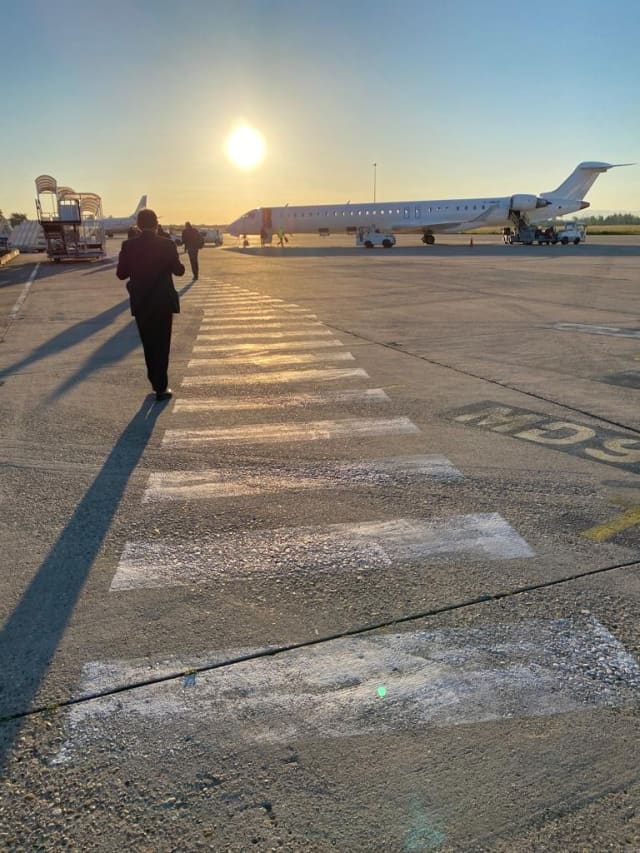 3, 2, 1, go! Out of the plane and darting through the corridor of passengers all pausing and checking pockets, laces and zips; asking directions from ground staff without stopping. On to the main concourse and all the way to the end, on and off the travellators, monitoring gate numbers; probably already too late.
The board still flashing 'last call' meant it hadn't closed yet but the signage said 12 minutes walk still to go. Not walking. Not 12 minutes.
On reaching the gate, finally, breathing heavily, half a dozen others stood ahead. I made it, by the slimmest margin ever. The gate attendant kindly let me know my luggage had also made it, unbelievably. Last to board, staff waiting to close the doors and prepare for take-off, I could breathe normally again.
There was no stress, no worry. From running and rethinking, regardless of the potential for missing the flight and being a day late for work, perhaps not making it to the draw of the 2022 Tashkent World Championships, at no point was there anything other than the focus to solve the situation, to control what could be controlled and let the rest go. Judo teaches us that. Fight to win, not just on the tatami but in life, everyday. We learn to solve and to cope, to adapt and prioritise. The reward is to be part of this sport and part of the community of people who choose to live in it.
Boarding the plane I was met with smiles from friends who had gathered in Istanbul from all over the world. I don't know why I didn't expect to see them, it always happens with connections. Friends from Australia, Finland, Belgium, France, Kosovo. There were coaches, referees, athletes and IJF staff and all had organised their lives to ensure they would meet in Tashkent. It's certain many of them hit obstacles on their way but all of them made it, solved it.
Uzbekistan is about to lift the curtain on this year's premier judo event and we will all be there to make sure our piece of it is looked after. Judo teaches us that too, to do our best, to put sport and fair play first and also to enjoy it. This week we all win, no matter how each of us arrived in Tashkent.