At the IJF Congress, on 3rd June 2021, new members of the IJF Executive Committee were announced. Among them were 3 women. Maybe this doesn't read like something special. Maybe now, in 2021, there is less of a surprise when seeing women appointed at the highest level in their fields, but this is a combat sport, a grappling context and until 2017 there were no women in this position.
When Dr Lisa Allan was appointed in 2017, as the first, this was a huge step and it opened the door, visibly, positively, publicly, in a way that showed the strides that are being made across the world to ensure gender equity and it was not a gesture or lip-service. It was a necessary and natural appointment for the person now fulfilling the role of Events Director for the World Judo Tour.
Dr Allan is now joined by Sanda Corak (CRO), Salima Souakri (ALG) and Erdenet-Od Khishigbat (MGL). All 3 have been prominent in judo and wider sporting communities for many years and they bring unique skills and experiences to this high-powered table.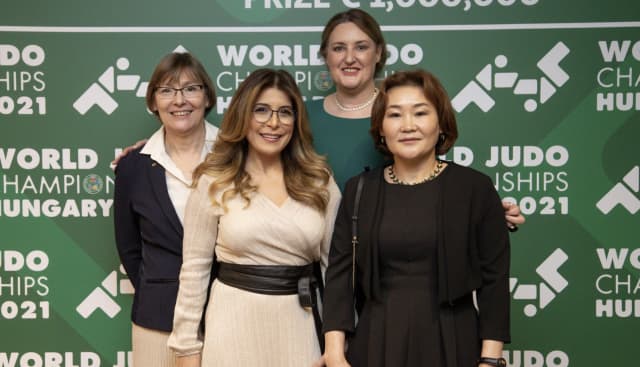 Sanda Corak (CRO) - IJF Education Director
Sanda Corak was a competitive judoka, winning the Yugoslavian title more than ten times and being among the best in Europe in the 1980s. She has spent much of her professional life, once retired from the tatami, focussed on academia, bringing many aspects of research together around a central judo core. Sanda is now the Editor in Chief of the new IJF 'Arts and Sciences in Judo' journal, with volume 1 published online just a few months ago.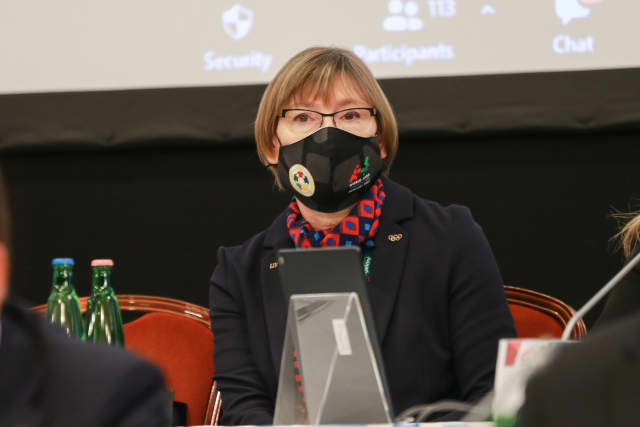 "Because of my background, not only in judo but in scientific research and education, I hope to be able to contribute to development worldwide. At this time the IJF is the only international sports federation to have a scientific journal. I hope to refine and bridge the gap between scientific research and the practical application of the findings in sport."
Sanda's work has huge implications for the reassessment and improvement of training systems, injury management, psychological understanding and infinite other subjects, all significant at not just the elite level but filtering down to club level sport. It's exciting, to say the least.
One of Sanda's new colleagues on the IJF Executive Committee is Salima Souakri (ALG), IJF Development Director. Salima competed at 4 Olympic Games and was 7 times African champion. She has been an active advocate for women in sport and has even occupied a position as an advisor to the UN.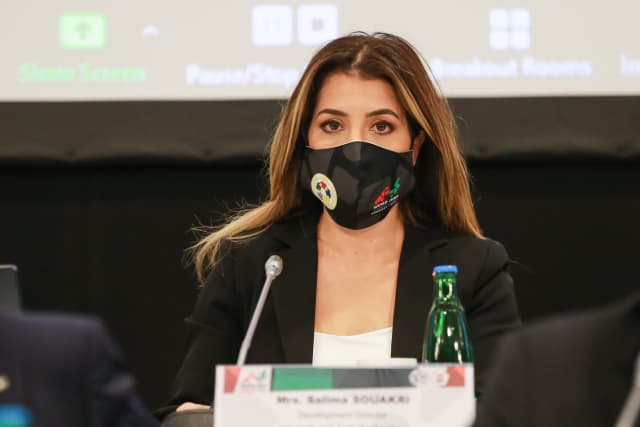 "I'm very, very happy to be elected on to the EC. It's welcome recognition after a long career, more than 36 years in competitive sport and beyond. After my 4 Olympic Games I was a coach for women's judo in Algeria. I wanted to promote women's judo, recognising that there aren't so many practitioners in the country. I have the responsibility for women in judo and sport in general for Algeria and it's all about development. As a champion I have the opportunity to not just talk about gaining medals but to defend a cause. I will always defend the equality of participation in all sports in my country, where, traditionally it's not accepted that women can be strong in sport.
To be a member of the EC is an important and beautiful opportunity to be able to promote equality in Algeria and throughout Africa. I also occupy a crossover between Africa and the Arab world. There are a lot of Arabic countries where men's teams exist, while women's do not. There is a stream of thought preferring to think that investing in men brings results, that it's easier but it is the contrary! As Minister for Elite Sport in Algeria, my working life is now aligned and I am determined to add value to the IJF EC with both my experience and my demographic."
The final seat is occupied by Erdenet-Od Khishigbat (MGL), IJF World Promotion Director. Erdenet-Od is also a 4-time Olympian and a world medallist, was 16 times Mongolian champion and has the additional experience of coaching her national team through two full Olympic cycles. She worked with the prolific judoka Munkhbat for 11 years, via the national team, retiring from her coaching role in 2019.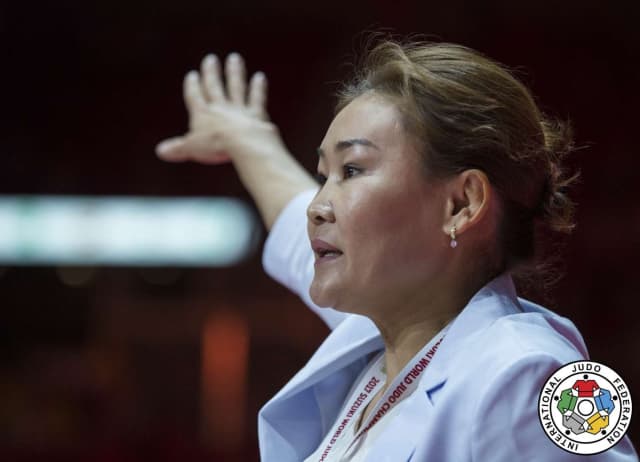 "I was 13 in 1988, just starting judo in Mongolia's capital. I participated in competition for 20 years and all in all dedicated 32 years to the dojo. I am very happy with that choice.
It feels like I now have a great responsibility and I take that seriously. I really know judo and see it as an advantage to bring all my experience to the EC role. First I want to learn how to work within the IJF team as I have always seen from the outside; it's necessary to observe the organisation. From there I intend to create and refine a plan for how to help Mongolia and also the rest of Asia.
There are some difficult issues to confront. In the past, Mongolian culture has not made it easy to understand women wanting to do judo. My long-term goal is to help girls and women, many coming from rural areas with difficulty adapting to city culture.
Right now there is one main training centre for all sports in Mongolia: the national training centre. It's not obligatory to come to the national centre but it's so much faster and brings more likelihood to succeed. As a coach I was able to help some make the transition but working within the EC will allow to broaden that remit, to include development across more Asian countries. I want to help all of them. Many coaches want to do this kind of work but it's not always possible. Let's change that!"
A few days after the official announcement of the new Executive Committee, during the World Championships, a quiet vote took place, to elect the new Athletes' Commission members and also their Chair. The popular vote was not a surprise and the already very active Austrian, Sabrina Filzmoser, was duly elected. This role comes with automatic inclusion on the IJF Executive Committee and therefore the EC gained one more woman, bringing the ratio up to a healthy 5 out of 27 seats. This is ground-breaking and furthers the cause of the IJF Equity Commission, bringing a more representative diversity to the overall organisation of the IJF.
Sabrina is a current athlete on the World Judo Tour and has just been nominated by the Austrian NOC for her 4th Olympic Games, in the twilight of an incredible competitive career. She is already working hard within the IJF's climate change campaign and as has been reported recently, is doing some outstanding humanitarian work in Nepal and Bhutan.
Sabrina was both humble and enthusiastic commenting on her appointment. "I really appreciate it, to have this chance of advocacy and development in leadership and management positions, as a woman, promoting the rights and wellbeing of women through our sport, employing our values in the best way.
We all share the same equal spirit, fighting with courage and humility and this makes me feel proud, being part of and contributing to progress and improvement for our whole judo community."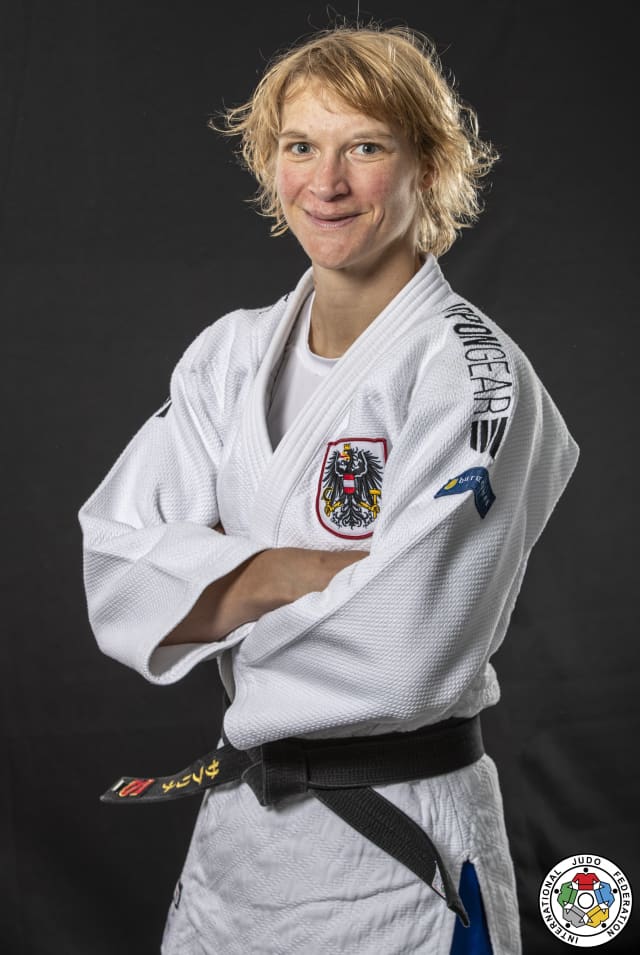 The Austrian Judo President Martin Poiger said, "We are incredibly proud of Sabrina. We were proud of her nomination but then even more for her taking the role of commission chair. She is not just an athlete but seems to have energy for an endless career and every aspect of it is inspiring."
Many members of the IJF Executive Committee will be at work in Tokyo, at their first Olympic Games in their new roles, but this is an overall Olympic debut for none of them and their previous experiences combined with this new experience promises to lead our whole judo family into a new, progressive era, where gender equity is more the norm' than the campaign.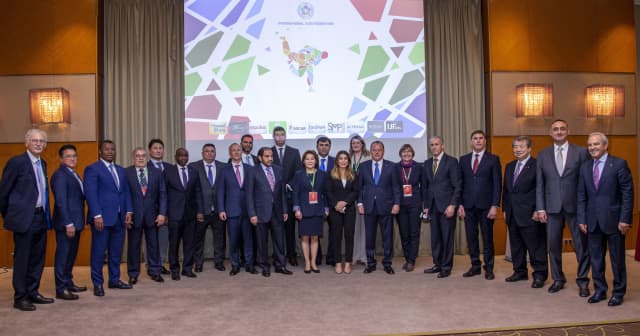 Having an active Olympian in the EC is also a first for the IJF and as an aside we wish Sabrina a safe and successful final Olympic outing amid an impressive career.