The challenge was at the height of the challenges of today's world: Plant a tree on the occasion of World Judo Day, which takes place every year on October 28th (birth date of the founder of judo, Jigoro Kano). Earlier this year, the International Judo Federation launched the idea of ​​planting trees to celebrate the educational values ​​of judo. To date, more than 5,300 trees have been planted in 75 countries. Mission accomplished by the entire judo family!
While planting a tree himself during the recent Abu Dhabi Grand Slam, Marius L. Vizer, IJF President, declared: "With this operation we will contribute to preserving our environment and that of our children. Climate change is something that affects us all, especially the disadvantaged ones. Planting a tree takes on a dimension that is both concrete and symbolic. By doing so, we are helping to build a healthier environment. It is also a strong symbol of unity and peace in the world."
The first activities related to World Judo Day took place earlier this year with operations in Italy, Russia and Kiribati, in the heart of the Pacific Ocean, already seriously affected by climate change and threatened to be wiped off the map in the coming decades due to the rising waters.
As the date of October 28 approached, things accelerated and more and more federations, clubs and individuals joined the movement, planting a tree here, a hundred or more there.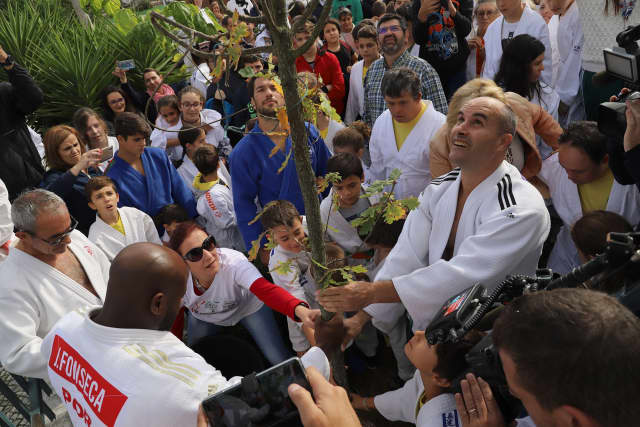 We have seen countries such as Turkey, the Dominican Republic, Burundi and France cheerfully exceed several hundred trees in numbers, while the judo champions did not hesitate to associate their name with this beautiful operation. Jorge Fonseca (POR), Daria Bilodid (UKR) and Clarisse Agbegnenou (FRA) were not the last to get their hands dirty to plant a new tree in front of dozens of happy children.
During the whole year, innovative initiatives took place, like in Italy, where the Regional Committee of Friuli Venezia Giulia 'adopted' a piece of forest, or in Yemen, where despite the war, the World Judo Day was celebrated and a tree was planted, as a symbol of peace. In Japan, the Kodokan planted a tree in Abiko city, Chiba, on the former site of Jigoro Kano's villa. With the number of trees being planted being so large, it is difficult to mention all the initiatives. Marius L. Vizer said: "I would like to congratulate the entire world judo community for all their activities and to wish all of you continued success and good results in your work. I would like to thank all those who joined the IJF initiative to plant a tree and I believe we can all be proud of showing an example of unity in the global fight against climate change."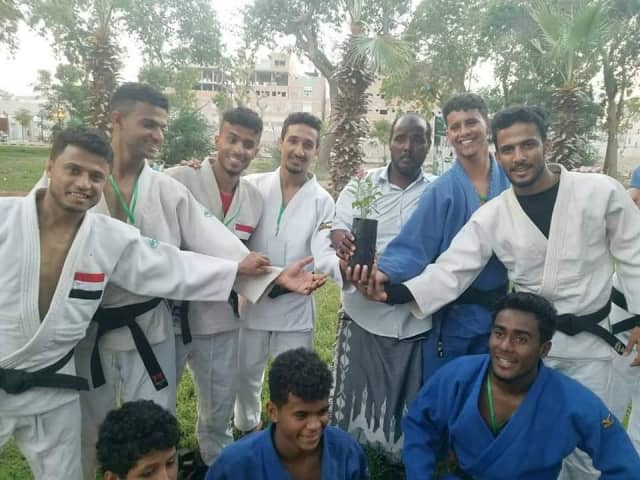 Antonio Castro Soto del Valle, IJF Ambassador, who planted a tree in Morocco during the Junior World Championships said: "Children are the future and we can help them to save the planet through the values of judo. Every woman and every man should plant a tree in their life, because we need to take care of our common planet. It is our mission to give to our children a good place to live in. If we don't do anything for our world, then we won't have any future. It doesn't matter where you come from, we are living on the one planet. In Cuba we have a saying that every human being shall do three things within a lifetime: Have a child, write a book and plant a tree. During the World Judo Day, we planted trees with children and we talked about the judo values."
When the idea of planting trees was launched and to associate it with the World Judo Day, no one could say what would be the result. It is now clear that the whole judo family gathered together with strength and enthusiasm. More than 5,300 trees around the world will not be enough to guarantee a peaceful future for our children, but it is significant enough to say that everything is possible. The world of judo is united around its values and has shared them with the greatest number, especially with the young ones. Above all the DNA of judo is now rooted in the ground and the future trees will drain courtesy, courage, friendship, honesty, honour, modesty, respect and self-control to the young generations.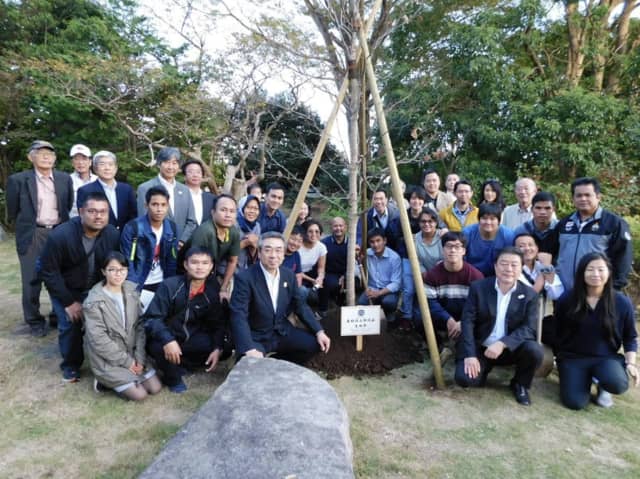 Participating countries and territories: Algeria, Armenia, Australia, Austria, Barbados, Belgium, Belize, Bhutan, Brazil, Bulgaria, Burundi, Cameroon, Canada, China, Colombia, Costa Rica, Croatia, Dominican Republic, Faroe Islands, France, Georgia, Germany, Great Britain, Guatemala, Honduras, Hungary, IJF Refugee Team, India, Italy, Israel, Japan, Kazakhstan, Kiribati, Kosovo, Lithuania, Macedonia, Malta, Mauritania, Mexico, Moldova, Morocco, Mozambique, Nepal, Nicaragua, Oman, Pakistan, Palau, Palestine, Panama, Paraguay, Peru, Poland, Portugal, Puerto Rico, Republic of North Macedonia, Romania, Russia, San Marino, Saudi Arabia, Senegal, Serbia, Slovenia, Spain, Surinam, Turkey, Uganda, Ukraine, United Arab Emirates, Uruguay, USA, Uzbekistan, Venezuela, Yemen, Zimbabwe...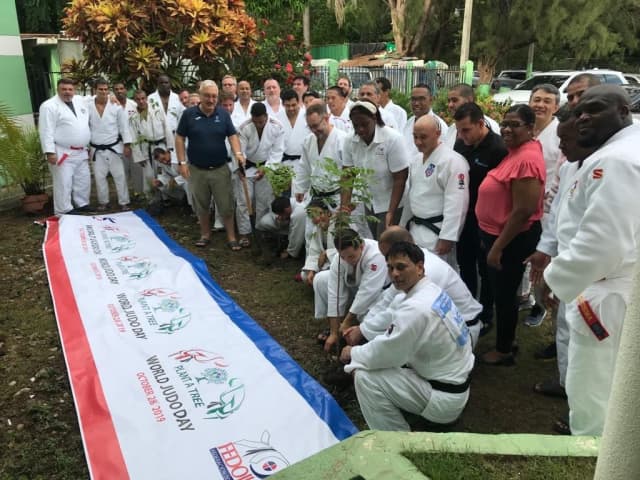 It is always possible to actively participate and join the movement that is just starting. With tens of millions of people practicing judo on the five continents, our sport can have a significant impact and can educate a large number of people. To paraphrase Neil Armstrong's famous statement of his first step on the Moon, it can be said that 'The trees that have been planted are a small step for man today, but they will be a giant leap for mankind tomorrow'.