The International Judo Federation has uploaded the new rules concerning antidoping. It includes IJF and WADA rules, as well as the complementing international standards, which can be found under the Clean Judo section, under Rules.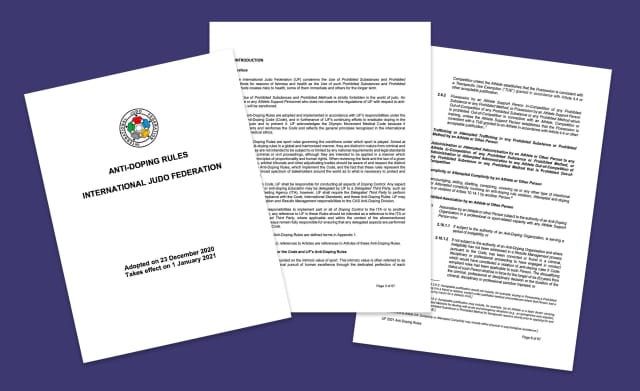 https://www.ijf.org/cleanjudo/133
With the mention of the athletes' rights and declaring it an antidoping rule violation if you are threatening someone with punishment if they, for instance, want to reveal a doping scheme, the emphasis is on the protection of the (clean) athletes (NB. all athletes should be clean). The ideology is that cheats are violating the fundamental rights of the others to compete in a doping free environment.
With the International Standard for Education, prevention through education comes to the fore, just as the role of the national federations in preventing doping through their compulsory involvement, starting from the basics such as providing whereabouts information.
Now, based on the experience of previous years, international federations can suspend national federations based on doping: article 12.  It is also clearly indicated that WADA has the right to investigate data other than mere laboratory results. (eg. metadata of the lab system to detect manipulation).
The IJF has integrated the services of the ITA (International Testing Agency) and CAS ADD (CAS Anti-doping Division) into the rules, giving them clear authority to conduct certain processes, like hearing for the CAS ADD or in- and out-of-competition testing and result management for the ITA.
With these two collaborations, the IJF's aim is to strengthen its antidoping activity. Working with independent service providers is an assurance that all judoka are treated in a fair and impartial way and at a professional level, fully in compliance with the WADA Code and its International Standards.