In August 2020, despite the global health situation, the Judo for Peace South Africa programme, under the leadership of IJF Academy Alumni Roberto Orlando, continued to be active and led several activities, including a gender-based violence workshop, with judo training sessions at Newtown JHC Building in central Johannesburg. The event was organised in partnership with the Outreach Foundation and was included in the activities of the 'Social Cohesion in times of Covid-19' programme, a UNHCR/Future Families funded project.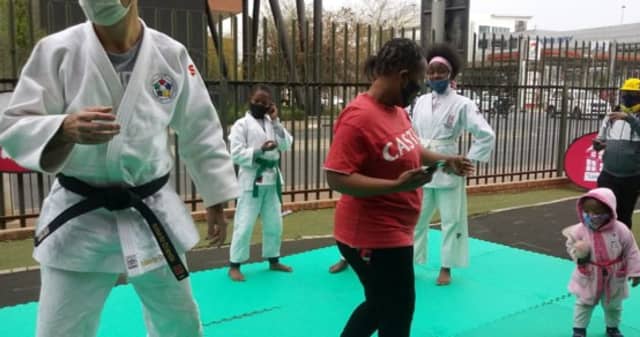 Roberto Orlando said, "The Covid pandemic requires that we focus on hygiene. All the judoka were committed to creating a Covid-free dojo, where we could restart our activities. Our dojo is the home of children and young people of different nationalities, who learn to work and live together. This represents a fundamental step for social cohesion."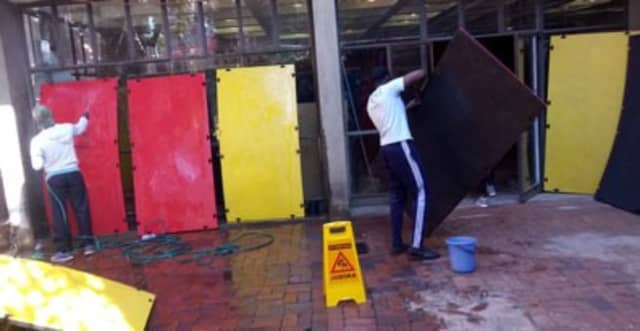 Special online classes were hosted by international athletes on Zoom, in collaboration with Kazuno Judo and the dojo really became a safe place where all the beneficiaries of the Judo for Peace South Africa programme could learn and socialise, while respecting all the necessary measures to prevent Covid-19.
During a special Saturday class, the young judoka also enjoyed a visit from Jeanne Coetser, a South Africa wrestling champion, who was a great example of women's high performance in sport. This was a powerful message to promote youth and gender empowerment.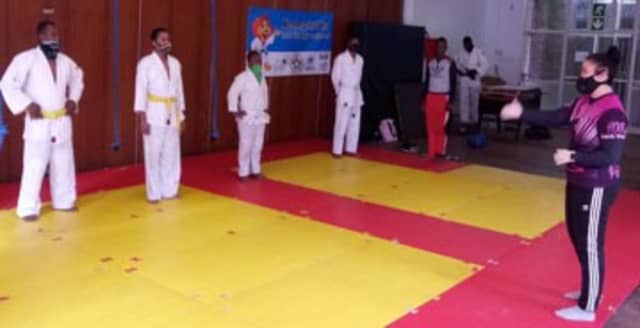 Judo for Peace South Africa is a programme funded by the International Judo Federation in collaboration with UNHCR. The main partners are the Outreach Foundation, 3to6, Dlala Nje, Future Families, RSS, Nike Foundation and Grassroots Soccer. As for today, we are present in Johannesburg with 7 clubs and 4 schools. There are further satellite clubs in Kroonstad, Pietermaritzburg, Cape Town and Port Elizabeth. This represents approximately 600 judoka coming from DRC, South Africa, India, Congo, Ethiopia, Somalia, Zimbabwe, Malawi, Angola, Pakistan, Mozambique, Congo, Italy and Japan.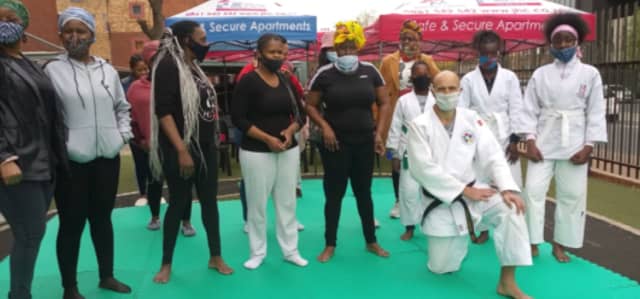 Our main focus is to use judo as a platform for communities to meet, collaborate and contribute, with the emphasis on social cohesion, youth and gender empowerment and also for the protection of local and refugee communities in South Africa.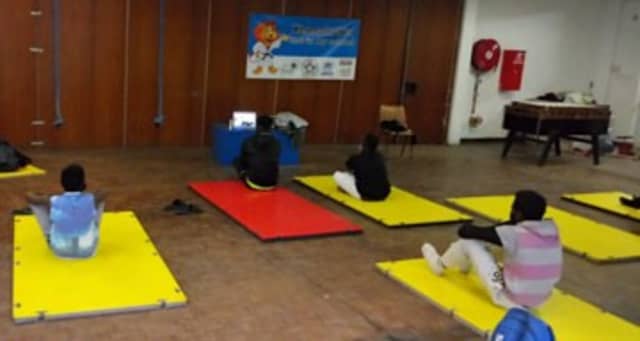 The fight against Xenophobia remains one of the pillars of our interventions and thanks to the collaboration with the Japanese Embassy, Grassroot Soccer and Judo South Africa the Judo for Hope hall will soon be built in the Alexandra Township. Child protection on the tatami prevents children from becoming the prey of racist and xenophobic propaganda, positive physical and mental development being a unique set of goals of our sport.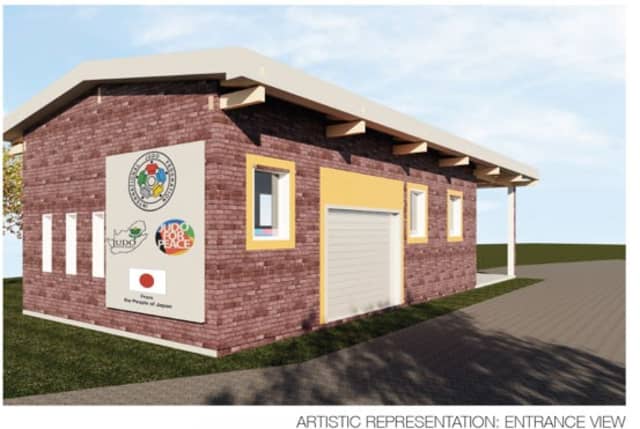 Last but not least, the Japanese Embassy has signed a contract for the rehabilitation of the judo hall in Alexandra. Construction works will begin in the next few weeks. Judo in schools in the inner city and Soweto, in collaboration with Nike, will also promote judo in 5 schools. To support those initiatives, judo equipment donations from Germany, along with a youth and gender empowerment training camp in the KwaZulu-Natal region, were given by Johannes Daxbacher, from the IJF Military and Police Commission.