The IJF World Judo Tour has returned to Turkey and the resort city of Antalya for a blockbuster Grand Prix and the seventh event of the season from Friday to Sunday at the Antalya Spor Salonu.
Following Grand Prix events in Tel Aviv, Marrakech, Tbilisi and Grand Slam in Paris, Düsseldorf and Ekaterinburg, the spotlight will shine on sun-kissed Antalya for the second week of IJF World Judo Tour action in a row following Georgia's crowd-pleasing Grand Prix in Tbilisi.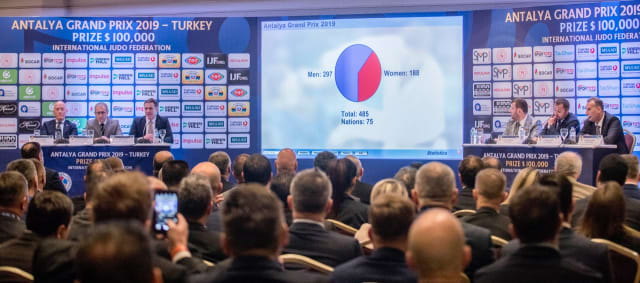 The third edition of the Antalya Grand Prix is the final IJF competition before April's respective continental championships and has attracted an all-star entry to Turkey who have welcomed the world with warmth and their famed hospitality.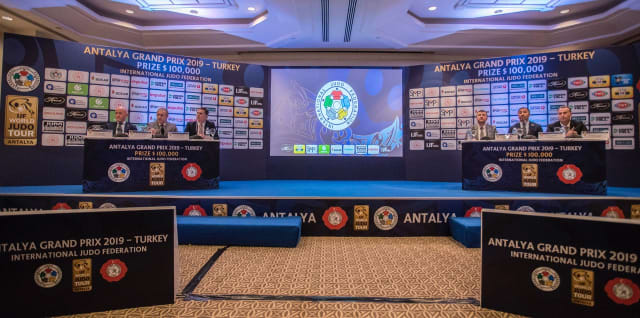 Mr. Mohamed MERIDJA (centre - left), IJF Education and Coaching Director, made the opening address at the draw which took place at Rixos Downtown in Antalya opposite the competition venue.
"Dear President HUYSUZ, dear judo fans, dear ladies and gentlemen, I'm honoured to welcome you here to Antalya for the Grand Prix. The IJF President Mr. Marius L. VIZER would like to wish his best to the Turkish Judo Federation and all the participants. We hope to have a good competition and I wish good luck to everyone."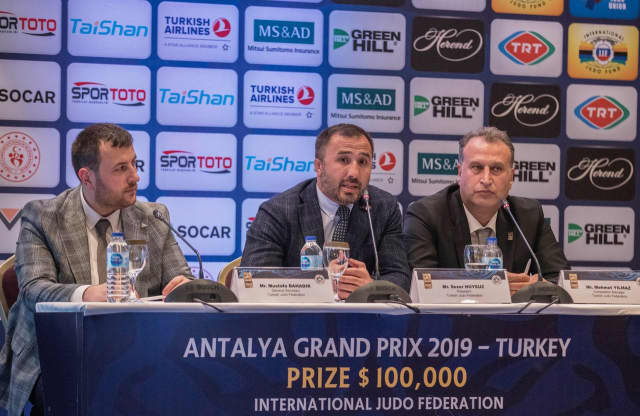 Mr. Sezer HUYSUZ (above - centre), Turkish Judo Federation President, spoke on behalf of the organising committee.
"Dear distinguished IJF members, dear friends, coaches, referees, welcome to the Antalya Grand Prix 2019. We are very happy to see you again here in Antalya, the third time for our Grand Prix. We are happy about this and it's a big honour for us. I hope that when you go home you have good memories and have had a lot of success here.
"Thank you for coming to our Grand Prix and we hope to have great moments all weekend and next week we look forward to hosting many of you for the Olympic Training Camp."
Ahead of conducting the draw, Mr. Vladimir BARTA, IJF Head Sport Director, announced that 485 judoka (297 men and 188 women) will compete this weekend from 75 nations.
Olympic champions Rafaela SILVA (BRA), Khasan KHALMURZAEV (RUS) and Lukas KRPALEK (CZE) are among an all-star cast along with world champion An CHANGRIM (KOR) and three-time world champion and double Olympic medallist Yuri ALVEAR (COL).
COMPETITION PROGRAMME
Friday 5 April 
Preliminary rounds - 10:00
Final Block - 17:00
Saturday 6 April 
Preliminary rounds - 10:30
Final Block - 17:00
Sunday 7 April 
Preliminary rounds - 10:30
Final Block - 17:00
Venue: Antalya Spor Salonu
Watch all three days of #JudoAntalya2019 live and free on the IJF website.