The star of day 2 was undoubtedly Nicolina Pernheim. This ambassador for VI judo turned back to competition after taking a break since the Tokyo Paralympic Games. She is an example of why the split in categories was needed.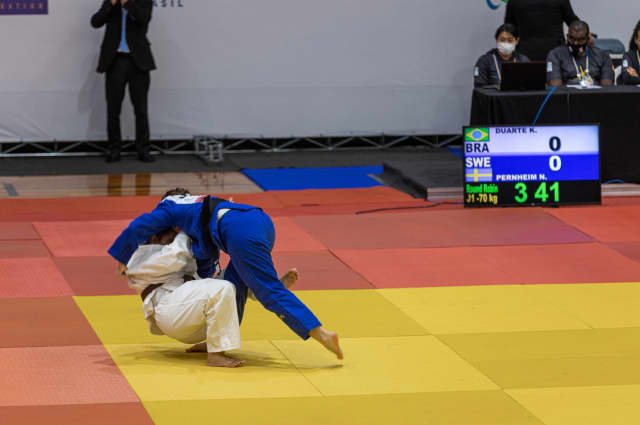 Pernheim decided to take a break from competition because of her work as a physiotherapist, "Next to judo I am working as a physiotherapist for blind children. I help them with moving, with the goal of becoming more independent. After Tokyo, I decided to focus on work and training and to take a break from competition."
Pernheim decided to make her comeback in Sao Paolo and did that in style. In her last contest, she faced Brenda Souza de Freitas, unbeaten this year. "I was a bit nervous because she is new and winning everything. Luckily, I have a great team around me for support. My coach and training partners tell me exactly what she is doing, since I can't see that for myself. They helped me prepare."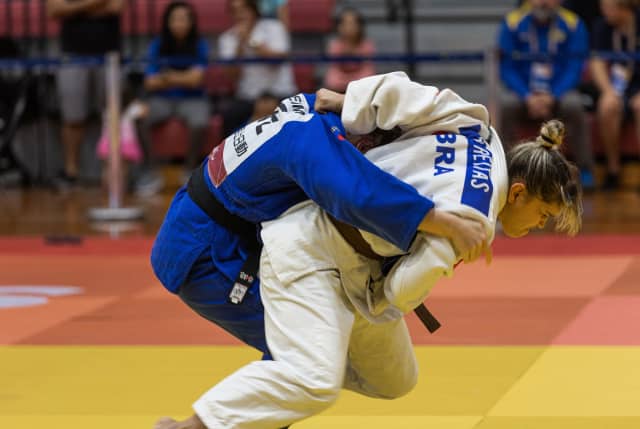 Pernheim looked more ready than ever, winning all her contests in normal time. She put on an attractive show with both tachi-waza and ne-waza techniques. "The split between J1 and J2 has been really good for me. I've been the best B1 athlete for so long, but it didn't always show in the medal tally, since the categories were not split." With that said, she proved not only to be the deserved gold medal winner in São Paulo, but also the one to beat for the coming events."
Highlights
+90kg J1
The final of the +90kg J1 category was a repeat of both Antalya and Nur-Sultan Grand Prix of this year. Both Wilians Araujo (BRA) and Jason Grandry (FRA) are in top shape, reaching another final together. Araujo, who was the silver medallist at the Rio Paralympic Games, won the previous two editions. Unfortunately for Grandry, this edition was also decided in favour of the Brazilian; with a shime-waza he forced Grandry to tap out after an intense contest.
In the same category we saw the most decorated Paralympian in action. Antonio Silva is a four-time Paralympic champion and doesn't look ready to stop yet. With attractive judo and brilliant ne-waza actions, the 51 year old only lost out to Grandry today before facing Yerlan Utepov of Kazakhstan. With a perfectly executed armlock, he secured another bronze medal to add to his extensive collection.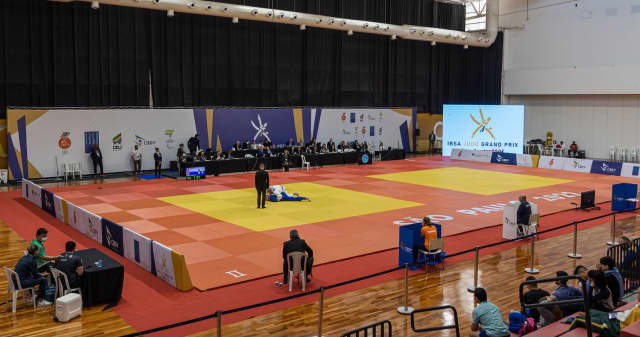 -70kg J2
It was not only Nicolina Pernheim who made her comeback today. Double Paralympic champion Dalidaivis Rodriguez Clark took a much longer break, as she hadn't competed internationally since she won the Paralympic Games in Rio de Janeiro in 2016, some 6 years ago. She had other priorities as she became a mother, but decided to come back for this Paralympic cycle. Making a comeback after such a long absence would be problematic for many, but Rodriguez made it look easy. Winning both her contests, she picked up the gold medal in this category. Missing today was current Paralympic champion Alana Martins Maldonado of Brazil, who is recovering from an injury. The return of Rodriguez is an interesting development in this already strong category and only the future will tell us if there will be a clash between these two champions ahead of us.
After two days of competition, it's the host nation of Brazil which ended on top of the medal table. Winning 6 gold medals and 17 medals in total, they were the most successful team in Sao Paulo. Arthur Silva, winner of the J1 -90kg category explained the success of the Brazilian team, "This success is not born in one day. It's the result of a lot of training and dedication. For me, it's more than ten years of a career and now I am getting what I want." 
Other gold medals were for Kazakhstan, Algeria, France, Great Britain, Canada, Venezuela, Cuba and Sweden.