Today the individual tournament of the Tokyo 2020 Olympic Games ended with the last two Olympic champions being awarded their gold medals: SONE Akira (JPN) and Lukas KRPALEK (CZE). If for SONE it was an expectation, she nevertheless won a 9th gold medal for the host country, which is really impressive. In the men's category, Lukas KRPALEK, as an Olympic champion already, from Rio, wrote a beautiful page in Olympic history by winning for the second time in a row but in a different category.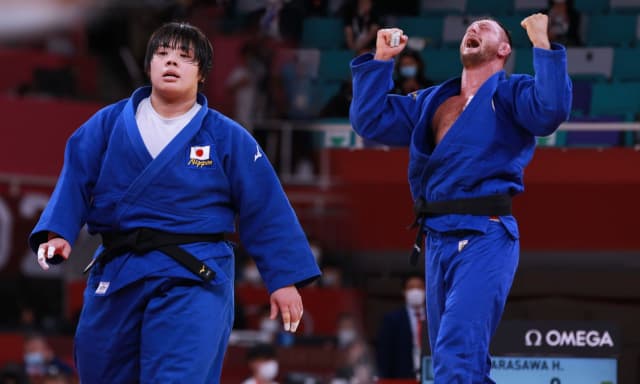 After seven days of competition, we now know the 14 new Olympic champions and the full distribution of medals. 25 countries stepped on to the podium while 35 were present in the final block. Once again judo has shown its universality.
It was written and yet nothing went as planned; nothing could and should not prevent Teddy Riner from winning his third Olympic title in a row, his fourth medal overall with the Beijing 2008 bronze. Nothing! Except, in judo, even when everything is written in advance, in fact the ink is anything but indelible, because a tiny grain of sand can stop the most beautiful of mechanics.
Teddy RINER is that machine and he appeared in Tokyo fit like he never was before. Sharp and motivated, he was about to write a new chapter in a book already full of extraordinary stories. What role did stress play? The fear of the big day? Teddy is used to it. Was there a problem during the preparation? Did injuries play a role? Did the pandemic disturb him more than one could imagine? These are questions Tamerlan BASHAEV (ROC) did not ask them when he launched his attack and in a flash changed direction to project the Frenchman.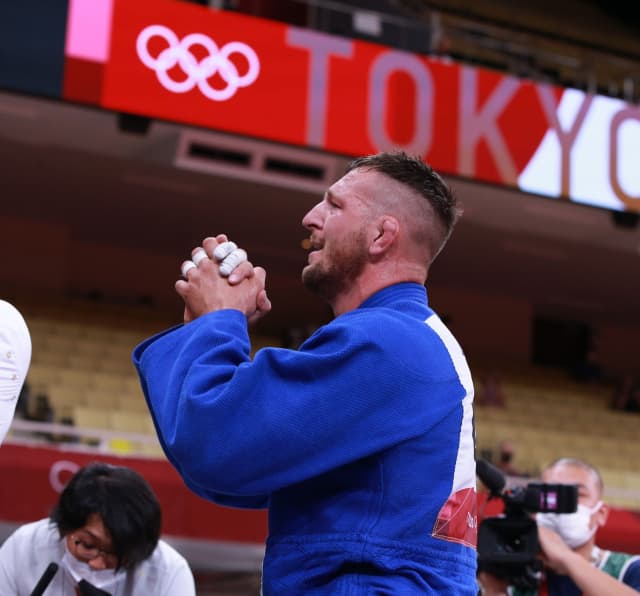 Each Olympiad has its share of surprises, of athletes who were not expected at such a high level and others who are not at the level imagined. There is a third group being composed of favourites who deliver, like Clarisse did or Shohei Ono. The defeat of Teddy Riner definitely makes it into the catalogue of massive Olympic surprises, but actually the author of that, the ROC representative doesn't!. He was the world number one when arriving in Tokyo. In the absence of the ten-time world champion in recent months, one could say that Tamerlan's number one label was overrated but at least now Tamerlan BASHAEV has set the record straight.
Whatever happens Teddy Riner remains an exceptional champion, an extraordinary judoka who we hope to see again quickly on the tatami, to win this elusive third Olympic title, in Paris maybe. That would undoubtedly make the story even more extraordinary.
The last day of competition will be dedicated for the first time in history to the mixed team event: three men and three women in each team. Will Japan be able to win the first team gold medal? Who among the other nations will be able to counter their impressive dominance? We'll know more about it on July 31.
+78kg: SONE Concludes the Japanese Harvest Final ORTIZ, Idalys (CUB) vs SONE, Akira (JPN)
It was a long final with two athletes who proved to be impossible to throw all day. On one side we had the incredible experience of Idalys ORTIZ (CUB) with four Olympic selections and four medals, including the last three finals and on the other side we had the youth of SONE Akira. As no-one could find a way to throw, the decision was made with penalties and SONE Akira won the 9th gold medal for Japan; an impressive harvest for the host country.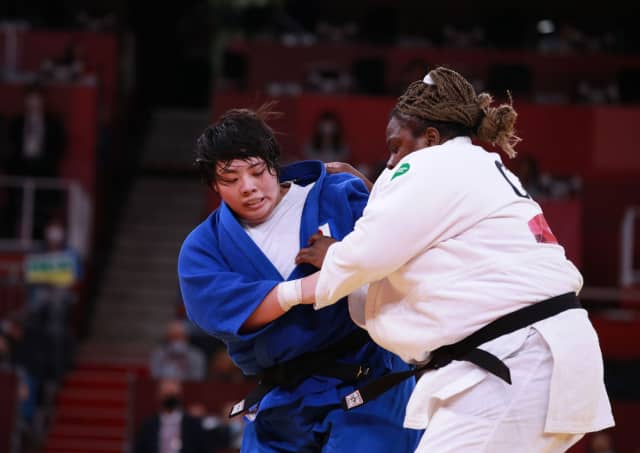 Sone Akira said, "I'm small for the category so I thought I would try to bear her in kumite. It was hard but i did and im so oroud to prove that it is possible to win with a small body."
Idalys ORTIZ said, "Cuba came here looking for a medal. Done! It is the 4th for me and I am especially happy because many people thought I was finished. This medal is my answer. I work hard, I have experience and it was out of the question to go back home without a medal. I dedicate this medal to my father who passed away 9 months ago."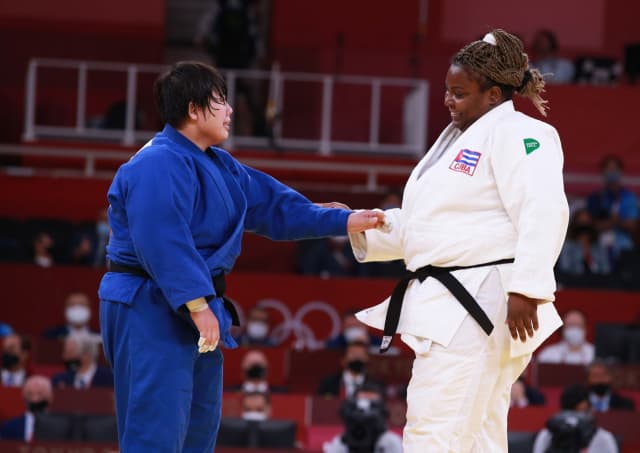 Bronze Medal Contests XU, Shiyan (CHN) vs KINDZERSKA, Iryna (AZE) SAYIT, Kayra (TUR) vs DICKO, Romane (FRA)
We can say that Iryna KINDZERSKA (AZE) did what it takes to step on the podium. Giving no chance to her Chinese opponent, she built her attacks perfectly to score two waza-ari. She wanted that medal and she got it. Bravo, Well done!
The second bronze medal contest was easily won by Romane DICKO, who couldn't hide that she was disappointed not to be in the final, but this bronze medal is a fantastic result for the young French judoka, only 21 years of age. She is only at the very beginning of her career. Teddy Riner himself began his reign with an Olympic bronze medal in Beijing in 2008. Let's wait and see what comes next for one of the most talented athletes on the circuit.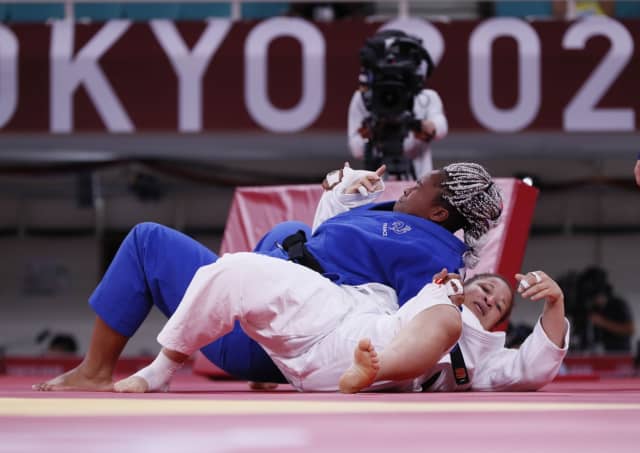 Romane DICKO said, "I don't know what happened in the semi-final. I was waiting for her move and yet she still did it. I cried so much but then I decided to fight for my teammates because a bronze Olympic medal is important. I have 3 years now to take revenge and time goes fast."
Iryna KINDZERSKA said, "It is the best medal of my career. I lost the bronze medal contest in London and was injured. Now I have it! I will sleep very well tonight and then I will smile for a year."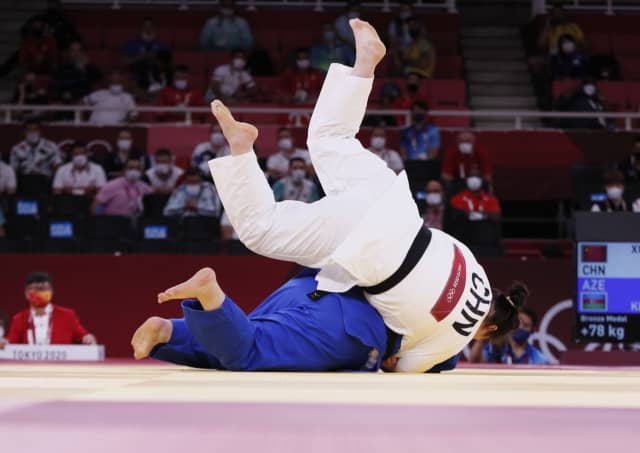 Semi-Finals ORTIZ, Idalys (CUB) vs DICKO, Romane (FRA) KINDZERSKA, Iryna (AZE) vs SONE, Akira (JPN)
Idalys ORTIZ is one of those athletes, already with an incredible track record, who will always be there when needed. Olympic champion in 2012 in London, silver medallist four years later in Rio, also world champion, she again reached the semi-finals in Tokyo. This longevity, while remaining at the highest level, is not only exceptional, it is inspiring for generations of athletes. We always have great pleasure in seeing the Cuban on the circuit. The years that go by don't seem to have an effect on her; Idalys still has this incredible ability to get in shape at the right time. This is what she did during the morning session, winning against all opponents to meet in the semi-final the one everyone has been talking about for months, French marvel Romane DICKO.
The latter did not disappoint either and everyone who predicted she would be Rio 2016 Olympic champion Emilie Andeol's successor, nodded their heads, eager to see if ORTIZ might be beaten by the French contingent again. For months Romane has been lighting the fuse, chaining victories with mastery, to become one of the favourites for the Olympic title. ORTIZ' performance in the semi-final was a model of technique and tactics. She totally controlled the right arm of her young opponent, who was incapable of breaking the distance. Then, for once the Cuban let DICKO take her strong kumi-kata, but that was to counterattack her better and then ORTIZ scored with a demonstration of ura-nage, just when it was needed and neutralised DICKO for the rest of the match. The French judoka was unable to respond and couldn't prevent Idalys ORTIZ from contesting her third Olympic final in a row!
The second semi-final pitted the finalist of the World Judo Masters in Doha last January, Iryna KINDZERSKA (AZE), against the young Japanese judo prodigy SONE Akira (JPN), who was, almost two years ago, the first athlete nominated for the Japanese Olympic team, after winning the 2019 World Championships in front of her home crowd. With a waza-ari and an immobilisation, SONE bought her ticket to the first Olympic final of her career.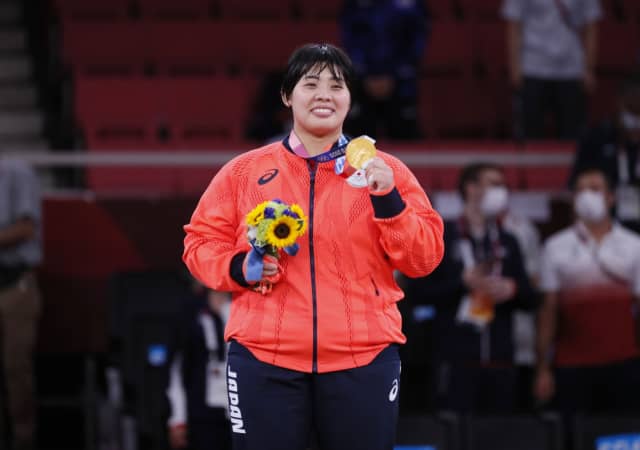 Repechages XU, Shiyan (CHN) vs ALTHEMAN, Maria Suelen (BRA) HAN, Mijin (KOR) vs SAYIT, Kayra (TUR)
Chinese athlete XU Shiyan and Maria Suelen ALTHEMAN (BRA) were meant to meet in the repechage but due to an injury the Brazilian could not compete and therefore XU moved directly to the bronze medal contest.
The second repechage match saw HAN Mijin (KOR) and SAYIT Kayra (TUR) compete to have the chance to win a bronze medal later on. SAYIT was not long before throwing her opponent for waza-ari and then pined her down for ippon.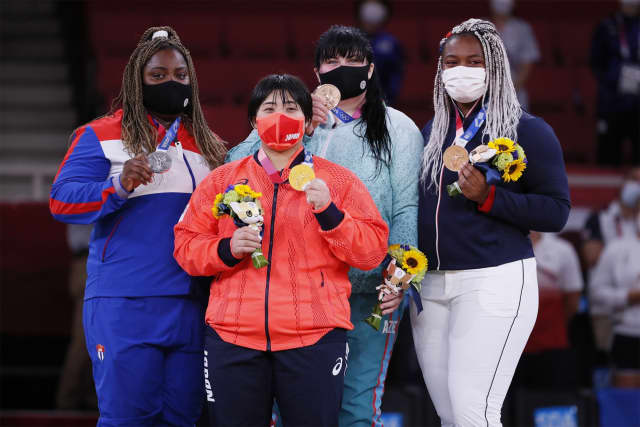 Final Results 1 SONE Akira (JPN) 2 ORTIZ Idalys (CUB) 3 KINDZERSKA Iryna (AZE) 3 DICKO Romane (FRA) 5 XU Shiyan (CHN) 5 SAYIT Kayra (TUR) 7 ALTHEMAN Maria Suelen (BRA) 7 HAN Mijin (KOR)
+100kg: KRPALEK Doubles in Tokyo in the Heavier Category Final TUSHISHVILI, Guram (GEO) vs KRPALEK, Lukas (CZE)
This scenario was definitely not written in advance; the one were TUSHISHVILI seems to take the lead and KRPALEK is penalised twice. One more shido and the victory would have gone to Georgia but this is when sport and judo are incredible. Within a couple of seconds KRPALEK scored a waza-ari, which he immediately followed on the floor to pin down his opponent for ippon. Five years ago Lukas KRPALEK won the Olympic title in Rio in the -100kg weight division. Today he is again on top of the podium but in the heavyweight division. It's always difficult to win a medal, but to win two golds from two different categories is almost unbelievable, almost impossible. Today Lukas KRPALEK made it possible.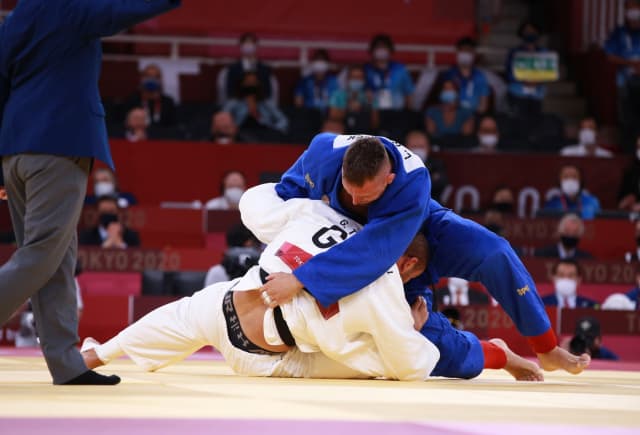 Lukas KRPALEK said, "The most difficult part of today was to defeat Harasawa. He knows me well and as everyone has seen the Japanese squad have prepared for the Games very well. I felt so relieved to get into the final. Tushushvili defeated me twice before so I had a plan and it was hard as well but in the end I won. I will try to push to be in París but right now I just want to rest."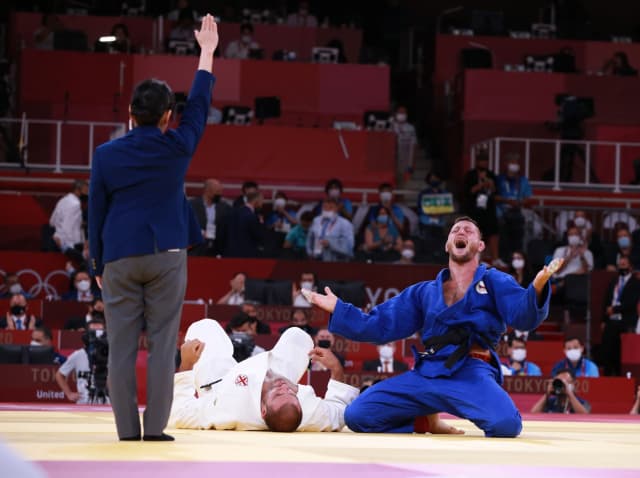 Bronze Medal Contests RINER, Teddy (FRA) vs HARASAWA, Hisayoshi (JPN) KHAMMO, Yakiv (UKR) vs BASHAEV, Tamerlan (ROC)
The first bronze medal was won, in the end, by Teddy Riner. This is not the colour he came for, but winning a fourth medal from a fourth Olympic Games is really impressive. Through the match HARASAWA seemed totally incapable of stopping RINER from going forward and he was penalised three times. From now on, if Teddy Riner wants to beat Nomura's record, he will have to be present in Paris in three years.
The second bronze medal between Yakiv KHAMMO (UKR) and Tamerlan BASHAEV (ROC), concluding a beautiful day for the world number one, despite his defeat in the semi-final.
Teddy RINER said, "It is the medal of courage. I came back from very far away and it wasn't easy. My coach motivated me after the quarter-final. He said have fun and get the bronze. Ok it is not the gold but still an Olympic medal. In the end I'm a bit frustrated but still happy. These 5 years were so hard so I'm not going to complain."
Tamerlan BASHAEV said, "Before facing Teddy I thought 'he is just a man made of bones and flesh.' The plan was to go to golden score and wait for him to get tired. Then his kumi -kata would be less strong and I could find an opportunity. It is exactly what happened. Then I lost, which was frustrasting but I said to myself that I will get, by all means, the bronze medal."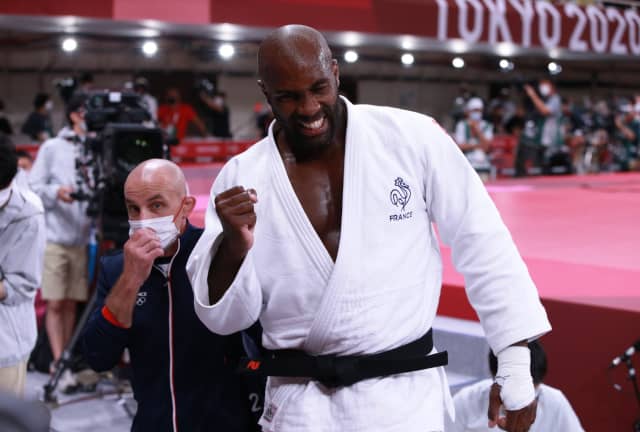 Semi-Finals BASHAEV, Tamerlan (ROC) vs TUSHISHVILI, Guram (GEO) HARASAWA, Hisayoshi (JPN) vs KRPALEK, Lukas (CZE)
Let's say immediately that the semi-finals were not what the public expected. At the very least, they lacked a big name, that of Teddy RINER (FRA), who had announced that he was in Tokyo for one thing, to conquer his third Olympic title and therefore to reach and overtake, by the inclusion of his extensive back catalogue of world titles, the great Nomura, who will finally be able to rest easy, at least for a few more years, with his record untouched.
However, things had started well for the French giant, who had in turn eliminated the Austrian Stephan HEGYI and then the Israeli Or SASSON, who had appeared in great shape, even if the experts may have seen some small hesitations and imbalances emerging in his movements, which would be detrimental later on.
In the next round RINER was opposed to the ROC representative Tamerlan BASHAEV. The Frenchman quickly took the measure of his opponent, much smaller than him and imposed his strong guard, pushing BASHAEV to be penalised twice, while he himself was penalised only once. Everything therefore seemed well under way for RINER to go to the semi-final again but his coach shouted at him from the edge of the tatami, to dictate the pace for the third penalty to fall quickly, which the Frenchman did not seem to be fully aware of.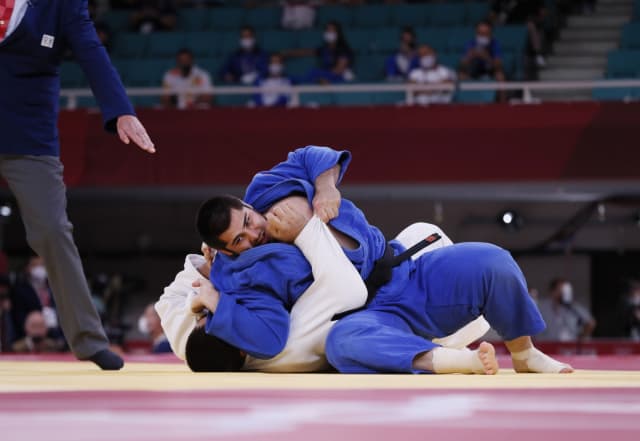 As the golden score period began there was a shoulder attack from BASHAEV, followed by an immediate change of direction and Riner found himself propelled onto his back, for a waza-ari that immediately ended his third title dream, at least here in Tokyo. The time to analyse this defeat will come, but for now what interests us are the semi-finals, knowing that after two Olympic Games of Riner's total domination, we would have a new Olympic champion tonight.
Having outmanoeuvred Riner, it was therefore Tamerlan BASHAEV (ROC) who faced the 2018 world champion Guram TUSHISHVILI (GEO), for a place in the final in the first half of the draw. BASHAEV started the semi-final letting TUSHISHVILI totally control him. From the audience we could hear 'shido white' for the ROC athlete but suddenly, with one of the attacks of the Georgian, BASHAEV counterattacked to take the lead. With one minute left, TUSHISHVILI started to really push and score a first waza-ari with a koshi-waza, before concluding in style with a powerful counterattack. This is what we call judo and a place in the final for TUSHISHVILI.
At the bottom of the draw, HARASAWA Hisayoshi (JPN) had a hard time getting rid of Yakiv KHAMMO (UKR) to face the Rio Olympic champion at -100kg, Lukas KRPALEK (CZE). For both men the stakes were high, since the absence of Riner opened up new possibilities: for HARASAWA and Japan to win the heavyweight title that has eluded them for so many years and for the Czech the possibility to create a new fairytale by winning in two different categories. Eventually it was KRPALEK who fell on the mat from exhaustion and happiness after a four minute long golden score period, that he won against HARASAWA, who then competed for the bronze medal.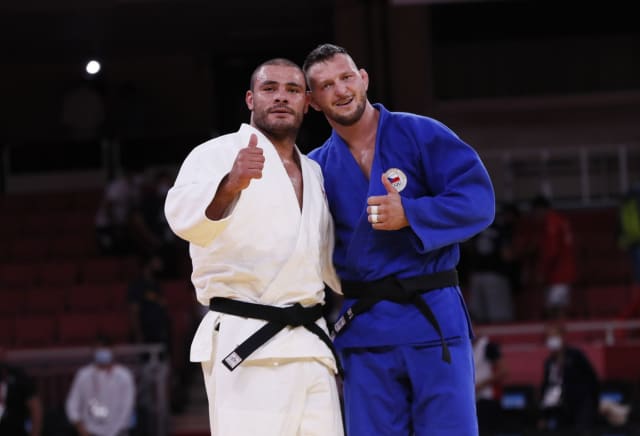 Repechages RINER, Teddy (FRA) vs SILVA, Rafael (BRA) KHAMMO, Yakiv (UKR) vs OLTIBOEV, Bekmurod (UZB)
The first repecharge contest was a rematch of several big event finals or semi-finals between Teddy RINER and Rafael SILVA. RINER left no chance for SILVA, applying a sumi-gaeshi technique after only a short while, scoring waza-ari, which he followed with a juji-gatame for ippon. Those two men know each other and they respect one another. It was over for Silva but for RINER there was a bronze.
The second repecharge contest between Yakiv KHAMMO (UKR) and Bekmurod OLTIBOEV (UZB) was more original. The victory went to Yakiv KHAMMO with an impressive eri-seoi-nage that propelled OLTIBOEV to the ceiling of the Nippon Budokan. It was perfectly executed, just lacking a clean landing on the back. The move was then awarded waza-ari, which KHAMMO kept until the end, to pay his entry to the bronze medal contest.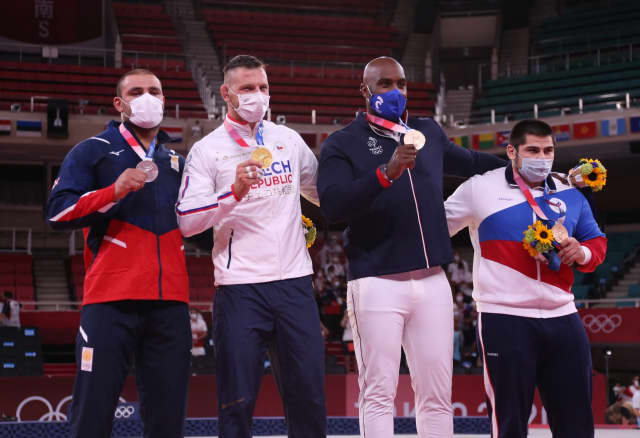 Final Results 1 KRPALEK Lukas (CZE) 2 TUSHISHVILI Guram (GEO) 3 RINER Teddy (FRA) 3 BASHAEV Tamerlan (ROC) 5 HARASAWA Hisayoshi (JPN) 5 KHAMMO Yakiv (UKR) 7 SILVA Rafael (BRA) 7 OLTIBOEV Bekmurod (UZB)