On Friday 11 October, at the second day of the World Championship for Veterans, the categories Men's M1 (30-33 years) and M3 (40-44 years) entered the arena with hopes and aspirations for pocketing medals, 277 competitors all together.
Younger veterans competing translated into faster paced judo on the tatami to the delight of the crowd, all present cheering for their favorite judokas.
For architect Jim Sternick from Minnesota, USA, this World Championship is a perfect occasion to test his abilities on the tatami while competing with athletes from around the world.
"For me judo means giving your body and your heart to it in a perfect match. I wanted to see how I stand in the international judo community. I certainly enjoy the camaraderie among the judokas worldwide," Jim says. "It's really an opportunity to test myself. I started practicing judo when I was seven years old and competed for a long time. For a brief moment, I took some time away from the tatami, having kids and the burden of professional life, but luckily, then I came back to the sport I love and here I am, to see where I can take it." For Jim it's definitely 'Judo for Life'. "It certainly is. Judo is more than a sport, it's a lifestyle. I keep doing it as long as I can. Judo gives me balance in life," the architect says. "I feel more energized when I come to work and I can also release some stress from work with judo," ends Jim who practices his beloved sport three times per week.
Judo at the Veteran Worlds is also caring and sharing. Jim Sternick is coached by Ed Rodriguez, who competed on day 1. "I didn't do as well as I expected," Ed admitted. "My opponent got into my head and I let him. But that was yesterday. Today, I'm here to help out my fellow Americans with coaching. I always do that at these events. It's all about helping out." A great spirit prevails at the Veteran Worlds!
And a great spirit it is indeed. The championship has gathered no less than 1,183 competitors - 177 women and 1,006 men – from 49 countries of the five continents competing in a great atmosphere. The biggest delegation is without doubt France with 386 judokas. Followed by Italy (75), Brazil (68), Spain (54) and Germany (49) constituting the top five in number of athletes. Host country Morocco has 33 participants.
French Armada
At one certain point in time during today's preliminaries, the accidental tourist could have mistaken these Worlds for the French national championships. Indeed, the message screen for assigning the judokas to the tatamis depicted predominantly French athletes. "We are indeed present with a big delegation," agrees French coach Alban Trocherie. "We brought almost 400 athletes and some 43 coaches, that's quite impressive, a third from the overall number of participants. So, we expect our athletes to mount the podium often," the coach smiles.
Veteran's judo has become quite popular in France apparently. The coach agrees. "We noticed an important increase in participation, in the last four of five years," Alban explains. "We have a well-organized veterans circuit in our country, and it continues to grow with former judokas returning to the sport and being licensed by the federation."
What's the secret of this success? Alban laughs. "The good distribution of information in all dojos and clubs nationwide. Cathy Arnoud and Philippe Torine, our national veteran reps, are doing a great job. Veteran judo has become an important part of the sport. Judo is a passion. And passion has no age. The older judokas try to distribute this passion to the younger generations. We're getting a great group that has become very attached to this cause emitting a great atmosphere throughout the dojos. In France we have big training sessions now, also on the national level distributing the knowledge in all regions and departments. So, veterans' judo is much alive in France."
Alban is accompanied by his family. "I'm joined here by my family. It's also a fun time for them. Throughout the year we go to tournaments all over the country without them and this event is also a good occasion for a family trip. Many of the judokas brought their family as well. But don't get it wrong. The competitors are well prepared and want a place on the podium of course. But at the same time, we have our family here in the stands as our loyal supporters."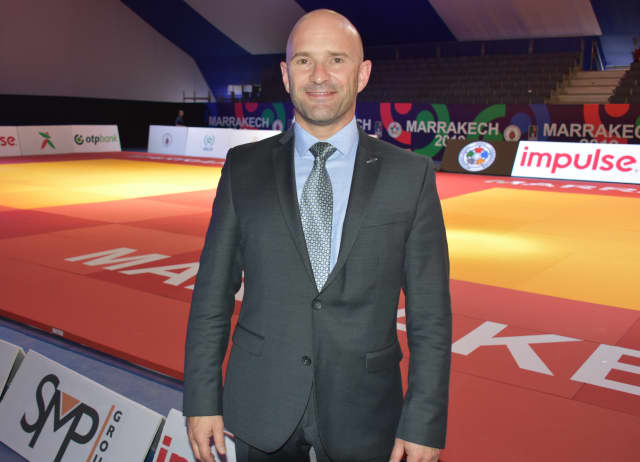 "Today, we were lucky again to witness excellent and technical judo," Denis Weisser, Chairman of the Veterans Commission commented. "Many of the M1 category judokas competed at the seniors previously. Hence, it was a very high-level judo. The fans saw some surprises on the mats and that's what judo is about. You can never tell who is going to win. The competition went well and I'm looking forward to day 3, when we also will announce the winners of the contest 'My Way to Marrakech'."
Ippon.Org Results Day 1 & 2.pdf
Download
PHOTOS
Find a selection of daily photos via this link.