Uzbekistan was one of the standout nations on the tatami at Rio 2016 – in both the Olympics and Paralympics – and now it is their turn to welcome the judo world as the IJF World Judo Tour has landed in Asia for the Tashkent Grand Prix.
Uzbekistan is hosting its flagship IJF World Judo Tour event for the fourth year in a row following a brilliant Rio 2016 which was led by their inspirational hero Rishod SOBIROV (UZB). The two-time world champion won his third consecutive Olympic bronze medal (his first and second was at -60kg) to join an all-time list of judo greats with the joint third most number of medals in Olympic judo history.
Asian Championships silver medallist Diyorbek UROZBOEV (UZB) had made a medal-winning start in Rio de Janeiro for Uzbekistan as he won -60kg bronze.
The Paralympic judo team picked up where their Olympic counterparts left off and starred as they dominated the competition. Their haul of 10 medals including three gold, one silver and six bronze medals. Gold medals were won by -60kg judoka Sherzod NAMOZOV (UZB), -66kg fighter Utkirjon NIGMATOV and heavyweight Adiljan TULENDIBAEV (UZB).
Uzbekistan's heroes will be in attendance instead of on the tatami this week at their home event to soak up the atmosphere and meet with their fans.
New faces from the hosts will be introduced at the Tashkent Grand Prix 2016 while the international delegations will also use the event to blood their youth with a new generation of judoka set to come through in this new Olympic cycle. The prize of IJF silverware is at stake and an opportunity for some judoka to have the honour of wearing their country's backpatch in the IJF World Judo Tour for the first time as they look to earn selection for the final events of the year in the form of the Abu Dhabi Grand Slam (U.A.E), Qingdao Grand Prix (CHN) and Tokyo Grand Slam (JPN).
The draw took place on Wednesday afternoon at the Wyndham Hotel as Dr. Lisa ALLAN, IJF Competition Manager, revealed that 229 judoka (81 men, 54 women) from 15 nations will compete in Asia.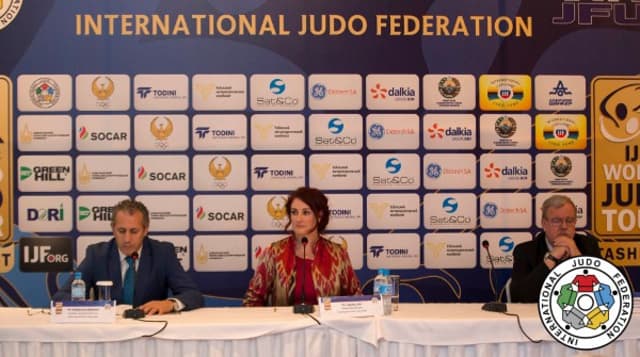 From L-R: Mr. Mohamed MERIDJA, IJF Education and Coaching Director, Dr. Lisa ALLAN, IJF Competition Manager, Mr. Bernd ACHILLES, IJF Referee Director

Mr. Mohamed MERIDJA, IJF Education and Coaching Director, made the opening address on behalf of the International Judo Federation.
"Good afternoon Mr. President, ladies and gentleman, on behalf of the IJF President Mr. Marius VIZER I would like to welcome you all to Uzbekistan for the Tashkent Grand Prix 2016. I would like to congratulate the Uzbekistan Federation for their results at Rio 2016 and thank them for the excellent organisation of this Grand Prix. I wish good luck to all the competitors and nations in Tashkent."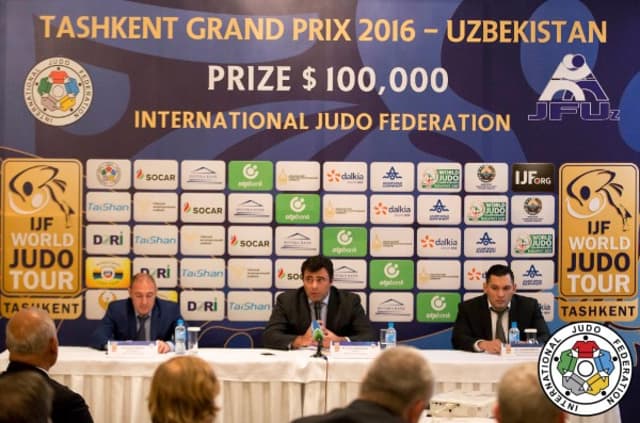 From L-R: Mr. Dmitriy ADISMAN, JFUz General Secretary, Mr. Armen BAGDASAROV, JFUz President, Mr. Abdullo MURADOV, JFUz Head of International Department

Mr. Armen BAGDASAROV, Uzbekistan Judo Federation President, said: "Good afternoon ladies and gentlemen, welcome to the fourth edition of the Tashkent Grand Prix. It is a pleasure to see all of you here to support this event. I would like to thank the Uzbekistan Government for their support and the IJF President Mr. Marius VIZER for again trusting us to hold this competition. I wish you all success on the tatami in Uzbekistan."

Mr. Bernd ACHILLES, IJF Referee Director, said: "Mr. President, ladies and gentlemen, we had a very successful Olympic Games, the rules worked very well in Rio and at the end of October, following the Abu Dhabi Grand Slam, we will hold the first meeting to review the rules and discuss any possible changes.
"We have seen very positive judo with regards to judoka taking the centre of the mat and gripping and we hope you will continue in this direction."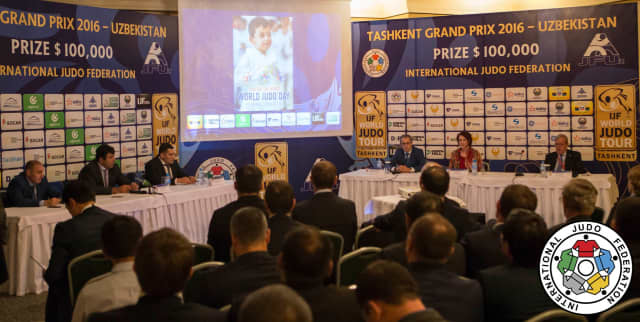 #WorldJudoDay 2016 was promoted to the coaches, officials and media at the Tashkent Grand Prix 2016 draw
The IJF's annual worldwide judo celebration on 28 October, the birthday of judo founder Master Kano Jigoro, is only three weeks away and clubs around the the world are planning their events for #WorldJudoDay. The 2016 theme is Judo For The World as decided by a fans vote on the IJF Twitter page. Click here to download the #WorldJudoDay posters for your dojo
PREVIEW
Women
-48kg
Sofia European Open winner Mariia PERSIDSKAIA (RUS) will be the top seed in the -48kg category on day one of the Tashkent Grand Prix 2016. The world number 46 has two seventh-place Grand Prix finishes to her name and should capture her first medal at this level on Friday. PERSIDSKAIA has teammate and Orenburg European Cup bronze medallist Lilia LOTFULLINA (RUS) for company at -48kg.
-52kg
Tyumen Grand Slam bronze medallist Tena SIKIC (CRO) competes in Uzbekistan for the first time this week and will be the top -52kg seed in Tashkent. The 22-year-old is making her fourth appearance on the IJF World Judo Tour and comes into the event on the back of a fifth-place at the Zagreb Grand Prix. The second Tyumen Grand Slam bronze medallist, Aigul TASHTIMIROVA (RUS), is also present in Tashkent as the 23-year-old makes her Grand Prix debut.
-57kg
German European Cup bronze medallist Manon DURBACH (LUX) finished seventh at the Zagreb Grand Prix last time out and goes into the Tashkent Grand Prix with renewed motivation to capitalise on her top seed status and earn IJF honours. Former Orenburg European Cup winner Anastasiia KONKINA (RUS) will hope to be vying for silverware on her Grand Prix debut.
-63kg
Baku Grand Slam silver medallist Marijana MISKOVIC HASANBEGOVIC (CRO) - who had a fine run at the World Championships last year when the veteran Croatian finished seventh – is the oldest judoka and highest ranked in the category. MISKOVIC HASANBEGOVIC suffered a disappointing first round defeat in Croatia two weeks ago and will need to deliver a much-improved performance if she aims to overcome judoka such as Tyumen Grand Slam silver medallist Daria DAVYDOVA (USA) and Hannah MARTIN (USA) who took silver in Tashkent in 2013.
-70kg
Budapest Grand Prix bronze medallist Gulnoza MATNIYAZOVA (UZB) is the number one -70kg seed on home soil in Tashkent this week. The 22-year-old Asian Championships silver medallist is leading a female revolution for her country and could make that point in the most important setting on her homeland with maximum attention on her exploits. Zagreb Grand Prix bronze medallist Anka POGACNIK (SLO) will be tipped to challenge for her second Grand Prix medal in her second Grand Prix event after a strong display in Croatia while Iana DIBRINA (RUS) looks to make a splash as she eyes her first IJF medal.
-78kg
Two-time Olympian JOO Abigel (HUN) made an ideal start to her third Olympic cycle by winning the Zagreb Grand Prix a fortnight ago and is not letting up as she targets major honours in the sport with the World Championships 2017 due to be held in Budapest. JOO, 26, has mostly Asian opposition in the category such as Almaty Grand Prix silver medallist Albina AMANGELDIYEVA (KAZ).
+78kg
Tbilisi Grand Prix bronze medallist Maryna SLUTSKAYA (BLR) is the fighter to beat in the women's heavyweight category which will be contested on Saturday. The Belarus judoka has finished fifth at Grand Slams in Baku and Tyumen this year and will be fancied to strike IJF Grand Prix gold for the first time. Asian Championships silver medallist Gulzhan ISSANOVA (KAZ) may be 33 can is always highly-competitive and won this event in 2013. Young heavyweight Saneayim ERKINBAEVA (UZB) won bronze at the Tashkent Grand Prix in 2013 and we should see signs of progression since then but the 22-year-old has not been as active as she would hope and needs to be higher up on the podium in 2016.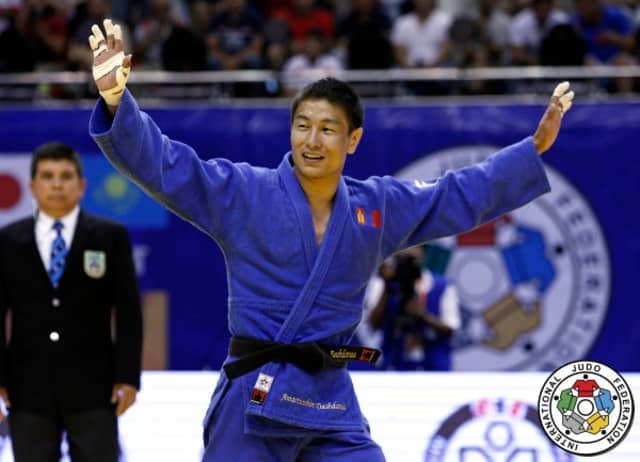 MEN
-60kg
Former world silver medallist DASHDAVAA Amartuvshin (MGL) arrives in Tashkent as the top seed in the men's lightest weight category having made the most of his sporadic starts in 2016 having not featured in his country's Olympic team. The world number five won the Ulaanbaatar Grand Prix in July having bronze at the World Judo Masters, silver at the Tbilisi Grand Prix and bronze at the Paris Grand Slam. The 28-year-old will aim to start the new Olympic cycle with a similar performance but given his quality the -60kg star will only be happy with gold. Budapest Grand Prix bronze medallist Sharafuddin LUTFILLAEV (UZB) will be roared on by a full house of fans at the Uzbekistan Sport Complex as he aims to defeat judoka such as Otar BESTAEV (KGZ) who bronze in Tashkent last year.
-66kg
Ulaanbaatar Grand Prix winner DOVDON Altansukh (MGL) won the Asian Championships in April and it comes as no surprise to see him occupy the number one seed position in Tashkent. DOVDON has stiff opposition for a coveted IJF podium with Zagreb Grand Prix winner Andraz JEREB (SLO) in form, former World Judo Masters bronze medallist TAKAICHI Kengo (JPN) making his first IJF World Judo Tour start since February and former world silver medallist Azamat MUKANOV (KAZ) travels to nearby Uzbekistan with gold in his sights.
-73kg
Baku Grand Slam silver medallist Giyosjon BOBOEV (UZB) could emerge to win his first Grand Prix as he starts his competition day as the number one seed. BOBOEV, 23, won bronze in Tashkent a year ago and now takes on international opposition such as former Tyumen Grand Slam winner and 18-year-old Junior European Championships bronze medallist Martin HOJAK (SLO).
-81kg
Former Paris Grand Slam winner Shakhzodbek SABIROV (ZUB) is overdue a medal on the IJF World Judo Tour as he still has to show that his incredible Paris victory was not a one-off. The 23-year-old won bronze at his home Grand Prix in 2014 but has not won any other senior medals either on the domestic or international stage. SABIROV will be the fighter to watch but as he is competing in Uzbekistan but will be challenged by the likes of former world silver medallist Srdjan MRVALJEVIC (MNE), Almaty Grand Prix bronze medallist Vladimir ZOLOEV (KGZ) and 24-year-old WATANABE Hayato (JPN) who is only making his second appearance on the circuit having debuted at the Tokyo Grand Slam in 2014.
-90kg
Asian Championships winner Komronshokh USTOPIRIYON (TJK) is the leading man at -90kg and is in pole position in Tashkent this week. USTOPIRIYON won his only Grand Prix gold medal in Astana in 2014 and the IJF-funded athlete will be determined to go on better than his silver medal from the last Tashkent Grand Prix. Former Paris Grand Slam winner Yakhyo IMAMOV (UZB) makes his second start at -90kg and will hope for a longer day then we made his -90kog debut at the Budapest Grand Prix and was defeated in round two.
-100kg
Budapest Grand Prix silver medallist Soyib KURBONOV (UZB) leads a largely Asian -100kg field into action on the final day of competition in Tashkent. KURBONOV won his home event in 2013 and has not won a gold medal anywhere in the world since then. Former Asian Championships bronze medallist Saidzhalol SAIDOV (TJK) will be aiming to win his first IJF World Judo Tour honours which can also be said of Madrid European Open bronze medallist Jalil SHUKUROV (AZE) and former Asian Championships bronze medallist Viktor DEMYANENKO (KAZ).
+100kg
Tyumen Grand Slam winner Andrey VOLKOV (RUS) has never won an IJF Grand Prix but could change on Saturday. World number 15 VOLKOV, 29, is highly inconsistent but on his day can challenge the top heavyweights in the world. The Russian competes alongside Iurii KRAKOVETSKII (KGZ) who produced some memorable moments in Rio. KRAKOVETSKII will command the respect of his peers and the educated audience after steamrolling over world bronze medallist Iakiv KHAMMO (UKR) at Rio 2016 in a stunning upset.
COMPETITION PROGRAMME
Thursday
13:00 Preliminaries on two mats
16:15 Opening ceremony
17:00 Final block on one mat
Women: -48kg, -52kg, -57kg
Men: -60kg, -66kg
Friday
13:00 Preliminaries on two mats
17:00 Final block on one mat
Women: -63kg, -70kg
Men: -73kg, -81kg
Saturday
13:00 Preliminaries on two mats
17:00 Final block on one mat
Women: -78kg, +78kg
Men: -90kg, -100kg, +100kg
Location: Uzbekistan Sport Complex