IJF Head Sport Director, Mr Vladimir Barta (CZE), is at heart an athlete, even if his role now carries his broad experience far further afield, no longer concentrated on just the tatami. As an Olympian himself he is all too aware of the issues athletes and their teams must face on the way to their best performances. A huge part of the role for Mr Barta is to facilitate that and ensure the venue and systems are always top notch.
On day 3, the final day, of the Upper Austria Grand Prix, Mr Barta offers some observations about the organisation and also about a certain young champion who hails from his native Czechia.
"We are lucky here because Austria has had so many tournaments before, namely Leonding and Oberwart. They have a team of organisers with historical experience. This event is a new level for the team and it has really been a pleasure to work with them. We came for inspection visits and, as always, we arrived in the empty venue for the first time and had to construct the vision. With Lisa Allan and Claudiu Chimoiu as the former IJF Events Director and new Events Director, respectively, they began to build from that empty space. The Austrian federation President, Dr Martin Poiger and all those involved at the federation collaborated excellently to create this debut Austrian WJT tournament.
One of the first things to remark is that here we have a big enough venue and once you have space everything else becomes easier. It's even possible here to add one more tatami if it becomes necessary and as the location is so good it is likely that may be the case in subsequent editions.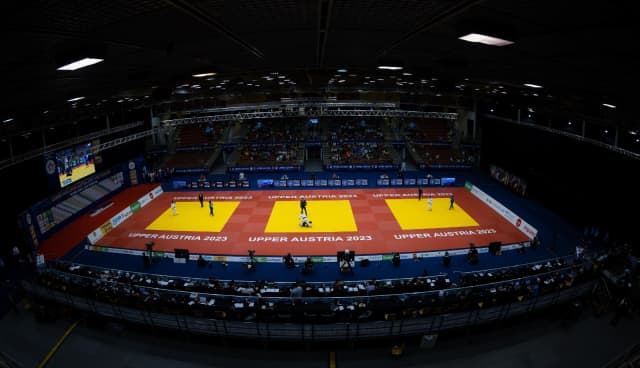 Two of the most difficult elements for every organiser, regardless of how they manage the budget and support, are the enthusiasm from the public and also the ability to produce medals for the host team. For organisers, they need a top public and medals! Everything happened for them yesterday, on day two, with the gold medal of Shamil Borchashvili and actually the spectators have been so engaged throughout, it's a really great atmosphere.
During all of these days, the volunteers have been fully involved and only in positive ways with smiles and generosity of spirit creating a great feeling. As Martin Poiger has said several times, he is proud and this attitude of the volunteers has been a really good expression of the local feeling about judo and their pride with regard to hosting this event.
My last point about the organisation is that this is the first time we have completed an event without Lisa as Events Director. We miss her very much but that is only about missing the person, as Claudiu Chimoiu has executed a smooth and seamless transition. We owe them both a great thanks and wish Lisa all the best in her new role as IJF General Secretary."
Aside from the technical elements of running the competition, Mr Barta always keeps one eye on countryman and global judo superstar Lukas Krpalek. In Linz he has been the subject of some interesting discussions.
"There was a big celebration for Lukas in Prague last week. I realised then that I have been very lucky to be a part of this Krpalek era. In 2008 I was in Bangkok for my first event as Head Sport Director, the junior worlds, and Lukas won gold at that event, as a first year junior. He was 5kg light for the category, already -100kg but he beat all by ippon except the Japanese, still a waza-ari win. He didn't speak much English then and just joking I said to his coach that if he can continue winning like that through his career he would need to improve that. He did both things, improving both his results and his English and now the interviews are many!
I have followed all his medals right up to Doha last week and what a happy witness I am! I remember the Olympic final in Tokyo when Lukas got a first shido and then a second. The coach shouted 'excellent' and I was so shocked. Who would say 'excellent' at their athlete getting a second shido? Before that final he always lost against Tushishvili (GEO) but Lukas and his coach made the plan and the only intention was to make him tired. The tactics were to open his judo only at that right moment. He had never beaten him before so the plan was to push the lactate level as high as possible and then take the advantage and he did it perfectly; very risky, very intelligent.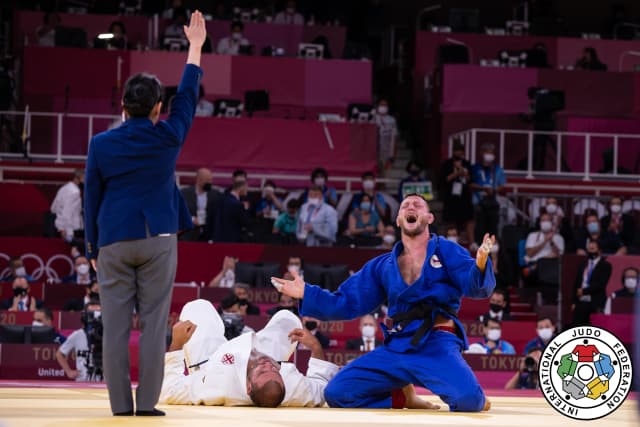 Here in Linz, Krpalek arrived back at over 100kg and this sparked a lot of guessing but his intention is very clear, to qualify in both categories and have the luxury of choice ahead of the Paris 2024 Olympic Games."
It seems apt to close the conversation thinking only about the athletes and especially one as special as Lukas Krpalek. The World Judo Tour now moves on from Austria to Tajikistan, to another debut tournament, a new Grand Prix in Asia. See you there.