The IJF World Judo Tour returns to the Netherlands, one of judo's most respected and significant countries, this weekend for the final Grand Prix of the season as The Hague becomes the latest addition to the international circuit.
The Netherlands produced the first non-Japanese world champion in late 10th Dan and IJF Fall of Famer Anton GEESINK who won gold in 1961 before his more famous win at the 1964 Tokyo Olympic Games.
Their standing in the sport is legendary with Olympic champions such as Willem RUSKA, Mark HUIZINGA and Angelique SERIESE - when women's judo was a demonstration sport - and they are at the forefront of IJF programmes such as Judo for the Children.
The European powerhouse nation has experience of hosting the IJF's premier competitions having staged the 2009 World Championships in Rotterdam, a Grand Prix in the same city a year later and then a Grand Prix in Amsterdam in 2011. Judo's Veteran World Championships was successfully staged in Amsterdam in 2011 but 2017 will be remembered as the year that the Netherlands once again returned to the fore in the sport as a permanent and popular destination on the IJF World Judo Tour with The Hague Grand Prix set to be held on an annual basis from 2017 -- 2020.

The official draw for#JudoTheHague2017
The draw for the newest event on the IJF World Judo Tour took place on Thursday afternoon at the Madurodam, a famous miniature park and tourist attraction in the Scheveningen district of The Hague.
Hosts the Netherlands have picked a 43-strong team including their top-ranked duo of -81kg star Frank DE WIT and -100kg leader Michael KORREL. Their team is replete with Tokyo 2020 contenders and some of the most experienced judoka on the tour as they blend nous with youthful exuberance ahead of their most important judo competition since the London 2012 Olympic cycle.
Mongolia have entered a nine-strong team including former -48kg world champion MUNKHBAT Urantsetseg (MGL) who fights at -52kg having flirted with a step-up to the heavier category since 2012. The Asian high-flyers are one of 43 nations taking part in the first Grand Prix in The Hague with a total of 231 judoka ready to grace the red and yellow tatami.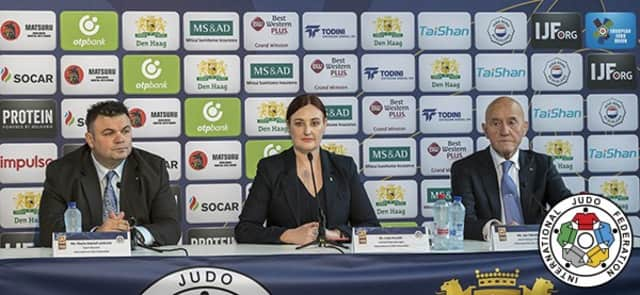 Dr. Lisa ALLAN (above - centre), IJF Competition Manager and IJF Executive Committee member, made the welcome address on behalf of judo's world governing body.
"Dear Mr. Rabin S. BALDEWSINGH, the Alderman of The Hague, dear the Dutch Judo Federation President Mr. Felix THIEME, dear officials, colleagues, guests, ladies and gentleman, on behalf of the IJF President Marius VIZER, I have the honour to welcome you all to The Hague. We are very pleased to return to the Netherlands for a new Grand Prix here in The Hague. The Netherlands is one of our sport's most respected and important nations and we are all looking forward to an excellent competition. I wish you all a successful competition."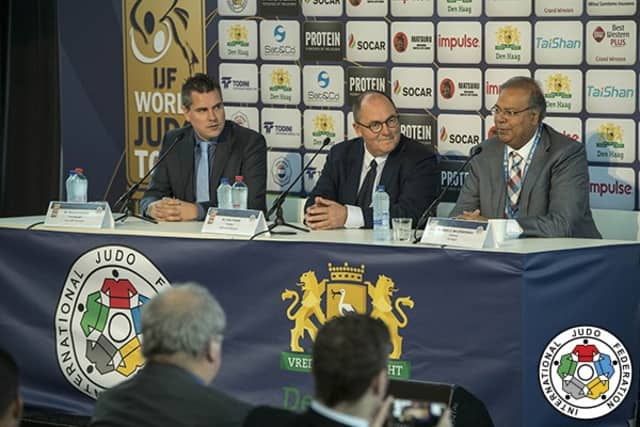 Mr. Rabin S. BALDEWSINGH (above - far right), Alderman of The Hague, said: "Good afternoon, I welcome you all to the international sports city of The Hague. It is great that the IJF has honoured the third largest city in the Netherlands to host this event. We have done everything we can to make this event successful.
"Thank you to the IJF, we are grateful to you all. Thank you Mr. Felix THIEME, Dutch Judo Federation President, for the Federation's involvement not just in the Grand Prix but as close partners working towards this edition of the event and the next one in 2018. I wish you all the best and may the best judoka win. Sport makes us stronger as city, as a nation and is very important here in the Netherlands."
Mr. Felix THIEME (above - centre), Dutch Judo Federation President, said: "Thank you to the city of The Hague for their tremendous efforts to help us to host a major judo event once again. We have had a barren spell but now the IJF World Judo Tour is back in the Netherlands. Thank you to all judo fans and supporters, we are all very happy to host this Grand Prix. The Dutch Federation has worked very hard to organise this Grand Prix and we wish you all the best of luck."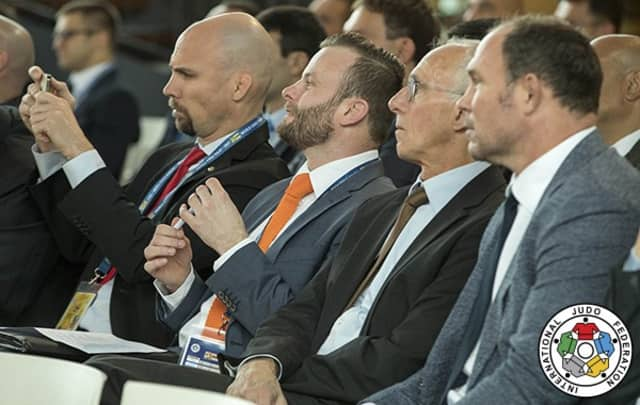 Members of the Dutch coaching team looked on with intrigue at the draw
Day one of #JudoTheHague2017 starts on Friday at 10am at the Sportcampus Zuiderpark with the men's lightest weight categories and the women's lightest weight categories eager to become The Hague's first Grand Prix medallists. You can follow all the action this weekend on the links below.
PREVIEW
Women
-48kg
World number one MUNKHBAT Urantsetseg (MGL) won gold at the Tashkent Grand Prix in October and again looked set to be on a collision course with world and Olympic bronze medallist GALBADRAKH Otgontsetseg (KAZ) but the former has decided, at the last minute, to step up to -52kg at this competition. World bronze medallist and world number two GALBADRAKH could now be unstoppable in the absence of her former teammate.
European champion Daria BILODID (UKR) opened her IJF World Judo Tour medal account in June with bronze at the Hohhot Grand Prix and the 17-year-old sensation could improve on that in The Hague while the Netherlands will be excited at the prospect of releasing Junior world champion Amber GERSJES onto the international circuit. The 20-year-old could cap her Grand Prix debut with a big-league performance on home soil.
-52kg
Abu Dhabi Grand Slam winner Charline VAN SNICK (BEL) won Grand Slam gold for the first time in her career last time out and is now up to eighth place in the world. The 27-year-old will be the -52kg favourite in The Hague as she bids to win her eighth Grand Prix gold medal. Two-time Grand Prix winner Distria KRASNIQI (KOS) has finished seventh at the Worlds and European Championships this year after winning the Antalya Grand Prix and picking up bronze in Paris. The 21-year-old, whose teammate and Olympic champion Majlinda KELMENDI (KOS) will now be a long-term absentee after undergoing surgery, will be one of the young judoka to watch in this Tokyo 2020 cycle.
-57kg
European Championships bronze medallist Nora GJAKOVA (KOS) won Grand Prix gold for the first time in April and starts as the top seed in the -57kg category in The Hague. The 25-year-old would break into the world's top 10 with a medal-winning display and that's exactly what will be expected from the Kosovo judoka. European Championships silver medallist and Dusseldorf Grand Prix winner Theresa STOLL (GER) is one of Germany's new and exciting group of youngsters who are making waves since the Rio Olympics. STOLL will expect to medal in The Hague to continue her progress and with an open field the German judoka could go all the way.
Seven-time Grand Prix medallist Jovana ROGIC (SRB) has never won Grand Prix gold and the world number 16 may not have a better chance than to win that elusive gold medal in the Netherlands. Rio 2016 Olympian Arleta PODOLAK (POL) memorably won the Almaty Grand Prix last year to seal her last-gasp qualification for her first Games. The 24-year-old, who has medalled twice on the IJF World Judo Tour, is ranked 61st in the world, and needs to start picking up medals and World Ranking List points to have a solid platform for when the Tokyo 2020 Olympic qualification phase starts in May 2018 to avoid going down to the wire in her bid to return to the Olympics.
-63kg
European Championships bronze medallist Alice SCHLESINGER (GBR) competes in a Grand Prix for the first time since April 2016. The 29-year-old lost her opening contest at the World Championships and has picked The Hague to come back in her pursuit of major medals and a route to Tokyo 2020. SCHLESINGER starts as the top seed but can expect to be pushed by judoka such as Canada's world-class duo of Catherine BEAUCHEMIN-PINARD and Stefanie TREMBLAY. Teenage Junior World silver medallist Sanne VERMEER (NED) and World Judo Masters silver medallist Juul FRANSSEN (NED) could lead the way for the hosts.
-70kg
European champion Sanne VAN DIJKE (NED) will be seen as one of the Netherlands' gold medal favourites in their first IJF World Judo Tour event since 2011. The Netherlands provides the three top seeds with one from VAN DIJKE, former world number one Kim POLLING (NED) and two-time Grand Prix bronze medallist Natascha AUSMA (NED) tipped to win gold. Rio 2016 Olympic bronze medallist Laura VARGAS KOCH (GER) and Abu Dhabi Grand Slam bronze medallist Miriam BUTKEREIT (GER) will both hope to break the Dutch monopoly at -70kg in The Hague.
-78kg
Five-time Grand Slam winner Guusje STEENHUIS (NED) starts as the top seed ahead of former world champion and long-time rival Marhinde VERKERK (NED). Former world number one STEENHUIS took bronze at the Abu Dhabi Grand Slam last month while VERKERK, who turns 32 next week, took silver. Tashkent Grand Prix winner Anastasiya TURCHYN (UKR) and Hohhot Grand Prix silver medallist Karen STEVENSON (NED) will be confident of adding to their Grand Prix honours reel while German duo of 17-time Grand Prix medallist Luise MALZAHN and Ekaterinburg Grand Slam bronze medallist Anna Maria WAGNER (GER) will have something to say about the fate of the -78kg gold medal in The Hague.
+78kg
Abu Dhabi Grand Slam winner Tessie SAVELKOULS (NED) is the number one seed in the women's heavyweight category on Sunday. SAVELKOULS, who finished seventh at the Rio 2016 Olympics, has won two Grand Slam gold medals this year and comes into her home Grand Prix ranked third in the world. Tashkent Grand Prix bronze medallist Sarah ADLINGTON (GBR) could secure a place at the invite-only World Judo Masters if she can finish among the medals in the Netherlands. Former Baku Grand Slam bronze medallist Sandra JABLONSKYTE (LTU) has won Grand Prix silver and bronze but never gold while former Tashkent Grand Prix bronze medallist Daria KARPOVA (RUS) will be fighting with the target of winning her second IJF World Judo Tour medal.
Men
-60kg
Abu Dhabi Grand Slam bronze medallist Francisco GARRIGOS (ESP) starts as the top seed in the men's lightest weight category. The 22-year-old Spaniard won the Cancun Grand Prix in June and could win his second on day one in The Hague if the world number five can continue to show his best judo. Former world silver medallist DASHDAVAA Amartuvshin (MGL), Zagreb Grand Prix bronze medallist Bekir OZLU (TUR) and Cancun Grand Prix bronze medallist Ashley MCKENZIE (GBR) all give the category some extra star quality while all eyes will be on Rio 2016 Olympic champion Beslan MUDRANOV (RUS) who competes for the first time since starring for Russia last summer.
-66kg
Hohhot Grand Prix winner Yakub SHAMILOV (RUS) will be targeting his third Grand Prix gold medal when he lines up for action on Friday. SHAMILOV, whose two Grand Prix wins have come in China, is currently ranked 18th in the world and needs to be in the top 16 to guarantee a place at the season-ending World Judo Masters in St. Petersburg in December. Rio 2016 Olympian and four-time continental champion Nathan KATZ (AUS) is still bidding to open his IJF World Judo Tour medal account and could earn his best result at this level on Friday. Hohhot Grand Prix bronze medallist YONDONPERENLEI Baskhuu (MGL) also has the tools to be chasing a place on the podium.
-73kg
Rio 2016 Olympic bronze medallist Dirk VAN TICHELT (BEL) leads the -73kg category into action on Saturday. The world number 16 has not medalled since the Olympics and at 33 needs to produce a medal this weekend to refresh and reinvigorate his judo and will have designs of winning his fifth Grand Prix gold medal. Zagreb Grand Prix bronze medallist Uali KURZHEV (RUS) and three-time Grand Prix medallist Nicholas DELPOPOLO (USA) will both compete while Rio 2016 Olympian TSENDOCHIR Tsogtbaatar (MGL) who fought at -60kg at the Games fights for the second time since then and again at -73kg. TSENDOCHIR and two-time Grand Prix winner Victor SCVORTOV (U.A.E) both come into the event unseeded and could both spring a few surprises against the top seeds.
-81kg
Abu Dhabi Grand Slam winner and The Hague Grand Prix poster boy Frank DE WIT (NED) will be expected to light up the competition on Saturday and win his first Grand Prix title for the Netherlands. DE WIT, who has won in Abu Dhabi and Paris this year, is now the world number one and surely major medals at the continental and world level are in the near future for the highly-talented Dutchman. DE WIT will not have things all his own way at home with world bronze medallist and world number two Saeid MOLLAEI (IRI) hot on his heels along with Ekaterinburg Grand Slam bronze medallist Zebeda REKHVIASHVILI (GEO) and Zagreb Grand Prix bronze medallist Jack HATTON (USA) who are both capable of offering a stern test to all the -81kg competitors on day two in the Netherlands.
-90kg
World number one and European champion Aleksandar KUKOLJ (SRB) has endured a difficult time on the IJF World Judo Tour of late after missing out on medals at the World Championships, Zagreb Grand Prix and the Abu Dhabi Grand Slam at his last three events. There is no better time for the 26-year-old, who won the Abu Dhabi and Tokyo Grand Slams back-to-back last year, to show his bouncebackability by winning his first Grand Prix gold medal on Sunday. Abu Dhabi Grand Slam winner Nikoloz SHERAZADISHVILI (ESP) is now fourth in the world after his U.A.E victory and is the form judoka among the -90kg entry in The Hague. Junior world bronze medallist Eduard TRIPPEL (GER) will be one to watch in his first Grand Prix appearance outside of his homeland while fellow young gun and Junior European bronze medallist Jamal PETGRAVE (GBR) will also be out to cause a few upsets.
-100kg
World number one Michael KORREL (NED) should have things all his own way in the -100kg category on the last day of The Hague Grand Prix. KORREL, 23, won his first Grand Prix in Budapest last year, and has already become a leading figure in his country's national team. At the Rio 2016 Olympics KORREL was a training partner to -100kg pick Henk GROL but soaked up the atmosphere and the occasion and made a promise to himself that he would be back next time in 2020 as a competitor. Qualifying for Tokyo 2020 looks like it will be no issue as the Dutchman is in the best place possible ahead of the qualification phase starting in May 2018 but instead will be more focused on winning medals of the golden variety with only two IJF World Judo Tour wins to his name despite his top billing.
World number eight Kazbek ZANKISHIEV (RUS) showed his worth to Russian team manager Ezio GAMBA by winning bronze at the European Championships in April. ZANKISHIEV lost to teammate Kiril DENISOV at the World Championships en route to a credible seventh-place finish and arrives in The Hague with high expectations of earning a fifth Grand Prix medal. Former world bronze medallist and four-time Grand Prix winner Ramadan DARWISH (EGY) won the Tashkent Grand Prix last time out and will be a firm medal contender in the Netherlands where he picked up his World Championships medal in 2009.
+100kg
European Championships bronze medallist Roy MEYER (NED) has a stage to show that his talent matches his charisma on Sunday when he will hopefully be unflinching and light up the tournament. The 26-year-old uchi-mata specialist has go to back to May 2016 for his last medal on the IJF World Judo Tour when he won bronze at the World Judo Masters. MEYER, who is ranked 26th in the world, needs to overshadow the +100kg field to win the adulation of the home fans and judo fans around the world who are all craving to see his full power used to deliver some ippon judo on Sunday. Abu Dhabi Grand Slam silver medallist Maciej SARNACKI (POL) has only ever stood on the lowest step on a IJF World Judo Tour Grand Prix podium but is the second seed in The Hague and should challenge for medal honours. Four-time Grand Prix medallist Sven HEINLE (GER) and former Moscow Grand Slam winner Javad MAHJOUB (IRI) will also hope to feature in the final block.
COMPETITION PROGRAMME
Friday 17 November
10:00 Preliminaries on two mats
16:00 Final block on one mat
Women: -48kg, -52kg, -57kg
Men: -60kg, -66kg
Saturday 18 November
10:00 Preliminaries on two mats
16:00 Final block on one mat
Women: -63kg, -70kg
Men: -73kg, -81kg
Saturday 19 November
11:00 Preliminaries on two mats
16:00 Final block on one mat
Women: -78kg, +78kg
Men: -90kg, -100kg, +100kg
Location: Sportcampus Zuiderpark