Andrea Regis is a person occupying many roles, as so many of the judo community do. He's a member of the board for Fijlkam and last weekend was the official delegate for the federation in Lignano at the Italian junior European cup. He is not unfamiliar with shiai himself having medalled on the World Judo Tour and competed for Italy at two world championships.
More to the point here, Andréa is also the husband of Kim Polling (NED) and is father to their daughter, eight month old Aurora. With all of this in mind, his view on the role of women in sport and in particular in judo, is interesting and up-to-the-minute relevant.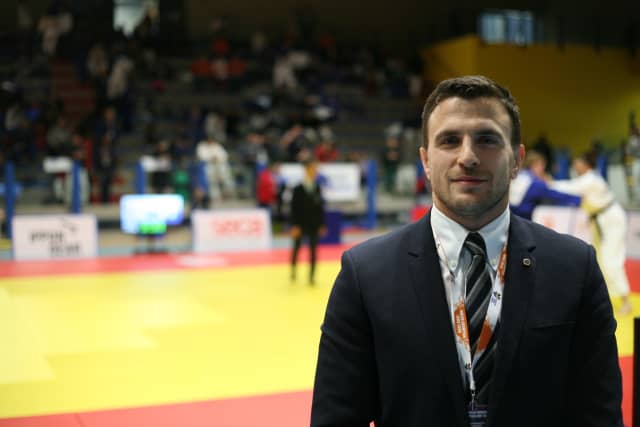 "Kim and I have been together since 2015. We wanted to have a family but after the Tokyo Olympic Games when she was not selected she was in a lost place."
Kim has been world number one, has won the Masters an incredible 4 times and did represent the Netherlands at the 2016 Games in Rio. For a world medallist with such a world-beating record, to not be selected in 2021 hurt a great deal.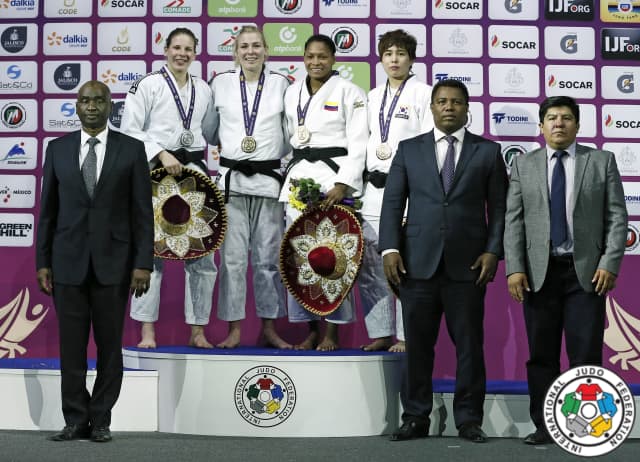 "We spoke and we agreed that she is not done yet. It was the case that I could be present at home much of the time and we also have my family close to Torino where we live and so it could be possible to both start our family and continue with Kim's high level judo career.
All the day is scheduled now, with her having the baby and them going to training together in the mornings. The gym accepts it. In the afternoon I take the baby and Kim goes to her other appointments, like massage, for example.
It is not at all easy but it's amazing to see what she has done, especially in Paris. Even I was crying with that medal. My parents came there too, to help us with Aurora. We manage and it's of course a challenge, as any parent knows. She competed in Abu Dhabi after just 5 months from the birth of the baby. She was still feeding Aurora too and didn't want to stop yet so she was having to manage her own body very differently between the fights. She is amazing!" He refers to Kim. "At 6 months she stopped feeding and now the results start to come."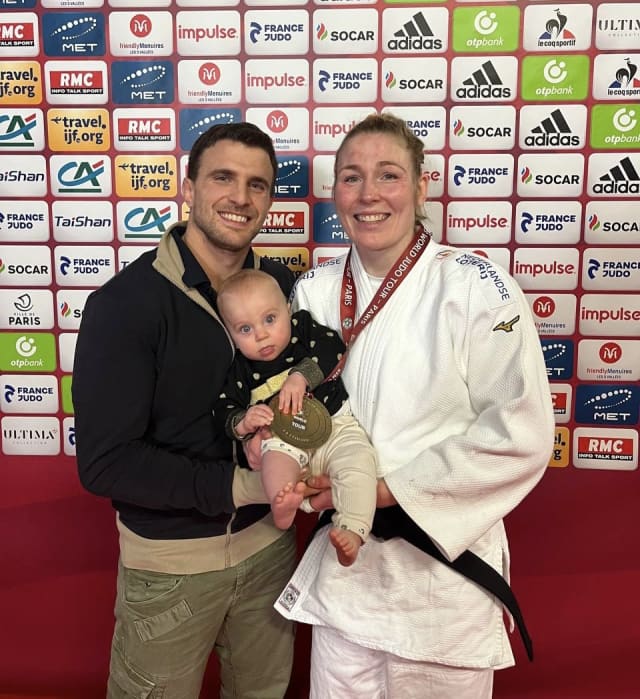 "Her first thoughts are always for our daughter and I try to encourage her to be the self-centred athlete. She doesn't need to think about everything else, we are here for that. I am really proud of her.
I'm so happy to give her this part of my life and to be the best father I can be, encouraging Kim to follow her dreams. We must all do that, mustn't we? I want to help her continue. It's no real problem if I can't go somewhere I would like while supporting this, because Kim's work is time-bound, every moment can count.
Scheduling is the toughest thing. In this moment I am the one who must take a step backward; it is correct."
Andrea is doing this for his wife while in so many situations it has been the wife doing so for the husband, in the past, traditionally.
"In judo I think there is no difference at all. You can look at big champions and see the best judo from either gender. I watch competition and I like to see both. Judo is so good because we really have equal opportunities to achieve."
Is a man's or a women's goal more or less important? Whom should have the priority? For this family it goes with the person whose goal contains urgency.
"What we have done is difficult. It's not right for everyone but we have help and we planned and we made it possible. Priorities have changed for us but Kim is the example that shows you can go for it. She is not the only one either. After 8 months she took a grand slam medal and this was really emotional; I really know what it took to reach that level."
The expectations of women in sport have changed and now the decision to start a young family doesn't have to be the end of her sports career. For International Women's Day 2023, we are in the best position of our lifetimes in terms of attitudes to women in sport. That alone is worth celebrating, holding aloft those who dare to be different, to follow their passion and their family goals without wavering or wondering if society will accept it.