Lisa masters the art of irony. Elisabetta has the same smile as the children on Christmas Day. They work together, they are friends, almost sisters. Let it be known, they do not know enemies. Their thing is to work, to work a lot and well. Their thing is judo.
Appealing to memory is, in a way, an exercise in nostalgia and, above all, honesty. Lisa Allan and Elisabetta Fratini's memories are clean and accurate. When we broach the subject of pioneers in this sport and the first women's world championship, they do not throw flowers and they do not practise complacency, but when we talk about today they do have things to say, because both are protagonists. Let's start with yesterday.
Lisa, who was ten years old in 1980, does not have an indelible memory of the first world championships for women. What she remembers is the Moscow Olympics and Alan Wells because, "he was Scottish, like me, and he won the gold medal in the 100 metre sprint."
Elisabetta, fifteen years old at the time, thinks more or less the same. "I remember, above all, the European Championships because they were held in Udine and I am Italian. It was very difficult to receive news about judo and the federation magazine was published several months after the tournaments."
When we address the role of women in judo since 1980, it is the Italian who shoots first. "In my club there have always been girls. The difference is that nowadays women who practise sport and martial arts are not seen as if they were aliens."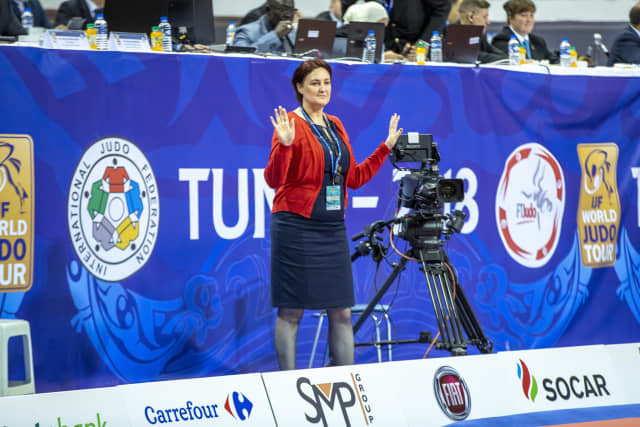 That the situation has evolved between 1980 and 2020, no one doubts. However, what is interesting is the how. Lisa explains it with facts. "There have been massive changes, especially since 2007, when Marius Vizer took over as interim President of the International Judo Federation. The number of events increased and there became a World Championship every year (except Olympic Games year) and there was a World Judo Tour with prize money."
"The whole system changed, at all levels. One of the main differences is the way the sport is presented to the public. The media coverage and the possibility of receiving the live information and videos is a part of the change. There is more professionalism at all levels (coaches, administration and so on); another important aspect of it," says Elisabetta.
This progress is in terms of sport in general, but if we talk about women in sport, there are many more things to note. Lisa and Elisabetta work in the International Judo Federation, the former is Competition Manager and the latter works in the IT department. Each makes decisions and they have promoted, together with other women, the Federation's policy on gender equity.
"I think the presence of women in leadership is still quite low. Cultural issues in many countries do not give access to some careers and do not allow for appropriate involvement of both genders. Our work must focus on generating awareness of one's abilities, on creating opportunities. Lots still to be done," says Elisabetta.
Lisa doesn't disagree. "Our ideals are like the horizon: we will never reach them but we continue to go forwards towards them and we will achieve specific goals along the way. At the moment the IJF Gender Equity Commission is focusing on women in our sport, as we have catching up to do, especially to encourage more women to take leadership positions, as coaches and technical officials and to allow greater access for women and girls to safe and secure environments for the practice of judo."
The good thing about talking to these two women is that they are not aggressively stomping a feminist march, one that can cause divisions between followers and detractors. It is a delicate topic. They believe in equality and have studied the challenges, applying recipes based on them. It is an intellectual exercise where men are not better, but neither are they worse.
So, when we ask about the positive discrimination theory that many use to counter the push for certain policies, Lisa and Elisabetta have well-oiled arguments.
Lisa came forward, "I would disagree and say that we are definitely not giving people roles and positions because they have certain gender-based characteristics, but through positive action (not discrimination) we are putting in place better systems for ensuring we have the best qualified people in the positions best suited to them and where they can add the most value. We have a massive amount of talent and diversity in judo and we need to tap into that to continue to enhance and improve our community."
As for Elisabetta, "I do not see gender equity policies as giving supremacy to one group or another. The main point is to increase people's awareness on equal rights and to promote respect of others, which seems to be clear to many but not always applied in reality. Some of us could not feel the discrimination because we have the chance to live in an environment where equity is mostly respected, but just opening a newspaper is enough for us to realise that this is not the case everywhere."
Our last question was about judo and its values being applied to contemporary society. We wanted to know if, in Lisa and Elisabetta's opinion, the world looks to judo to build a better world, in terms of gender equality.
Elisabetta says the following, "Yes! I firmly believe that the example of social inclusion we give, in all our structures round the world, is an important part of showing the world the importance of our values."
Lisa added, "Yes, definitely, but communicating the judo values and our education philosophy to the parts of society which are still not connected to the judo family, is a continuous piece of work for all of us."
There is still a long way to go and we have understood that. We continue to reflect, understanding that when you speak after studying and analysing a challenge or barrier you always learn something new. Therefore, because Lisa and Elisabetta speak fearlessly but with respect and explain things well, they have no known enemies.