Mongolia. Its mere utterance evokes images of vast landscapes, diverse nature and wildlife and the truly unique Naadam Festival where all eyes are on Mongolian wrestling.
Those are all true, but behind that, its culture and its people's extraordinary hospitality, the country has judo in its heart. Spirit, tradition, family and national pride complements a pedigree of fighting sports and with intestinal fortitude in spades, Genghis Khan's extraordinary land has become one of judo's powerhouse nations.

With a population of just 3 million, which is less than Wales and cities such as Milan, Berlin and Toronto, Mongolia crowned its first ever Olympic champion in 2008 when Naidan Tuvshinbayar became the first Mongol to hear his country's anthem played at the Olympic Games.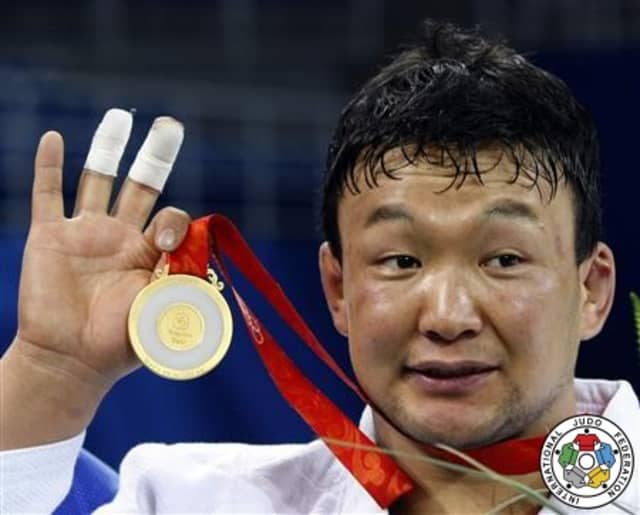 That -100kg gold medal in Beijing created a sporting icon the likes of which the Asian nation had never seen and thrust judo to an unprecedented level of notoriety.

Naidan, from the Bulgan province, received $60,000 from the Mongolian Judo Association, around $250, 000 from sponsors and the Labour Hero of Mongolia, its highest award, from the President.

This for a family man who only started judo at 18 and very much still lives by the nomadic way of life with videos of him wrestling horses recently doing the rounds on social media.

Naidan, who, like many of his teammates, was a traditional wrestler during his secondary school days, started judo when he moved to University and never looked back. His two sons are already winning medals and so his family's story continues.

The Mongolian Judo Association has stayed true to its country's own roots and has conditions where such athletes can thrive.

The national dojo in Ulaanbaatar opened in 2007 and has had visitors from nations, clubs and media the world over (a British team was there in May). The fantastic facility, which was supported with a donation of two full tatami by the IJF, had until recently the caveat of being -10 degrees inside the dojo during the winter.
The fascinating success story of Mongolian judo can be traced back to back to the middle ages when Genghis Khan's warriors conquered half of the world.

They were skilful in martial arts and moulded by fighting sports but none more so than traditional wrestling.
Judo was initially inferior in popularity and availability to sambo but that changed when the Japanese martial art was added to the Olympic programme in 1964 in Tokyo.
The sport gained traction with Mongolian students who studied and practiced judo in the former Soviet Union, East Germany and the former Czechoslovakia in the early 1960s.
Sensei Choisuren Mashbat, who was one of the country's first sambo pioneers, established the first ever Mongolian judo national men team with a total 12 members in 1969.
They contacted the Judo Union of Asia (JUA) and the Kodokan Judo Institute asking for information about training methods, a judo competition rules book and most importantly for their first ever judogi. They received 12 judo suits in 1970 and a trickle of judoka evolved into a waiting list in their hundreds as the inquisitive Mongolian people wanted to sample this new Olympic sport which at this point was in a period of surging growth all over the world.
In the following year he and his judo friends opened a host of clubs, introduced judo to the public with demonstrations and started organising training camps which led to judo being officially recognised and registered by the order of the National Sport Committee the official sport of Mongolia in January 1971.
The Mongolian team were now ready to travel abroad and first participated in international tournaments in Kishenev, USSR and Phenyan, DPRK. Sensei P.M. Karamalak was first expert from Soviet Union who worked for the team between 1971-1973.
The Mongolian Judo Association joined the JUA and IJF in 1972 and their team successfully participated in the 1972 Olympic Games. There were no medals first time around but the competitiveness of the Mongolian team earned them admirers both at home and internationally.
Four years later Gusem Jalaa finished fifth at the Montreal 1976 Olympics in the +93kg category and an Olympic medal was becoming a matter of when and not if.
Moscow 1980 will forever be remembered in the annals of Mongolian judo as they won two Olympic medals with Tsendiin Damdin taking silver at -65kg and Ravdangiin Davaadalai capturing bronze at -71kg.
The national team won two World Championships medals in 1989 with a first ever silver medal achieved by Odvoig Baljinnya in -95kg while Dashgombo Battulga won the bronze medal at -60kg.
Judo was now a major sport in Mongolia and hundreds of boys were taking up the sport every month. Sensei Choisuren Mashbat opened the first women's judo Borjin club in 1987.
Women's judo was included at the Olympic Games in 1988 as a demonstration sport and become a fully fledged medal-earning sport in 1992.
Mongolia's women's programme took a longer time to flourish as they first medalled at the World Championships in 2005 when Khishigbat Erdenet-Od won bronze in Cairo, Egypt.
The men's team continued to enjoy success at the greatest show on earth and in particular in the lightest weight category as first Dorjpalam Narmandakh won bronze at Atlanta 1996 and then Khashbaatar Tsagaanbaatar did the same at Athens 2004.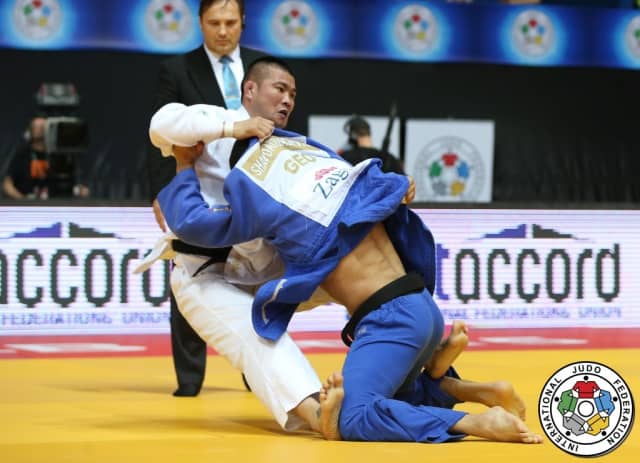 For all the skills, intrinsic fighting spirit, and pride that came with wearing a Mongolian flag on their judogi, it was clear that in order to progress and to turn silvers and bronzes into gold medals the Mongolian Judo Association needed to develop its foundations.
In 2006, the MJA elected Battulga Khaltmaa, a young, energetic businessman and famous political figure, who also was a sambo and judo national team member and world champion in sambo in 1981.
Within a year Battulga had attracted sponsors and funding to build a new national dojo in Ulaanbaatar and was able to build on the stellar work of Sensei Choisuren Mashbat. With his business contacts, his own judo experience and his high public standing in the country, Battulga, provided encouragement from the outset of his reign and the resources for his judoka to chase Olympic gold with greater belief than ever before.
Battulga was not a mere businessman with power and influence but also a judoka and was personally taking part in training. He matched the efforts of his team on the mat and subjected himself and players to gruelling workouts and videos of which went viral online.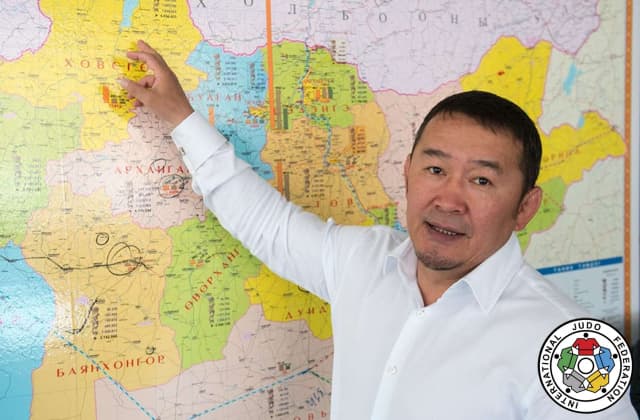 An incredible motivator and a tenacious judoka who showed the work ethic that he expected of his judoka, Battulga, put everything in place for Naidan Tuvshinbayar to win the -100kg Olympic title and for judo to be the first sport to deliver an Olympic medal for Mongolia.
The timing of the win was vital as the gold medal brought peace to a country which one month before the Olympics was going through a civil disorder in Ulaanbaatar.
While Naidan was still coming to terms with the scale of his achievement and his new hero status, Khashbaatar Tsagaanbaatar became Mongolia's first world judo champion in 2009.
Now an all-time great, Khashbaatar, who won in the Netherlands in the -66kg category, went on to incredibly win major honours in four different weight categories.
-60kg 2004 Athens Olympic bronze
-66kg 2009 Rotterdam world gold
-73kg 2013 Paris Grand Slam gold
-81kg 2012 Jeju World Cup bronze
Khashbaatar retired in 2015 and joined the national coaching team. He is supported by not only President Battulga Khaltmaa but many other unsung staff behind the scenes.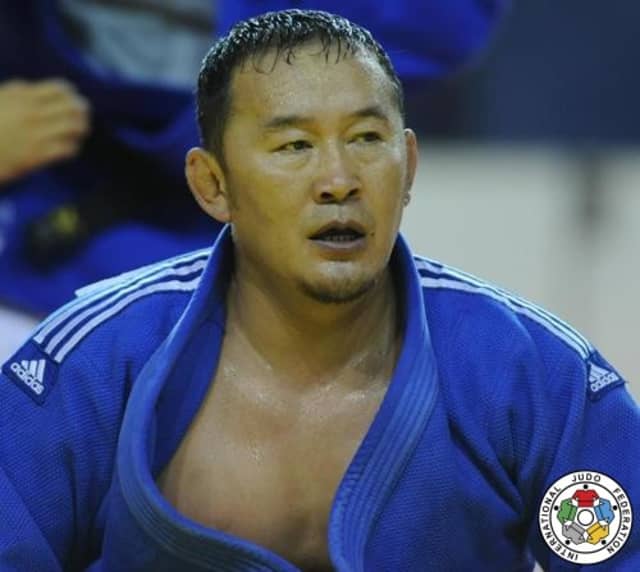 Bukhat Mashbat, the son of Sensei Choisuren, is the Mongolan Judo Association General Secretary in addition to being an IJF A licenced referee.
Mashbat outlined the changes since President Battulga Khaltmaa came to office.
"Since 2006, the Mongolian Judo Association has worked hard and made many changes in the whole system of judo and continues to work hard for the future.
President Battulga has invested a lot of money for good reason. He said judo brings pride, unity and peace for the nation."
Battulga's men and women train on a different level to almost every other nation's judoka. Mongolia's cold but stunning winters provide lung-busting temperatures of -45 degrees and ideal conditions for the national team to train outdoors, shock their muscle fibres and to challenge every ounce of their being.
With wrestling and farm work staple activities for a Mongolian child, fitness, muscle development and mental strength is the by product which combines with a competitive spirit that will come with defending their family's pride at the Naadam Festival before one day a judo suit and international trips as ambassadors of their great country.
Mongolia won their first women's Olympic judo medal at Rio 2016 as Dorjsuren Sumiya finished second to hometown hero Rafaela Silva (BRA) in the -57kg category. This followed Munkhbat Urantsetseg's World Championships victory in 2013 as the first Mongolian women to claim a world judo crown. Munkhbat's win came several months after the IJF Ulaanbaatar Grand Prix made history as the first ever sporting event to be broadcast by satellite around the world to over 150 countries.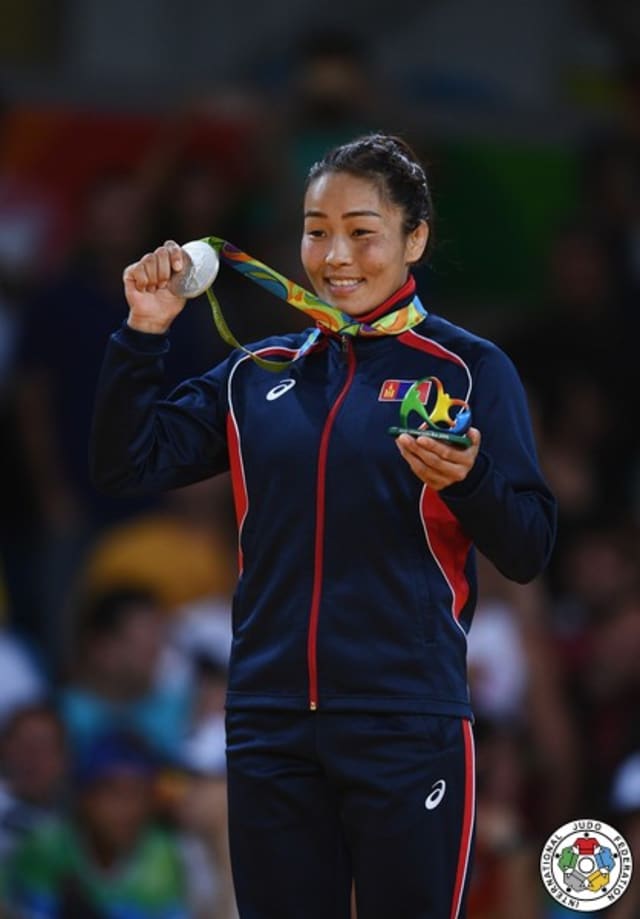 The country may have temporarily lost its annual Grand Prix due to the Mongolian financial crisis but it is still one of the most popular destinations for international judoka to visit and will inevitably return as a host in the coming years.
"We wish to host a World Judo Championships in Mongolia," said Bukhbat.
"This is our dream and the dream of our team and the Association. We hope this will be possible in the near future. We believe we can do it when there is more certainty and stability in our country."
MJA President has since become the President of the country and the self-made millionaire is set to lead judo into its strongest position ever in the country having been elected in July.
While that is being played out, Mongolia's top judoka will be flying the flag on the world stage with their intense focus and usual vigour. Capturing medals and world ranking points for fun, earning more friends than they will air miles and being everything and more that is expected of them as role models for not only young people in Mongolia but also lovers of a sport which has become part of their identity.
Whether it's four Mongolian judoka on the same podium (as was the case in the -60kg category at the Ulaanbaatar Grand Prix in 2015), IJF commentator Sheldon Franco-Rooks being mistaken in Ulaanbaatar for 1984 Olympic bronze medallist Neil Eckersley and having to go through with opening a new dojo in his honour, or Mongolian judoka leaving spectators and their rivals in awe, the team and nation has an alluring appeal to all international judoka, fans and media that is only equal to the place judo has in the hearts of Mongolian's.
The Mongolian way, a way of warriors both in the times of Genghis Khan and today, shows the world that a basic environment, a humble means to train and aspire to goals that only a handful of people in the world can accomplish, a workaholic nature which is not measured by past glories or television appearances, can yield the greatest of results. All the while, enduring unimaginable levels of physical exhaustion and testing the limits of the human body is not only necessary but it is they least that they demand of themselves and each other. Together they are stronger, and the team transforms from intense creatures of habit to be arguably the most modest and affable athletes in the sport off the tatami. More than that, they are not athletes off the mat but people with an inner desire and will like no other. Inside them they have the spirit of Genghis Khan and they will do everything in their powers, often incomprehensible things, such as climbing ropes with a 20kg plate on their back, to give their country glories like they have never experienced before and personify everything their country stands for. They do this all in four minutes of combat. Then in another more minutes… and another four... and long may it continue..
Watch the Mongolian team in action at the 2017 Suzuki World Judo Championships from 28 August - 3 September at live.ijf.org
The above article was printed in British Judo's quarterly Matside magazine summer edition. Click here for more information on how to subscribe.