The President of the Mongolian Judo Association is one of the most engaged and animated federation leaders in world judo, known for his vocal and positive support at events, where he is truly behind his team.
This is especially admirable when we consider that he is also the former President of Mongolia itself, only completing his term earlier this year. He is a man photographed with world political leaders but arrives on the World Judo Tour with only humility, positivity and sporting values in his hand.
H.E. President Battulga is in Abu Dhabi not just in support of the delegation present but also to sign the contract, with IJF President Mr Marius Vizer, to place Mongolia back on the IJF calendar. June 2022 will see Ulaanbaatar play host to the elite of the judo world at a grand slam which is now scheduled annually for the next four years.
Dr Lisa Allan, IJF Events Director, orchestrated the contract signing in Abu Dhabi on day 3 of the grand slam, "Ladies and gentlemen, good afternoon. It is a pleasure to invite you to be with us for the signing of the contract for the Mongolia Grand Slam in Ulanbataar. With us today we have the IJF President Mr Vizer and President of the Mongolian Judo Association H.E. Mr Battulga Khaltmaa."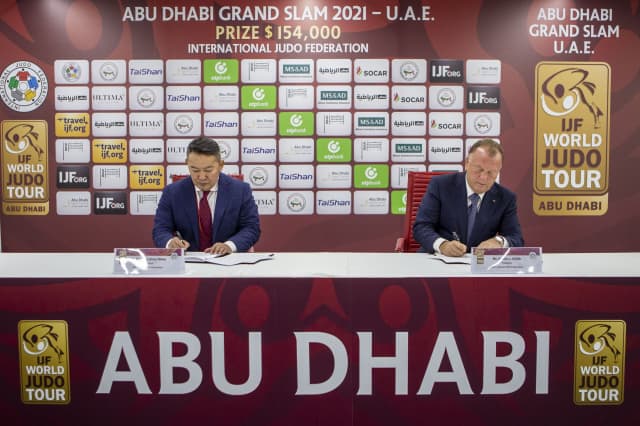 Addressing Mr Vizer and Mr Battulga, Dr Allan then invited both parties to complete the signing. It was an efficient moment of understanding, followed immediately by the presentation of the IJF gold medal to Mr Battulga by Mr Vizer. Dr Allan said, "On behalf of the International Judo Federation we would like to present this gold medal in recognition of your dedication and your support of judo, not just in Mongolia but in Asia and worldwide."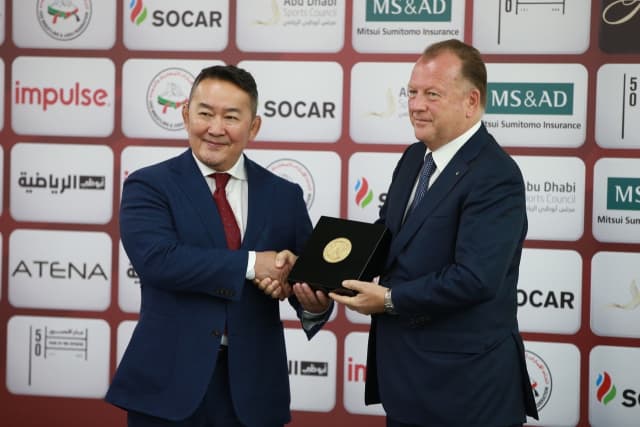 While in Abu Dhabi Mr Battulga took the time to talk about his time in the judo family, speaking candidly about his involvement and his passion for the Mongolian team.
"I'm happy Mongolia has been able to participate in Abu Dhabi, bringing many young judoka, which is hopeful for the future. We organised a grand prix in our capital in 2016 and now we are looking forward to holding a grand slam in Ulaanbaatar from next year. It will be especially positive for the young judoka, to raise their level. With the 2024 Games happening so soon, it brings a lot of possibilities for them to achieve their goals.
As you know the cycle continues for 4 years usually and we are hoping to get medals there, even in this shorter cycle, continuing our tradition of big achievements at this level. The Tokyo Games was one year late due to the pandemic but we were still able to get good results and have been able to continue preparation for the next group, alongside the work that was done towards Tokyo."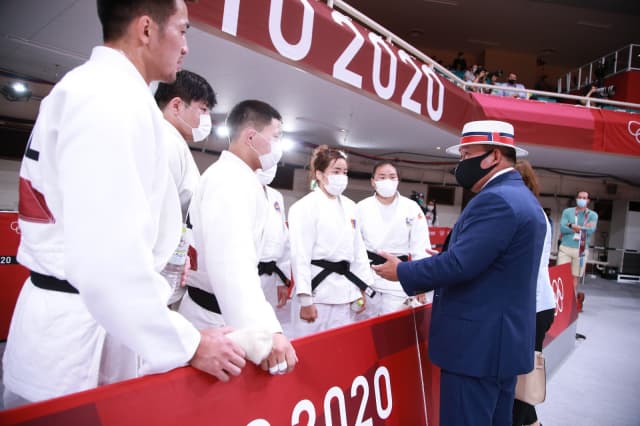 Mongolia participated for the first time in 1964, also in Tokyo. With 3 medals now in judo it shows the tradition is being maintained. There is a strong base in the Mongolian wrestling school and this has an impact on the preparation of judoka. The rules of judo have some similarity with our traditional wrestling rules. Also, judo ranking systems allow the best players to come through to fight for the best results and we can really see the fairness."
Many Mongolians did wrestling from a young age. I did too. In my role I had some advantage with that, to be able to give advice to judoka and really understand the needs of the team."
When Mr Battulga is present at competitions, his visibility is varied and dynamic, as he moves effortlessly between meetings with federation and government leaders and the athlete tribunes. This commitment to all aspects of his country's affairs is what makes him stand out.
"This young team and their spirit is very important, especially to help push the judoka to achieve good results early on. Most important is that not everyone can get good results at the biggest level in all sports but in judo, with this team spirit, everybody in our team can achieve their potential, with good psychological preparation as well as the judo training. Judo will help them in their future to be good people. Judo is an important learning tool to help them pass all the difficulties in life, to take care of themselves and their families, to be good human beings."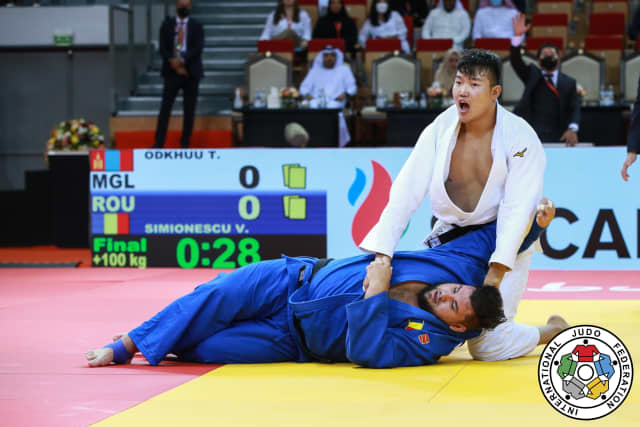 It couldn't be put any more clearly than that. Mr Battulga is an exponent of the judo values and that is obvious to everyone around him. The IJF gold medal is recognition of that and we look forward to seeing him and his team in Ulaanbaatar in 2022 and in Paris in 2024.