Let's get straight to the point! We have all either felt it or seen it, the unbearable emotions that come with the silver medal. No matter how we look at it, a silver medal represents the missed opportunity to win the gold and become a champion, of the world, of a continent, of a town. It represents a lost chance to be forever written in the records as the greatest; to know that for that 4 minutes you were truly the very best there can possibly be.
We have seen many a rostrum with the smiles at first and third and red eyes hiding from our gaze at second. It's a clear situation and we can all sympathise. Golds and bronzes are won and silvers are the loss of a gold.
That truth can't be mitigated. In a recent broadcast Mr Neil Adams, IJF Referee Supervisor and former world champion commented on his two Olympic silver medals, saying that he was expected to win the gold and to not achieve it was devastating but he had been taught to manage that circumstance when, in 1978, at the British Open, he moved up from -71kg to -78kg feeling secure with his judo and confident about his potential victory. However he was beaten, in ne-waza, by Jean-Pierre Gibert (FRA), now a member of the Russian coaching team. Neil was mortified and struggled to come to terms with that loss, but while sitting close to the tatami, still scolding himself, one of his Coventry Judo Club elders, Mr Brian Perriman walked past and offered a throw-away comment, "you needed that!" And according to Neil, he was right.
Further conversations on the day guided Neil into his first thoughts about how a judoka must carry themselves after a loss. Phrases such as, "they'll remember it if you don't have grace on that rostrum" stuck with him.
Mr Perriman's words ring in Neil's ears to this day, some 43 years later. Neil's response was to work harder and to be more considered and to never lose in ne-waza again. He also began the process of setting that calm, so needed on the rostrum.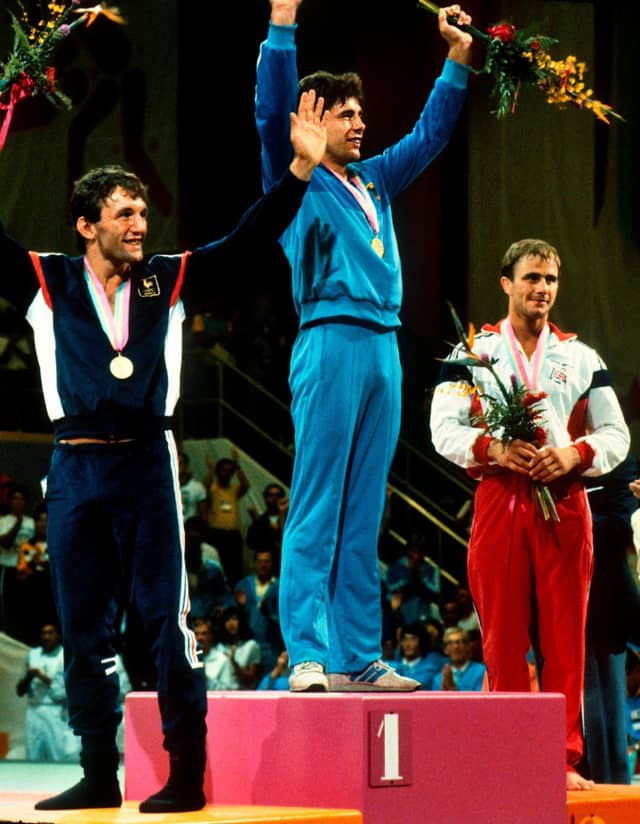 We speak so much about learning more from loss than from victory. It may or may not be true, but it is certainly true that a silver medallist endures greater struggles to centre themselves when required to be in public view. This is to be expected, but to solve it is also an expectation, especially in our sport, so enveloped in moral guidance and societal philosophy.
"To bear defeat with dignity, to accept criticism with poise, to receive honours with humility; these are marks of maturity and graciousness." - William Arthur Ward, educator and author
Mr Ward's philosophy would surely have appealed to Jigoro Kano's sense of social responsibility.
So it follows that our silver medallists carry with them the extra burden of being in the spotlight, almost in the pinpoint glare of a laser, with their position as role models under scrutiny from the moment soremade is called. It is up to them to show those watching the route to grace. The easy smile of a gold medallist or even of those in third place teaches us only that we would like to be there; despite the accepted struggles and sacrifices of any elite sportsperson, we can only see joy there. That second place footprint belongs to someone who exhibits the path from agonising loss to humility, acceptance, a resolve to re-solve and it is truly honourable when done well.
With only days to go to this unique and much yearned for Olympic Games we must acknowledge the role our silver medallists play in leading the mindset of our younger judoka. We can think about how a strong role model, in second place, can provide the behavioural cues for all who gaze and follow, not ignoring that, that athlete juggles both your psychology and their own. They must hold themselves elegantly and we must remember that regardless of what we see and how we analyse it, these athletes give the whole of themselves to the tatami.
"The credit belongs to the man who is actually in the arena, whose face is marred by dust and sweat and blood; who strives valiantly; who errs, who comes short again and again, because there is no effort without error and shortcoming; but who does actually strive to do the deeds; who knows great enthusiasms, the great devotions; who spends himself in a worthy cause; who at the best knows in the end the triumph of high achievement, and who at the worst, if he fails, at least fails while daring greatly, so that his place shall never be with those cold and timid souls who neither know victory nor defeat." ~ Theodore Roosevelt